Holly Willoughby and Andrea McLean wear matching outfits from Mango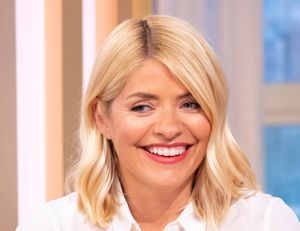 We love seeing Holly Willoughby and Andrea McLean on our TV screens, and this week we saw the lovely pair in matching outfits!
Both are known for their flawless fashion so it is no surprise the two presenters have stepped out in the same outfit from Mango, the only difference being one wore the skirt while the other opted for the dress version.
The checkered fabric is a dusky pink colour and is perfect for a daytime event. Andrea and Holly decided to match their outfits with a beige heel (twins again!) however Mango recommend wearing the skirt with a pair of white, high-leg heeled boots. How sixties!
Andrea shared a photograph of herself wearing the pretty Mango number and fans were quick to share the love with one saying, 'Very pretty skirt Andrea you look lovely in pink' while another said, 'Beautiful as always.'
Holly's fans were also keen to take to social media after seeing her blush pink outfit, 'Oooh I like this dress very much. Great colour on you @hollywilloughby (but you always look lovely!!).'
Another fan said, 'Gorgeous really love the dress xxx'
But the matching outfits didn't go unnoticed and fans decided to let Andrea know she wasn't the first ITV presenter to wear the pattern, 'That's the matching skirt to @hollywilloughby dress today on this morning.'
Another person said, 'Have you and Holly Willoughby been twinning today ?' while somebody else asked, 'Did you borrow Holly's skirt ???'
We think they both look gorgeous!
You can buy the checkered asymmetric skirt from here for £49.99. (opens in new tab)
It is currently available in XS, S and M.
Or if you fancy the dress version (opens in new tab), for only £10 more, you can buy the checkered pattern midi dress from here
The dress is selling out fast and is only available in size 6 online.
Will you be stealing Andrea's style, or Holly's? We'd say both are great options!