Five Rules For Dressing Your Children - From Prince George's Favourite Designer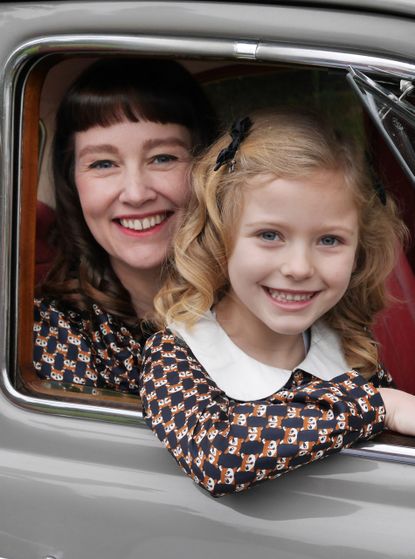 If Prince George could have a favourite designer, it would be Rachel Riley. The 52-year-old Londoner has been doing for whimsical children's clothes what ditsy-rose-printed fabrics did for homeware - making something retro feel bang-up-to-date. The Duchess of Cambridge has consistently dressed George in her designs - which, of course, have then sold out in seconds. Think the Sailboat Smocked Dungarees he charmed New Zealand in on last year's royal tour and, more recently, the £85 Smocked Set he wore to Princess Charlotte's christening (something Janet Street-Porter famously described as a "girl's blouse").
"It was a very formal occasion where one current monarch and three future monarchs were present," explains Rachel, "and his sister was wearing an heirloom christening robe, so Prince George had to look the part."
Originally from London, Rachel was the first person from her girl's comprehensive school to go to Cambridge. She then moved to Paris to become a model (which is how she met her husband, Daniel Jouanneau, a fashion photographer). After relocating to rural France to have three children, and unable to find what she was looking for in shops, she started making classic clothes at her kitchen table, taking orders for friends - and her company was born. That was more than 15 years ago, and customers now include Nicole Kidman, Sarah Jessica Parker and Beyonce.
Thanks to the Prince George effect, the brand has taken off on a global scale.So here are Rachel's five tips for making every little boy or girl look like a prince or princess...
1. Dress children appropriately and it might encourage appropriate behaviour!
"When you dress children smartly, I think it can help them develop good manners, appropriate for the occasion.So it's casual for rough and tumble in the park, say, or smart for a party. I have three boisterous children, and I always thought people were more accepting of their high jinks when they were younger if they looked clean and well-presented." 2. Avoid jeans and slogan T-shirts.
"Jeans are not particularly comfortable for children. The stiff fabric can make children feel restricted. Jeans are a classic look for long, angular bodies but children's bodies are not the right shape for jeans, especially when they're wearing nappies. As for slogan T-shirts... I wouldn't want my child to be a walking advertisement!"
3. Embrace any colour as long as it's not grey.
"I love colour, and especially bright pastel shades for babies. For newborns, palegreyseems to have replaced yellow as the gender-neutral shade aimed at parents who don't yet know the sex of their child. But I think grey can be a bit gloomy for a tiny baby. My advice is to start with whitefor a newborn and then you can add soft blue or pink when you know their sex. Yellow is now quite hard to find, but we do a babygro with yellow chicks on itand yellow chick smocking on a soft white cotton babysuit. It's really sweet and much more fun than a bland, grey alternative!"
4. Think matchy-matchy.
"Matching things -sisters wearing identical dresses, or siblings in the same print - can look wonderful. I love it. As a child, my favourite film was 'The Sound of Music' - that's probably why! We did a really sweet map print recently that we used in boys' shirts and girls' dresses. I liked the feeling behind it - go out, see the world and have an adventure!"
5. And classic clothes are lovely - but you don't want your children to look too period drama...
"I love children's clothes with a nostalgic, craft element from the 1920s to the 1960s - a time when many clothes were made at home.In those days they might take a checked man's shirt and make it into a girl's dress and then embroider daisies on it, to make it feminine and young.I get a lot of my inspiration from illustrations in old children's books as well as looking at past pictures of royal children. In those days there were a lot of matching outfits - for instance, Princesses Elizabeth and Margaret often wore similar clothes. There are pictures of Princess Anne in the fifties wearing beautiful smocked dresses, and of course Prince William wore smocked outfits too. Smocking is an historic sewing skill - it's intricate and takes time to produce, which is why you can hardly find it in today's high street collections. But I wouldn't want anyone to look old-fashioned. Our take on vintage is aimed attoday's taste, so we tweak the cut and the proportions to update the look to suit modern life. But I do still like little girls to look like little girls and little boys to look like little boys."
To shop Rachel Riley's designs, visit: rachelriley.co.uk