14 of the best Christmas advent calendars 2020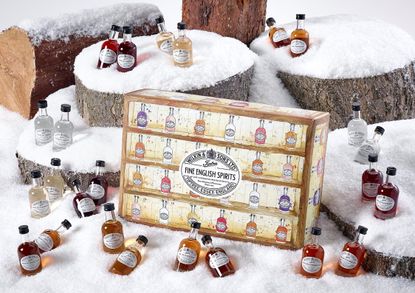 From advent calendars filled high-quality gins, delicious food, and glorious goodies, these are the best Christmas advent calendars you can buy online in 2020.
While advent calendars filled with a tiny chocolate treats are considered the traditional go-to, there are tonnes of unique options on the market right now. Indeed, some of the best Christmas advent calendars this year have products behind each door rather than an edible treat.
It's time to prepare for the most wonderful countdown of the year, and let's face it – we could all use a little Christmas cheer this year!
We have quite a way to go before the Christmas countdown officially begins but, as so many of 2020's best advent calendars have already been released, there is no time like the present to get yours before they go.
Best Christmas Advent Calendars 2020 - quick links:
Why you can trust Woman & Home Our expert reviewers spend hours testing and comparing products and services so you can choose the best for you. Find out more about how we test.
Hotel Chocolat The Grand Advent Calendar
Best chocolate Christmas advent calendar
You may have had chocolate advent calendars before, but we bet none of them have been anything like this. There are chocolate advent calendars and then there are chocolate advent calendars.
Hotel Chocolat's Grand Advent Calendar is what it says on the box. Grand. And it's one of the best Christmas advent calendars filled with chocolate on the market this year.
The variety of chocolate treats inside is second to none with everything from cinnamon bun choccies to their delectable Caramel Supernova.
A great present for a partner (that you can also enjoy) or a decadent gift for loved ones.
Best Christmas Advent Calendars 2020: Non-chocolate calendars
Drinks by the Dram The Premium Gin Advent Calendar
Fancy trying a new gin flavour every day in December? Feast your eyes upon the Premium Gin Advent Calendar from Drinks by the Dram!
Countdown to Christmas with 24 specially selected gins presented in generous 30ml wax-sealed drams. Incredible craft gins from some of the world's best distilleries.
Fortnum & Mason Christmas Tea Lovers Advent Calendar
Fortnum & Mason have applied their world-class excellence and unbeatable quality to creating the ultimate, luxury, tea advent calendar.
In addition to Fortnum's bestselling teas, there are also some quintessentially British classics and fruit infusions behind each door. As it's Christmas, there are also some festive flavours in there, too.
Kindred Fires Christmas Candle Advent Calendar
Perfect for grownups, this stylish candle is the perfect way to count down the days of December.
Simply light the candle for 1 hour each day and cross off the number on the label whilst the beautiful festive scent of Orange and Cinnamon will fill your home.
With a 25 hour burn time, this candle will last until Christmas day.
Hand poured in their Manchester workshop, the candles are personalised to order before being beautifully packaged by hand. A gorgeous gift - or treat for yourself!
The Naked Marshmallow Co Gourmet Advent Calendar
The world's first Gourmet Marshmallow Advent Calendar returns for its fourth year - featuring twelve classic, festive and sweet inspired flavours. Behind each door, you'll find a delicious piece of handmade gourmet marshmallow in a selection of sumptuous flavours.
That's 25 deliciously gooey pieces of heaven to savour this Christmas and a great motivator for getting out of bed on those cold Winter mornings.
As an optional extra, you can also choose to add on one an awesome marshmallow toasting kit, so that you can toast each marshmallow to gooey perfection!
Joe & Seph Gourmet Popcorn Advent Calendar
Popcorn lovers can count down to the big day with a daily fix from the Joe & Seph's Classic Gourmet Popcorn Advent Calendar, featuring a new festive design and more unique flavours than ever before.
Brand new for this year is the world's first Vegan Gourmet Popcorn Advent Calendar and the Tipsy Gourmet Popcorn Advent Calendar, for a taste of all your favourite festive tipples.
Opening up like a giant storybook, it depicts a snowy scene of Joe's Popcorn Kitchens crafting festive gifts, with each stage of the special, handmade process beautifully illustrated.
This year's calendar features 19 unique flavours behind the 24 windows; from the most popular gourmet flavours, festive favourites and several marvellous exclusives including Brandy Butter, Apple & Custard and Gingerbread popcorn, as well as an extra large, special treat behind door 24.
Bonne Maman Advent Calendar
The perfect way to say Joyeux Noel to loved ones during the holiday season, this year's Advent Calendar invites you into the colourful home of Bonne Maman.
Wake up and enjoy different colourful spreads (not normally found in the UK) every day in December. The calendar contains 23 mini jars of jams and marmalades – each one an exclusive fruit variety or unique flavour combination.
And there's also an extra special surprise gift for Christmas Eve.
Livia's Kitchen Advent Calendar
Tis the season to indulge, but thanks to Livia's, you can feast without feeling guilty.Behind each door of this advent calendar you'll find one of their delicious gluten and dairy-free treats.
Will it be their naturally scrumptious Nugglets, Million Squares or Dunx. There's also an extra special treat in number 24!
Pukka Tea Days Of Christmas Advent Calendar
Celebrate the countdown to Christmas with the new Pukka Herbs Christmas calendar featuring 24 health boosting herbal creations
The calendar itself is a gift for good health and made to benefit the planet. Each Pukka tea sachet is recyclable, the tea bag compostable and the calendar – made from 80% recycled cardboard and vegetable-based inks – is 100% recyclable after use.
Festive favourites such as Original Chai, Revitalise and Wild Apple and Cinnamon are also included along with Pukka's bestsellers, Night Time and Supreme Matcha Green – to help promote restful sleep and boost energy throughout the busy Christmas period.
Lily's Kitchen Advent Calendar
Your beloved furry friends can't miss out on the Christmas fun! They're part of the family; and the Lily's Kitchen Christmas range is full of first-of-their-kind treats and meals to make sure pets up and down the country get the place they deserve at the heart of the family Christmas.
Throughout December, our furry friends can tuck into festive treats from their very own Advent Calendar.
Filled with Lily's Kitchen's most delectable treats, the Advent Calendars are sure to perk up your pups Christmas countdown.
Whittard Hot Chocolate Advent Calendar for Two
24 days dedicated to all things hot chocolate - can you think of anything better?
Showcased in a truly stunning art-deco patterned calendar, indulge in 12 delectable flavours, from signature classics to creative, cutting-edge concoctions, with double servings nestled in each drawer. Delicious!
Yankee Candle Advent Calendar
Light a new candle each day and celebrate the Festive Season.
Every day reveals a Votive Candle or Scented Tea Light in a festive fragrance, including Singing Carols, Christmas Morning Punch, Christmas Cookie™ and Christmas Eve®. Also included is a Votive Holder.
Each Votive Candle provides up to 15 hours of fragrance and each Scented Tea Light provides up to 6 hours of fragrance.
Tiptree Liqueur Advent Calendar
This Tiptree calendar features small batch craft English Gin, Vodka, and Rum. Each have been infused with Tiptree Fruits to create a rather tasty range of Fine English Spirits. Sip over ice, add your favourite mixer, or use as the base for cocktails.
This festive Selection Box has 24 doors, each holding a tasty Tiptree tipple. Some are Tiptree classics and others have a suitably festive twist. Think festive spices, chocolate orange and mint. There's even a 'Merry Christmas Spiced Rum Liqueur'!
The Best Christmas Advent Calendar for charity
Advent of Change advent calendar
The first-of-its-kind advent calendar, which donates to a different charity every day is returning for 2020.
Instead of receiving something each day, you give something: 24 donations, to 24 incredible charities.
Behind the door of each calendar is a 50p donation to a charity doing incredible work both in the UK and overseas.
Each day, you discover exactly what you've given, from helping to provide safe housing for a homeless person, to providing a dream day out for a sick child, or helping to support the UK's frontline workers.
Helena is the Travel Editor for Woman & Home, Woman's Weekly, Woman, Woman's Own and Chat. As a journalist with 8 years' experience, she has also worked for titles including Stylist, The Evening Standard and Heat.

She is a keen traveller who loves nothing more than exploring a new country. Her dream trip is a safari. A fierce animal lover, she dreams of seeing some of the big five out in the wild. Her wish-list also includes India – to explore her husband's heritage more – as well as exploring more of America's stunning national parks.