Tom from The Apprentice has invented a whitening toothbrush and it's seriously impressive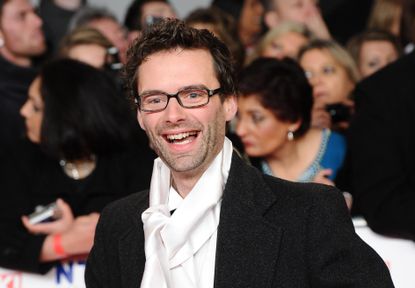 (Image credit: Getty Images)
You might remember inventor Tom Pellereau from his winning stint on The Apprentice back in 2011 (he bagged a £250,000 business backing from Lord Sugar) or have tried his clever curved nail file or game-changing make-up brush cleaning device.
After years of trials and testing, he's done it again, this time creating an at home whitening kit (including toothpaste, electric toothbrush and trays) called StylSmile.
Dreamed up after noticing his wife's teeth looked far whiter than his in their holiday snaps, Tom started working on creating a whitening solution that's completely free from peroxide.
Instead of harsh chemicals that can cause sensitivity, the main whitening effect comes from the blue light (not to be confused with dangerous UV, this completely safe to use) that's emitted from the head of the toothbrush.
Designed to be used with the toothpaste Tom also created, the blue light works in conjunction with a revolutionary ingredient called phthalimido-peroxy-hexanoic acid (PAP for short). A non-toxic whitening agent (which also has anti-plaque and bacteria-busting benefits) it tastes as minty fresh as your average toothpaste whilst breaking down stains and accelerating whitening.
Teeth will only shift shade when stains are lifted from the enamel (the protective outer coating of your teeth) or the colour of the layer underneath the tooth enamel (called dentin) is changed, and StylSmile does both.
Unlike some whitening sets that can be really time-consuming, we were most impressed with just how easy this kit is to use. Simply swap the your regular electric toothbrush and paste for the ones included in the kit and, if you want a little extra boost, use the whitening trays for 15 minutes twice a week. The toothbrush itself gives a really satisfying clean, vibrating instead of oscillating and buzzing every 30 seconds before turning itself off after 2 minutes.
Far from a fad, the results speak for themselves, with 88% of people who took part in an independent trial reporting their teeth looked whiter in just four weeks. Most saw a change of 3.5 shades on the included colour chart, whilst 1 in 4 said their teeth had lightened by 5 shades or more.
Whilst you won't get dramatic, A-list worthy results (for that you need to see a dentist) it's a brilliant way to reduce pesky stains or maintain professionally whitened teeth at home.
Buy the entire Stylsmile Kit for £149.99 at styltom.co.uk now.
Jess Beech is an experienced fashion and beauty editor, with more than eight years experience in the publishing industry. She has written for woman&home, GoodtoKnow, Now, Woman, Woman's Weekly, Woman's Own and Chat, and is a former Deputy Fashion & Beauty Editor at Future PLC. A beauty obsessive, Jess has tried everything from cryotherapy to chemical peels (minus the Samantha in Sex and The City-worthy redness) and interviewed experts including Jo Malone and Trinny Woodall.