Teeth whitening: The most effective and safe ways to enhance your smile
Get a brighter, whiter smile with professional and at-home teeth whitening tricks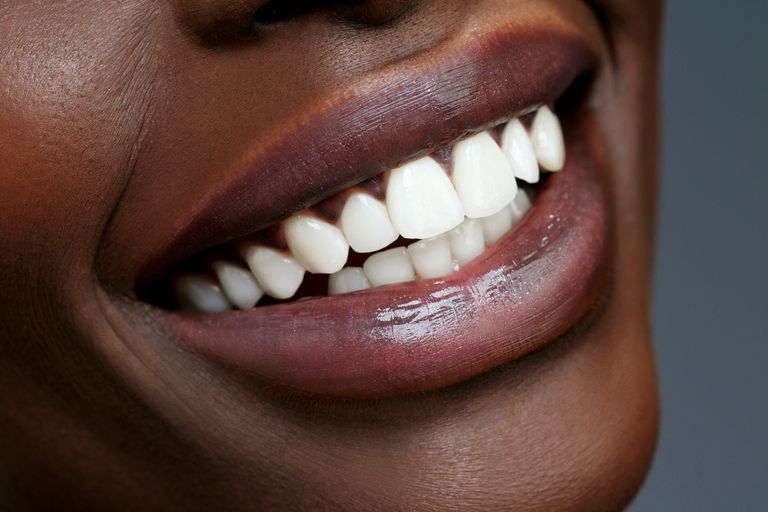 (Image credit: Getty Images)
Have you ever considered having a teeth whitening treatment? There's no doubt a brilliant smile is the something we all want, regardess of age, gender or beauty ideals. But with so many pricy pro treatments on the market and at-home treatments that promise the world, it's important to pick the right teeth whitening treatment for you. 
"The lower third of your face is the most important anti-ageing tool" explains Dr Uchenna Okoye, dentist to the stars and Clinical Director of London Smiling Dentist Group, "We invest in cleansers, the best eye creams and moisturisers for our skin but we don't always look after our smile so well. Using the right dental products is like having a deep facial then using creams to keep skin healthy."
Should I have professional teeth whitening?
Professional teeth whitening is a guaranteed way to knock out staining and bring you teeth back to their sparkling best, and along with Invisalign, it's one of the most popular aethetic dentistry treatments available.
If teeth are whiter, you instantly appear younger. But make sure that you have to choose the correct shade of white to avoid the Ross Geller from Friends perma-white look. "Darker hair and skin tones should be cautious about going too white-white, whereas paler skins, blondes and redheads can deal with much whiter teeth," explains Uchenna. For a natural result, only go up to seven shades lighter than your existing colour. 
The safest and most effective way to get the most natural result  is the professional path using an in-clinic laser treatment plus using a dental grade gel at home. You fill this bleaching agent (usually 6% hydrogen peroxide) into plastic trays customised to fit your teeth and gum line. Laser teeth whitening can usually be done in a one hour appointment accompanied by three days with the top-up tray at home, for 30 minutes a day. Philips Zoom! WhiteSpeed works in just an hour and can make your teeth up to seven shades whiter.
If you want to opt for a professional treatment but ate not sure about comitting to full whitening, there are some great alternatives out there that don't include bleach. Polish & Perfect by Dr Reena Wadia uses airflow polishing, a deep-cleaning treatment that uses a mixture of powder particles and water to blast away stain build up.And while most teeth-whitening treatments will cost you upwards of £500, this treatment is more affordable, coming in a £250 for both a consultation and treatment, so you'll go away with some sound advice on how to brighten your smile.
The best home teeth whitening products
According to recent research by Clearpay sales of teeth whitening products have increased by 180% since March 2020. If you can't get to see a professional dentist, consider sprucing up your teeth at home with these  effective and most importantly, safe, at-home whitening methods
Spotlight Teeth Whitening System
RRP: £39.95
Designed by dentists, these strips help to break down stains accumulated over time helping to brighten your teeth with minimal tooth sensitivity. Formulated with Hydrogen Peroxide,  Spotlight teeth whitening strips work to break down complete stains that have built up on the surface, while improving and brightening the colour of your enamel. The pack contains 14 strips for your top row of teeth and 14 for the lower, with 28 in total. 
Moon Kendall Jenner Teeth Whitening Pen
RRP: £20
Don't be put off by the reality star reference, this is a pretty clever product. It doesn't necessarily whiten, but it does brighten teeth using a blend of lavender oil, strawberry fruit extract, and honeysuckle. Used regularly it works on tough stains over time. It's 100% vegan, cruelty-free and free from SLS/SLES, parabens and artificial flavours and has a pleasant vanilla mint flavour for lasting freshness. Just smile and brush a thin layer on teeth. Wait 30 seconds before closing mouth and 10-30 minutes before eating or drinking. Apply up to 2 times per day for 2 weeks.
L.A. PACIFIC 4 in 1 Protection Enzyme Whitening Toothpaste
RRP: £11
The world's first enzymatic whitening toothpaste, meaning they have managed to replicate and boost the enzyme that naturally occurs in our mouths. This enzyme produces small amounts of hydrogen peroxide when it meets sugar and acts as a natural bleach
Holidays are a classic danger zone for teeth. How many times have you left your bulky electric toothbrush at home and ended up cleaning - ineffectively - with a cheap plastic manual after quaffing the local rouge every night? 
Enter the FOREO Issa Play. This cute design combines sonic pulses, which travel through flexible silicone nodules to gently clean teeth and massage gums, with a more traditional brush head in the middle for for heavy-duty work. The dinky size is ideal for your travel wash bag, it's battery operated and lasts for around 6 months without needing re-charged
Lifestyle tweaks for whiter teeth
Chew sugar-free gum
Xylitol is a sweetener found in most sugar-free chewing gum. It's not just there for taste though, xylitol combats the harmful acid found in food so chew on a stick after every meal.
Snack on strawberries
Malic acid found in strawberries has been found to naturally clean teeth. Choose a ripe strawberry and rub it on your teeth like you would a skin exfoliator to remove superficial debris. Similarly, rubbing the inside of a banana peel can act as a buffer on the teeth, giving them a white appearance.
Bicarbonate of soda
This pantry staple is commonly found in teeth-whitening products, but for a fraction of the price you can create your own whitening paste. Mix 1/2 a teaspoon of bicarbonate of soda with 1/2 a teaspoon of water to create a paste. Dip in your toothbrush and brush for 1-2 minutes. The bicarbonate of soda removes plaque and gives teeth a whiter appearance, as well as neutralising acid in the mouth. Avoid using too much as it can weaken the enamel.
Up your calcium rich foods
Cheese, milk, yoghurt and butter won't whiten teeth but they do provide the essential calcium needed to strengthen and protect. Low-fat versions won't ruin your diet.
Cut back on coffee
Along with tea and red wine, coffee will stain teeth. Stick to herbal tea or hot water instead. White wine is a much better option than red. And if you can't get through the afternoon without a fizzy drink, sip it through a straw to protect your pearly whites.
Floss
The easiest way to get a gorgeous smile? Floss - and not just when you remember. Flossing between teeth everyday is essential for lifting the plaque and food debris that leads to decay. It's often the stains between teeth that ruin a lovely smile.