The world's first reverse-air dryer is set to change the way we dry - and style - our hair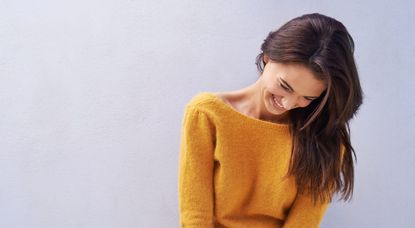 "Why don't you just wear your hair curly?" It's the first question on everyone's lips when they discover your thick, poker-straight hair is not really quite so straight when you step out the shower – but it's far easier said than done.
For those curl-deniers that still aren't ready to embrace their ringlets, blow-drying and straightening your hair can be more of a marathon than a sprint, taking hours of time and an arsenal of products to do. That's why when we first heard about RevAir, the world's first and only reverse-air dryer (opens in new tab), our ears pricked up.
On first glance, you could be forgiven for thinking that RevAir looks a little like a hoover, but that's exactly where the inspiration for it came from. The brainchild of Debra Isaacson, her brother Kip Cooper and his friend Scott Thomason, the idea first materialised after Kip admitted he used a vacuum cleaner to make ponytails for his young daughters. For naturally curly haired Debra, the idea of a quicker, simpler styling solution was too tempting to ignore, and the brand was built from there.
MORE:The best hairdryer for a professional blow dry at home
The result of years of development, trial and error, the innovative technology uses suction to dry hair in a way that's far speedier and healthier than traditional blow drying. Instead of blowing hair with heat to dry it, heat is pulled inwards and water drawn out of the your tresses. Meaning hair is left feeling cool and far less frazzled. Even better, it uses 50% less energy than conventional blow drying, so it's better for the planet too.
Buy the Revair reverse air-dryer here for £359 (opens in new tab)
In terms of usage, the main difference is that instead of the traditional nozzle, hair is drawn into the cup-shaped drying chamber and you hold each section there for up to two-minutes depending on the length and thickness of your tresses. Whilst it's suitable for all hair types, drying time will be a little longer for curly locks.
Because it's being held within a confined space, hair is evenly dried from root to tip and as there's no room or need for a styling brush, it minimises breakage. We were worried that pulling the hair out of the chamber would mean painful pulling and snagging, but the motion is seamless as hair glides out frizz-free, straight and glossy.
The only slight snagging point is the price – at £359 it's certainly not cheap, but can you really put a price on a good hair day?
Available now at myrevair.co.uk.
We'd love to hear how you get on!
Jess Beech is an experienced fashion and beauty editor, with more than eight years experience in the publishing industry. She has written for woman&home, GoodtoKnow, Now, Woman, Woman's Weekly, Woman's Own and Chat, and is a former Deputy Fashion & Beauty Editor at Future PLC. A beauty obsessive, Jess has tried everything from cryotherapy to chemical peels (minus the Samantha in Sex and The City-worthy redness) and interviewed experts including Jo Malone and Trinny Woodall.