The best derma rollers for anti-aging, plumping, and rejuvenating skin
The anti-aging support you need, the best derma rollers help your skincare essentials absorb better and faster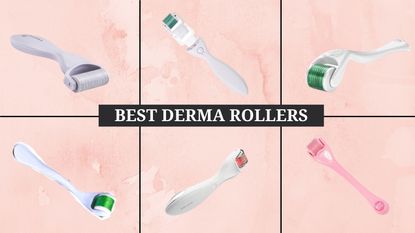 (Image credit: Future/Getty Images)
If you're on the fence about trying out one of the best derma rollers it is time to bite the bullet. Derma rollers bring the trendy (and effective!) microneedling experience to the comfort of your own home, and provide that much-needed oomph to your skincare regimen. They help speed up your product absorption rate, target dark spots, and leave the skin glowing with continued use—medispa-worthy results, literally at your fingertips.
The at-home facial tool industry has seen a boom over the last few years, as lockdowns had us pivoting to DIY solutions. Our skincare routines started to include self-care facial tools like jade rollers, cooling globes, and gua sha as part of our quest to smooth down lines and keep the ravages of time, gravity, and stress at bay. Derma rollers, in particular, have also seen a spike in recent months, as they've been reported to effectively improve skin texture and reduce the appearance of wrinkles. This is because they help stimulate skin elastin and collagen levels, evidence supported by a recent study published in Biomedical microdevices.
How to use a derma roller
Why you can trust Woman & Home Our expert reviewers spend hours testing and comparing products and services so you can choose the best for you. Find out more about how we test.
Derma rollers are great multi-taskers, but using one requires patience and care. There are two things to keep in mind:
1. Thorough cleansing is important
Because a derma roller has tiny needles, you'll want to gently use the roller on cleansed skin, i.e. face, neck, and forehead, just a few times—passing over the skin too much can be too abrasive, especially for sensitive skin. Make sure you learn how to wash your face thoroughly beforehand to avoid any bacteria getting into the micro-punctures in your skin and causing an infection.
2. Patience and consistency is key
Even the best derma rollers are also not an overnight fix by any means; it can take weeks to months to see results, so patience is key. You need to use them as directed (that is to say, only a few times a week), and be consistent in doing so for best results.
The best derma rollers, as chosen by our beauty experts
1. Skin Gym Face Micro-Roller
Best derma roller for beginners
Specifications
RRP: $25/£18
Extra features: 540 .25mm stainless steel needles
Reasons to buy
+
Gently penetrates skin, allowing topical products to absorb quickly
+
Derma roller handle is lightweight and easy to use
+
Roller head can easily be cleaned at home
Reasons to avoid
-
Not for extremely sensitive skin or those prone to inflammation
-
Not for those allergic to stainless steel
If you've never used a derma roller before, this Skin Gym Micro-Roller is a great way to get your feet wet; it's easy to use, lightweight, and its tiny stainless steel needles provide the right amount of pressure on your face. Because of this, vitamin C serums and facial oils absorb quickly into the skin without leaving any tackiness behind—an added perk if you hate going to bed with greasy skin.
Though, as we mentioned earlier, the best way to use this facial roller is slowly and consistently a few times a week: just three to five passes on the face, chin, lips, and forehead will do. Any more than that can spell out trouble for your skin—too much pressure may have you reaching for your ice globes if your skin is extremely sensitive or prone to redness.
Another small caveat is that this derma roller does need to be cleaned after each use. But, unlike rollers which require use of alcohol spray or pads to sterilize the head, you can easily clean this tool by submerging the roller head in a cup of boiled water for five minutes. After all, keeping your roller clean prevents you from having to purchase a new roller down the line, making it the perfect starter roller to introduce into your routine.
2. Prosper Beauty Dermaroll 6-Piece Microneedle Dermaroller Kit
Best budget derma roller
Specifications
RRP: $32/£23
Extra features: 600 titanium microneedles; four replacement heads
Reasons to buy
+
Derma roller glides smoothly over skin
+
High needle count provides better product absorption
+
Roller's sculpted handle provides great grip
+
Comes with four replacement heads
Reasons to avoid
-
Needle pressure may be too light for thicker skin
This roller set is a can't-miss for those who don't have time for a thorough clean. It comes with four replacement heads of the same size, so you'll have a clean one to use each time—super important for those just starting to get used to the rigors of DIY rolling, as new heads minimize the risk of bacteria.
Bonus heads aside, the roller itself is also a delight. It glides easily over the skin, and the grip provided from its sculpted handle keeps hands firmly in place when passing through any delicate areas.
Its needle count being on the higher side can be great for refining pores in the T-zone, but might be too intense for highly sensitive skin. Also if your skin is thicker, and you prefer a stronger needle pressure, this tool may be too light for your liking.
However, because this facial roller comes with four replacement heads and effortlessly glides across the skin, it's definitely our top roller pick in the budget category and gives major bang for your buck, particularly if you're just starting to get the hang of things.
3. Beautybio GloPRO Microneedling Rejuvenation Tool
Best luxury derma roller
Specifications
RRP: $199/£144
Extra features: LED red light; VibroTactile stimulation; added cleanser; sanitizing spritzer; retinol repair serum; skin prep pad; moisturizer
Reasons to buy
+
Attachments are interchangeable
+
LED red light and stimulation add to the 60-second efficacy
+
All-inclusive set (full-sized cleanser, sanitizing spritzer, retinol repair serum, skin prep pad, and moisturizer products) provide a one-stop shop
Reasons to avoid
-
Pricey
-
Needle pressure may be too weak for some
This luxury derma roller may be expensive, but because of its LED light and five included bonus items (yes, really), it's practically a skincare lover's dream all in one package.
In addition to a derma roller, this set provides a full-sized cleanser, sanitizing spritzer, retinol serum, skin prep pad, and moisturizer. These items not only help you keep your roller clean but also treat your skin to anti-aging and brightening ingredients; retinol smooths away fines and wrinkles, while the vitamin C-rich moisturizer brightens away dullness and discoloration.
The roller itself is also impressive: It uses red LED light and has shorter needles, making it gentle enough for sensitive skin to use. Be extra careful when using it on areas with pimples, however, as it can be painful, so do your best to avoid these areas.
It definitely clocks in at the highest end of the spectrum cost-wise, but if you're looking for a one-stop-shop (or even a gift for the self-care addict in your lift), this set includes five full-sized skincare items that go along with the device, giving you more bang for the derma-rolling buck.
4. Lolysenta Derma Roller for Body
Best derma roller for body
Specifications
RRP: $11.95/£42
Extra features: 0.3mm size needles, one storage case
Reasons to buy
+
Wider, allowing it to be used quickly on skin on the body
+
Safe to use on the scalp to stimulate hair growth
+
Rolls smoothly, without exerting too much pressure on skin
Reasons to avoid
-
Needle size may be too short for some
If targeting cellulite and stretch marks is one of your top beauty goals, this derma roller will definitely come in handy. It's wider-size allows it to pass over the skin on the thighs and legs quickly, without exerting too much pressure in the process. Similarly, its size can also allow it to be used on the scalp, which may be a huge sell for men and women experiencing hair loss.
Yes, the needles of this derma roller may be too short for some, so be aware that it's not an overnight fix for the stubborn cellulite on your upper thighs. But it can be very useful to sensitive skin as it still gives you just the right amount of pressure to feel it working, without causing too much distress. At just a little over $10, it's worth it for those looking to help target bigger body areas without going under the knife.
5. Sdara Skincare Microneedle Derma Roller
Best derma roller for acne scars
Specifications
RRP: $24/£42
Extra features: 540 0.25mm titanium microneedles; storage case
Reasons to buy
+
Needles target spots and scarring caused by acne
+
Reduces the appearance of large pores
+
Easy to use and comes with storage case
Reasons to avoid
-
Can lead to irritation and redness with too much pressure
-
Roller is squeaky
The Sdara Skincare Microneedling Derma Roller is a game-changer for scars and spots. Its 540-needle count leaves pores looking smaller, and when paired with vitamin C can help render scarring less visible after a few days' use. Rough and uneven texture also gets a boost from this tool; when the right amount of pressure is applied, skin appears softer and smoother but not oily, even when a thick layer of night cream is applied on top.
On the downside, this roller has a few hang-ups: If too much pressure is applied, the process can be too abrasive on sensitive skin. Similarly, the roller squeaks as you use it, which can be slightly off-putting if you're used to a more "premium" glide.
Since derma rollers require time and commitment, this is a great way to show scarring and spots who's boss and certainly is a great add-on to a skincare routine for acne-prone skin. After all, if you find yourself splurging on (and then tossing away) products that just sit on the top layer of the skin, this roller will definitely help end the vicious cycle, which is why it's one of our best derma rollers picks.
6. Lavônné 4-in-1 Authentic Jade Roller and Gua Sha Set
Best derma roller set
Specifications
RRP: $25/£18
Extra features: Derma roller; jade roller; gua sha tool; reusable microfiber glove pad
Reasons to buy
+
Derma roller set includes both a jade roller and gua sha tool
+
All are well-constructed and easy to use
+
Allows you to try multiple tools to see which one best suits your needs
Reasons to avoid
-
Jade tool does not stay cool
Not sure what kind of derma roller to use? Don't worry, as the Lavônné 4-in-1 set allows indecisive buyers to enjoy it all. It comes with one jade gua sha stone, one jade roller, and, of course, a derma roller—all full-sized tools that can promote smoother and healthier-looking skin over time.
That said, variety is definitely this set's strong suit; you can easily test out all three easy-to-use tools (including the shaped gua sha stone) to find out which one best suits your needs. Or if you happen to like all three, you can easily rotate them throughout the week whenever your skin could use the boost or is in need of some lymphatic drainage.
However, it's got one minor hiccup worth pointing out: While this set claims to use real jade, be advised that it isn't cool to touch like authentic jade stone. At the same time, because all tools in the set are well-constructed and practically fool-proof to use, it's definitely worth buying, if not for yourself then for a loved one (we think this would make a great 40th birthday gift idea).
Sign up to our free daily email for the latest royal and entertainment news, interesting opinion, expert advice on styling and beauty trends, and no-nonsense guides to the health and wellness questions you want answered.
Courtney Leiva is a seasoned lifestyle writer with nine years of experience under her belt. She graduated from The Ramapo College of New Jersey in 2012, and since graduation, she has been actively contributing to major news outlets such as Refinery29, Women's Health, Yahoo! Lifestyle, HelloGiggles, NewBeauty, and more.
Courtney initially started off covering beauty news, but as she has grown her career over the years, her health, home, and shopping pieces can now be seen on BuzzFeed, The Daily Beast, and Huffington Post.