The New Technology For Your Hair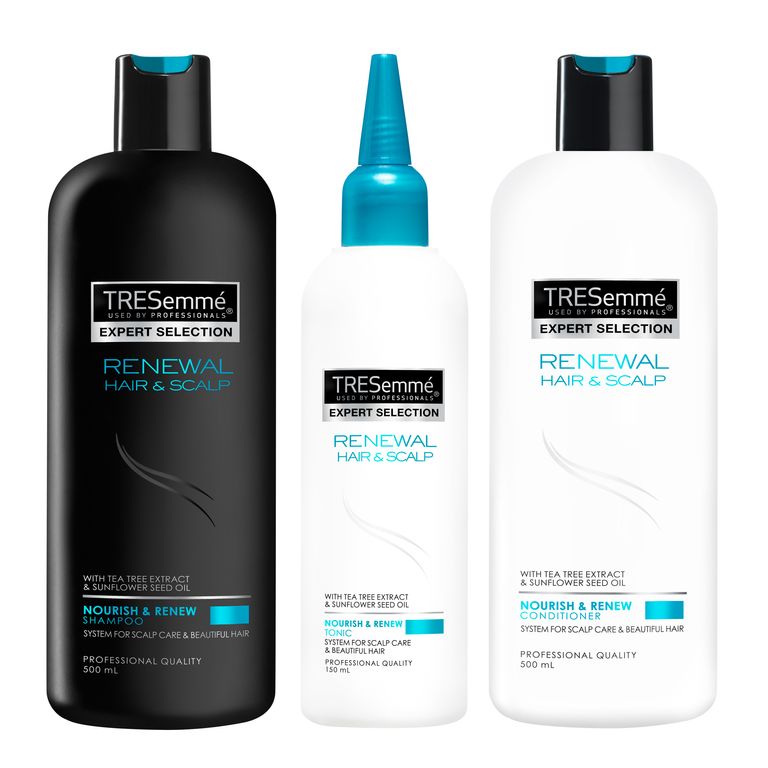 Treat your haircare like your make-up with the latest discoveries in beauty technology
We all spend hundreds of pounds on skincare products every year in the eternal quest to look younger - but what do you spend on your hair? Thin, broken or dull tresses can be just as ageing as sagging and wrinkled skin, but we often seem unwilling to spend on a problem solving shampoo the way we do on an anti-ageing face cream.
But now, with new innovations in technology, there is every reason to invest in some luxury hair care. There are new products that can actually repair ageing, broken hair; cleanse your hair without washing; conceal your roots without dying and illuminate - just as make-up can do all of these things for your skin.
So read on to discover how to apply the new make-up for your hair and see how much better your tresses can look with our pick of the best luxury hair care products around...
First, we've found a hair care range to give your scalp a real treat and get rid of dandruff. You have to feel a little sorry for your scalp - while the skin on our face and body enjoys plenty of cosmetic attention, the bit that hides beneath your hair tends to be pretty much neglected until there's a noticeable problem.
Enter TRESemme with Renewal - the facial for your scalp that starts at just £5.50. More a pre-emptive strike than a treatment, this shampoo, conditioner and tonic nourish your scalp with follicle-unblocking tea tree extract, and vitamin-packed sunflower oil, which deeply nourishes skin, warding off dryness, tightness, and those dreaded flakes.
Use the shampoo and conditioner as often as you like, then top up with the tonic once a week (it feels lovely and tingly, so it won't be a chore) to show your scalp some much-deserved love.
Keep reading to find even more luxury hair care buys and tips for your best hair ever...
The treatment that undoes decades of damage: Olaplex
Whether you go for a simple grey-covering 'smudge' at the roots or have been having highlights for years, the fact is that coloured hair is normally damaged in some way. Well, until now anyway...
Fresh over the Atlantic from L.A, Olaplex is a 10-minute in salon treatment and a real first: it has been proven to stop colour damage in it's tracks, and to repair damage that has already taken place - something that has never been achieved before in the world of hairdressing. Put simply, it can turn back the clock on chemically damaged hair.
So how does it work? It's highly scientific stuff, but put simply, the root of all damage during colouring is the disulphide bonds in hair breaking due to the chemicals used. These broken bonds are what makes hair brittle, dry, less elastic and prone to breakage. Olaplex, which your hairdresser mixes in with your colour, not only stops the bonds breaking during the process, but can rebuild ones that have already broken. As well as restoring hair's condition, this also means dramatic colour changes are far less risky, a godsend to colourists everywhere .
London salon John Frieda has been inundated with clients requesting Olaplex since launching the treatment this summer, and many other salons nationwide are beginning to follow suit. What's the W&H verdict? After trying Olaplex while having balayage, my (quite knackered, heavily highlighted) hair felt instantly softer and smoother, which is quite normal for a conditioning treatment, except unlike other treatments this softness hasn't washed out. One month on I'm still surprised by it's manageability, the results stick around until your next colour and are cumulative, so I'll be asking for Olaplex from now on, and so should you!
The anti-ageing regime for your hair: Salon Science Celluluxe Shampoo & Conditioner, £15-17
Beauty experts have been getting in a lather about plant stem cells in skincare this year - so Salon Science's anti-ageing Shampoo & Conditioner feels like an apt progression. Containing stem cell extracts from a very special Swiss apple (so special, in fact it won a Nobel Prize for it's cell-protecting properties) and a selection of potent antioxidants, this haircare duo works hard to rejuvenate cells in the hair follicle, fighting against all those unwelcome things that start happening to our hair as it matures - dryness, lack of volume and fragility. The wash and condition regimen is as easily implemented as an apple a day, and our tester saw the lustre return to her over-processed ends in about a week. If you're really taken with the results, there's also a scalp treatment, intensive masque and volumising foam in the collection.
The beauty supplement for your hair: Fountain The Hair Molecule, £35
The Hair Molecule, the latest offering from Fountain's impressive range of drinkable anti-agers, boasts a concentrated mix of ingredients to improve hair from within. It is well known that applying a moisturiser to your skin isn't as effective as taking a supplement - and the same applies to your hair. No conditioner, treatment or oil can repair broken, damaged or thinning tresses like this supplement. But how does it work? When we are young, hair is full of silicon, giving our hair, nails and skin a silky soft texture that is lost as we age. The Hair Molecule contains silicon to bring back this touchable texture, as well as Biotin, which stimulates growth and Hyaluronic Acid, which adds moisture and replenishes cell turnover for thick and healthy hair. Take two teaspoons a day, alone or with a drink, to see hair that is full of bounce, shine and radiance.
The topcoat for your hair: Charles Worthington Shine Booster All Over Gloss Spray, £5.99
We are willing to bet that when asked, most women would say that glossy or shiny locks were top of their hair wish lists - and dull or frizzy hair their biggest concerns. There are many reasons why we struggle to achieve a glossy sheen to our tresses - it could be down to your haircut, your hair type or the products you are using - but there's no doubt that dull hair is synonymous with unhealthy hair. There are a host of shampoos and conditioners on the market, all promising to deliver miracle results, but could the secret to high shine actually lie in a product you apply post-wash, post-blow-dry? The new Charles Worthington Shine Booster All Over Gloss Spray is a quick and simple solution to dull and lacklustre hair. Acting like a topcoat for your tresses, this lightweight spray is applied straight onto your freshly dried style to coat your locks with a glossy, enviable finish.
The primer for your hair: BaByliss Brilliant Shine Brush, £29.99
BaByliss makes amazing hair tools. Having already brought us the BaByliss big hair, which is a necessity for at-home blow drying; and the BaByliss Pro Curl, which gives even poker straight hair luscious curls and waves in seconds; they have now come up trumps again with their latest invention. The BaByliss Brilliant Shine Brush promises to bring gloss and control to any hair type - and it really delivers. Blasting the hair with ions to smooth the cuticle and remove static, all you have to do is turn the hairbrush on and slowly glide through the hair to reveal locks that are softer, shinier and more managable than ever. If you have naturally straight hair, you will be amazed at the mirror-like shine this brush can give you. Wavy hair is transformed into an a-list-worthy old Hollywood style and, if you have naturally corse or curly hair that you struggle to control, this brush will give you glossy, managable tresses, changing the texture of your hair in an instant. And the best part? It takes absolutely no practice, skills or knowledge to use. Just brush and go for amazing hair, every day.
The foundation for your hair: Pantene BB Creme, £3.49
There was a real buzz around BB Creams when they arrived from the Far East a couple of years ago. Now, Pantene have taken all the best bits from the skincare hero to create a real multi-tasker for hair which protects against breakage and provides lightweight nourishment while boosting strength and shine. A steal at just £7. Available from Boots.
The deep-cleanse for your hair: L'Oreal Professional Volumetry Shampoo, £9.99
It's not just your face that needs a deep cleanse every few months, your hair suffers from build-up too especially if you use products after every wash. L'Oreal Professional Volumetry Shampoo is like a fabulous facial for your hair - gently cleansing the locks and scalp of impurities before plumping up the roots.
The anti-ageing serum for your hair: Kerastase Initialiste Advanced Scalp and Hair Concentrate, £32
Luxury haircare brand, Kerastase, are always going to be at the forefront of the latest technology. The hair heroes have created the Kerastase Initialiste Advanced Scalp and Hair Concentrate, which is the first treatment to use stem cell research for your hair in the way it is used for your skin. Apply a few drops of this concentrate to towel dried hair to repair up to 93% of breakage and split ends. Find more buys and tips for your hair
The highlighter for your hair: Aveda Brilliant Emollient Finishing Gloss, £23.50
A highlighter has become a make-up must have to brighten skin and knock years off your look. Now you can do the same for your hair with the new Aveda Brilliant Emollient Finishing Gloss. Add a few drops to your finished style to give your tresses a radiant glow, worthy of any a-list celebrity.
The fake tan for your hair: Shu Uemura Art Of Hair Colour Lustre, £32
Just like you hold on to your suntan after your holiday with a little help from St Tropez, now you can extend the life of your hair colour with Shu Uemura Art Of Hair Colour Lustre. For use on natural or dyed hair, revive dull or fading colour by combing through after shampooing. Leave for five-to-10 minutes and wash out.
The concealer for your hair: Federici Color Wow Root Cover Up, £28.50
Save money and time on lengthy salon colour treatments with the new Federici Color Wow Root Cover Up. Like coloured hair powder, but without the drying, sticky feeling, this tinted mineral powder can be brushed on to roots to cover grey or your natural colour, blending into your dyed locks. In colours ranging from blonde to dark brown, this is a revolution in hair colouring.
The contour powder for your hair: Shu Uemura Art of Hair Volume Maker, £31
Tired of products that promise instant volume, but don't deliver? Banish flat hair forever with the new Shu Uemura Art of Hair Volume Maker. An invisible powder that you can brush onto hair in the same way you would use blusher on your skin. Dust along the roots to add texture, volume and shape.