Simple steps to thicker, fuller hair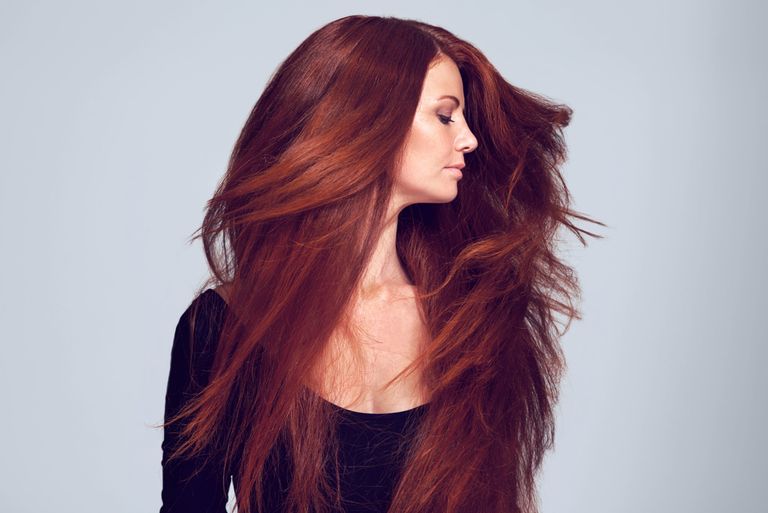 The latest beauty innovations and products can give the finest of hair thickness and root lift. We uncover the beauty buys to help you in your quest...
We all need a bit of body when it comes to our hair: it's the one thing that lifts the face and makes tresses look bouncy and youthful. But what's the secret behind how to get thicker hair?
The key to sought-after volume is to avoid rigid, overworked hair at all costs - it can be instantly ageing. Instead, choose a more relaxed style that allows greater movement and softens your features.
You can give your hairstyle a powerful boost of volume, whatever your length. It's a myth that women over 40 can't have long hair, but the key to keeping a flattering longer style on older women is to go into your salon for regular trims and inject plenty of volume into your style.
Otherwise, long hair can look dull and pull down your facial features, resulting in an ageing and unflattering style.
For longer hair, create a carefree look with soft, romantic curls or use tailored styling products to lift the roots and add movement to your tresses. If you have a shorter 'do, go for short, choppy layers to show off your features and instantly inject volume.
As we age, our hair naturally gets thinner which means that achieving a style full of volume can be tricky. But with some clever styling tips and haircare products, you can learn how to get thicker hair, no matter what hair length or hair texture you have.
We've rounded up our favourite products for how to get thicker hair, including shampoos, gels, masks and supplements to give you luscious, bouncy locks.
While products are key to help lift hair from the root, with expert styling tips and the right tools, you can create thicker, fuller hair at home. Follow our guide of beauty buys and stylist tips for how to get thicker hair - and watch how your confidence soars!
See more hairstyles and products
Herbal Essences Scalp Balance Deep Sea Minerals Shampoo, £5.99
It's tempting to fill fine hair with bulk-promising product, but too much can weigh hair down. Instead, be selective and edit your products. Herbal Essences Scalp Balance Deep Sea Minerals Shampoo cuts through every scrap of build-up without stripping moisture. Then pick just one or two targeted stylers, no more.
Evo Macgyver Mousse, £17.50
It may seem retro, but mousse is still in every pro hairdresser's kit for a reason; nothing's better for lasting body. The trade-off for this strand-swelling effect was stiff, crispy-feeling hair but new EVO Macgyver Mousse bucks the trend, giving fine hair serious swish without the crunch.
Dry your hair like a pro
Blow-dry products are key to creating a fuller look," says Sophie Ruggiero, Nioxin education expert. Rough-dry hair without the nozzle and your head upside down to create volume at the roots, then blow-dry using a round brush, which is designed to give volume at the roots and width to the ends."
Solgar Wild Alaskan Full Spectrum Omega, £23.21
Omega fatty acids are vital for a heathly full, strong and shiny hair, as well as keepin our skin glowing and warding off heart disease. The only problem is our body can't make them. The only way to get these vital fatty acids into our system is to eat them (salmon, sardines and mackerel are rich in omega) or take a daily supplement. Game Of Thrones Actress, Natalie Dormer suprised fans with the rate at which her hair has grown between her last film and this season's Game of Thrones. Her secret? A £23 omega supplement. 'I had to shave a side of my hair for The Hunger Games, and I'm taking Solgar Wild Alaskan omega capsules so it grows in strong.' She explained in a recent interview before filming had begun. Will you try it?
Head & shoulders extra strengthening tonic, £9.99
Formulated with caffeine and essential vitamins, Head & shoulders leave-on tonic boosts scalp circulation to strengthen individual hair strands and effectively reduce hair loss associated with styling damage and split ends. Simply part your hair in several places and spritz the product on evenly over the scalp. Gently massage the area for a few seconds, then style your hair as normal.
Viviscal Women's Max Strength Supplement, £99.95
Many factors can contribute to a change in your tresses, diet, over-styling, menopause and genetics can all effect the rate at which your hair grows. Maintain optimum hair growth by taking a Viviscal supplement daily. Packed with biotin, iron and zinc, these easy to swallow tablets top up your natural levels of vital vitamins and minerals.
Nioxin Scalp Renew Dermabrasion Treatment, £7.40
Healthy hair starts with a healthy scalp. Treat your scalp to a facial with Nioxin Scalp Renew. This monthly dermabrasion treatment finely exfoliates dry skin and sebum (grease) build up to ensure there is nothing clinging to the precious hair follicle which can prevent normal hair growth. Fuss-free and effective.
Charles Worthington Volume & Bounce Texturising Powder, £5.99
Backcombing has been boosting limp locks on runways and red carpets for decades, but if you rely on this method too often it can create brittle and distressed hair in a relatively short amount of time. The process of brushing hair back on itself lifts the delicate cuticle cells which protect your hair shaft. Do it often enough and you'll strip the cuticle cells completely leaving your hair weak and highly susceptible to damage. For quick fix volume without causing stress to your tresses, sprinkle Volume & Bounce Texturising Powder onto the roots and rub lightly with your fingertips until hair is visibly lifted and the powdery residue has vanished. Additionally Charles Worthington's Art Director, Marc Trinder recommends 'teasing the crown of your hair with your fingers by pushing the hair back on itself gently', this will create the backcombed effect in less time and without compromising your hairs protective barrier too much.
Look out for the latest technology
They say beauty comes from within, and that's certainly true of L'Oreal's new Fibrology haircare range . While most products that promise to boost fine hair do so by loading volumising ingredients on top of your locks. Here, the active ingredient filloxane penetrates the hair shaft to create lasting bonds with your hair's proteins that stay put after rinsing, creating density from the inside. As the not-so-proud owner of a terminally fine and fluffy 'do, I approach any product that promises a Middleton-esque mane with a healthy amount of scepticism, but one week into using the shampoo, conditioner and double serum and I have detected a definite boost in body, bounce and ease of styling. So I may still need a little heat-styling help to build a serious bouffant, but for everyday thickening, Fibrology could just make a believer of me yet. The Fibrology range includes shampoo and conditioner, intensive texturising masque, thickness booster and double serum, from £2.99 at Boots.com. By Deputy Beauty Editor, Fiona McKim
Try a hair concealer
Thought concealer was just for your under-eyes? Think again. Nanogen Hair Thickening Fibres are a revolutionary new way to cover thinning hair. Made from 100% keratin, the statically-charged ultra-fine fibres blend microscopically to your natural locks on contact, adding instant volume and body by creating fir tree-shaped bonds between the hair follicles. The fibres have become a favourite with make-up artists because they're so quick to use. Simply sprinkle on to clean, dry hair then blend with your fingertips for full-coverage. Or apply a little to subtly build up the effect. And, just like a skin concealer, the fibres are available in different shades - from black through to light blonde and grey. Buy Nanogen Thickening Hair Fibres, £18.95
Choose the right shampoo
Always use a volume shampoo and treatment to help build body. They actually swell the hair, giving the appearance of thicker, fuller hair. We love Nixion Cleanser Number 2 for Fine Hair, £11.60.
Treat your tresses to a weekly mask
Fine hair can really benefit from a volumising cream masque like Kerastase Volumactive Masque £21.44 that helps give longer-lasting volume and strength.
Snip in a bit more body
Fine hairstyles really need structure built in. Go for a haircut that has really soft layering around the areas that tend to sit flat; this will help with movement. Also graduating fine hair into a short bob shape will help to lift, flat, limp hair. The new 'French girl bob' is ideal for giving the illusion of fullness," says Siobhan Jones, Headmasters ambassador for L'Oréal Professionnel. "The edges are cut blunt, which gives the impression of weight and defines the outline of the haircut, making hair appear fuller."
Learn the art of a DIY blow-dry
Apply a blow-dry spray like Kerastase Volumactive Volume Expansion Spray £17.40 to the roots. Start by blow-drying the hair, moving the roots from side to side and against the natural fall of the hair. This helps to build a foundation into the root area. After lifting the roots, add your parting and blow-dry using a large, round natural bristle brush. Once the hair is 100% dry, add Velcro rollers to the crown area for extra lift, leaving them in for ten minutes. This adds a touch of natural volume and glamour to the end style.
Use stylist tricks
Backcombing is great for pumping instant volume into limp, lifeless hair, and will create the illusion of thicker hair, but you also need a base. Spray a root life product such as Lee Stafford My Big Fat Root Boost Mousse Spray (£6.99 for 150ml) directly on to roots while hair is damp to create volume the lasts. Apply to towel-dried hair, lifting a section and spraying directly on to roots in all the areas where you want to create big volume. Blow-dry to set.
Style it right - and limit your products
Don't overload your hair with too much product. Try not to create too much texture for fine hair as this will weigh the hair down. One of the most common hairstyling mistakes is using too much product, which can make hair look flat or even greasy. It's all about keeping hair light to add height and volume, so read the label and follow instructions. Try Redken Powder Refresh 01 Dry Shampoo £13.85 to help revitalise hair.
Go darker for more depth
Hair dye can temporarily help swell the hair shaft, making hair appear thicker in texture, but the secret is in the colour too. The darker you go, the more depth you'll achieve. You could go darker in the main body of your hair and have light ends, but generally the lighter you are, the finer and duller your hair can look. And beware of bleach: it thins hair, making it finer still.