Rusk W8LESS Professional Dryer review: we test the budget-friendly hair dryer
w&h beauty writer's Rusk W8LESS Professional Dryer review – does it sacrifice quality for price?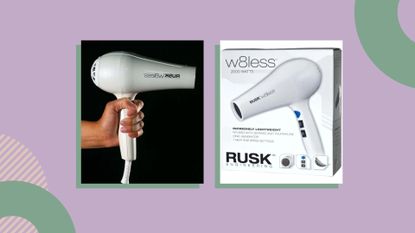 (Image credit: Future/Rusk)
The Rusk W8LESS Hair Dryer is a simple, basic hair dryer that's lightweight, easy to handle, and produces frizz-free results. If you're hoping for smooth hair on a budget (and can overlook a lack of aesthetic allure) this may be the model for you.
Reasons to buy
+

Great value

+

Six speed and heat settings

+

Easy to maneuver

+

Effective smoothing on frizz
Reasons to avoid
-

Visually nothing special

-

Doesn't have auto-clean functionality
Why you can trust Woman & Home Our expert reviewers spend hours testing and comparing products and services so you can choose the best for you. Find out more about how we test.
My Rusk W8LESS Professional Dryer review didn't start out with high hopes. That's because for a blow dryer to win my stamp of approval it has to do lots of things: nix frizz, smooth out my curly mane, and feel comfortable (read: not heavy) in my hand. If it has an attractive price tag, that's another check in the plus column. The Rusk W8LESS Professional Dryer claims to do all of that and more, with a feather-weight design along with tourmaline and ceramic technology to deliver a salon-worthy blowout.
When it comes to beauty products – the best hair dryer included – I never discriminate on price. That being said, I still can't help but wonder if an $80 dryer skimps on performance for the sake of being affordable. So, I decided to put the Rusk W8LESS Professional Dryer to the test. Below, find out how it works, all about its design, and if it's a reliable swap for higher-end dryers (spoiler alert: it totally is).
Specifications
Weight: 1.9lbs
Watts: 2000W
Cord length: 9ft
Warranty: 2 years
RRP: $80
Our Rusk W8LESS Professional Dryer review
Rusk W8LESS Professional Dryer design
The Rusk W8LESS Professional Dryer is as basic as it comes when we're talking about aesthetics. That being said, if you need your dryer to just do its job without looking pretty (and without paying a hefty penny for it), this one is a phenomenal choice for its drying capabilities. While I'm not completely sold on this hair dryer's look, I do appreciate its high shine exterior (which, to my surprise, doesn't cause it to slip out of my hand as I'm working with it).
Aside from how it looks, the Rusk W8LESS Professional Dryer has several heat and speed settings to choose from. There are three heat options (hot, warm, and cool), two speed settings (high and low), and one cool shot button. It also comes with a precision nozzle for easy straightening.
Personally, I have a curly hairstyle and tend to use the best hair straighteners when it comes to styling my hair. For this reason, I'm more inclined to spend money on a flat iron since I know it'll be displayed on my vanity more often. Suffice it to say, cheap blow dryers and I go hand in hand, but that doesn't mean I've had the best experience with them.
With an under-$100 price tag, this dryer from Rusk uses a mixture of ceramic and tourmaline technology and emits negative ions and infrared light to produce shiny, smooth hair. Perhaps the biggest thing that drew me to this hair dryer, though, was its weight. At less than two pounds, it doesn't give me the dreaded limp blow-dry arm – something I struggle with severely thanks to my long, thick, curly hair that typically takes ages to smooth out.
How well does the Rusk W8LESS Professional Dryer perform?
This hair dryer performs. And it performs well. Unlike other hair dryers that leave me feeling like I just left a workout for sub-par results, this one gets me in and out with dryer hair in less than 20 minutes, with no frizzy hair or flyaways to show for it. My hair is very difficult to manage, and most hair dryers leave it feeling straw-like and frizzy. After using this one, though, my hair is softer, shinier, and loads smoother.
As far as this dryer's speed and heat settings, they're easy to control and accurate. I did find the highest heat setting to be extremely hot – almost too hot. Even the warm setting is pretty hot, but I like to use it when I want to touch up a three-day-old bouncy blow dry and don't want to expose my hair to high heat. I also really liked the cold shot button – it was actually cold (unlike other models I've tried that are almost room temperature) and locked in my style nicely. The precision nozzle is also a good-to-have for days I want to give my hair a break from my flat iron and achieve volume.
This tool is significantly quieter than other blow dryers I've tried, which is impressive considering it delivers 2000 watts of power. It's a good tool to use during times I'm styling my hair in company or while traveling, as I can actually carry a conversation when it's on. Durability-wise, I haven't had this long enough to speak to how long it lasts, but I will say this: I have a small vanity and this has fallen off of it quite a few times, leaving no nicks or scratches behind.
What's not good about the Rusk W8LESS Professional Dryer?
While the Rusk W8LESS Professional Dryer is exceptionally lightweight and makes a great tool to throw in your carry-on or best weekend bag if you're traveling, the design itself is a bit bulky and it doesn't fold. It also visually leaves me wanting more – either more colors or a sleeker profile. There's no denying its power and speed, though I did notice that it doesn't go on high speed immediately – rather, it takes a few seconds for it to gradually reach high once I plug it in and turn it on.
I like the ergonomic handle and lightweight design, though some may find that the button placement causes them to accidentally push a different setting. I personally haven't experienced this and actually prefer that the buttons be on the handle (I find it makes it easy to switch speeds and heat mid-drying). Still, I wouldn't be opposed to this dryer having a lock setting for peace of mind.
Unlike some high-end dryers on the market, this one doesn't have an auto-clean function. However, the screen on the back is easy to twist off when it comes time to remove dirt and buildup.
Rusk W8LESS Professional Dryer review: w&h verdict
The Rusk W8LESS Professional Dryer is a winner in my book. I'm a fan of the fact that I can swap settings easily without having to put the dryer down and risk blowing everything off of my vanity. Though I wish it carried more of a 'wow-factor' aesthetically, I love how lightweight and quiet the dryer is, which, when coupled with the fact that it comes with a nine-foot cord, makes it one of the best travel hairdryers too.
I like that this dryer gives me options when it comes to styling my hair. I can use the precision nozzle to straighten, the hot heat setting for drying, the warm setting for reviving dirty hair, and the cold shot button for ensuring my style lasts. It would have been nice if it came with a diffuser for curly styling, but for $80 I'm still impressed with its features.
All in all, this dryer is a nice middle ground between low-end and high-end: it's a step up from drugstore dryers but isn't as luxurious-looking as some of the other professional brands. Still, it remains powerful, quick, and efficient. Let's just say that if I were blindfolded, I wouldn't be able to tell the difference between this and a dryer three times its price.
Michelle Rostamian is a Los Angeles-based beauty writer with 10 years of experience in the beauty industry. She began her career as a publicist, content writer, and social media manager, representing beauty brands and industry professionals. Currently, she is an editor and writer on all things makeup, beauty, skincare, and lifestyle. Michelle graduated from the University of California, Los Angeles with a B.A. in Communications. She has bylines at Cosmopolitan, Elle, Marie Claire, Allure, The Zoe Report, HelloGiggles, Yahoo, Byrdie, Well+Good, Reviewed, Women's Health, Runner's World, The Girlfriend, and more.