12 Best EVER Party Season Hair Tips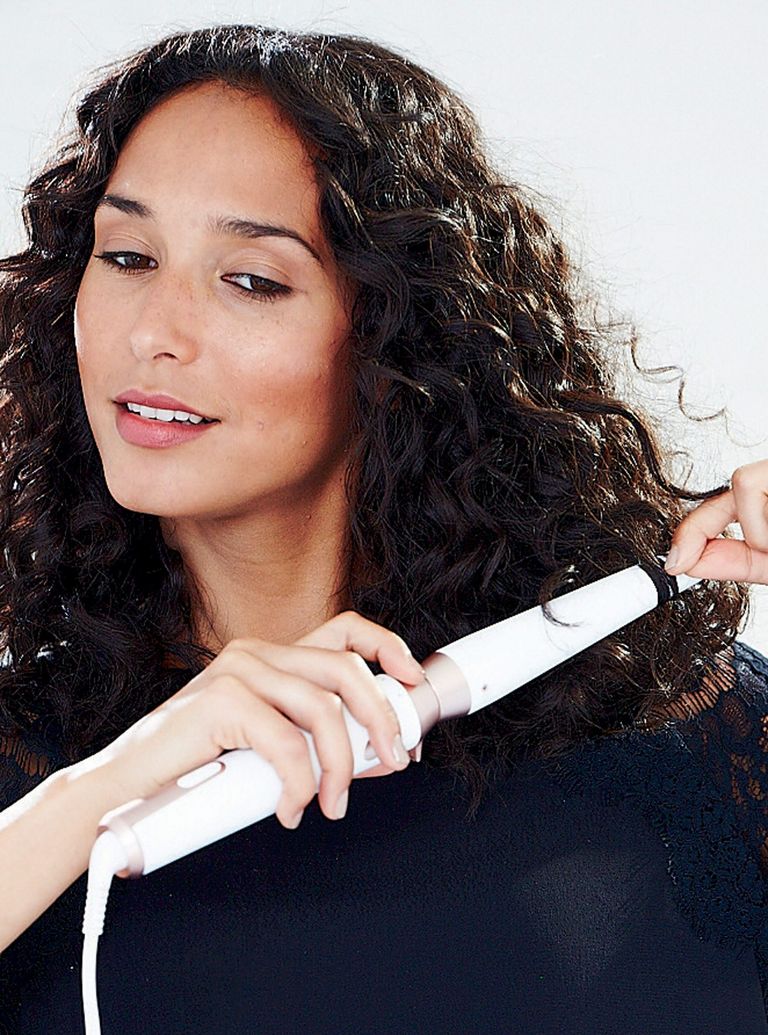 The ONE effortless up do
"A side twist is absolutely effortless and chic. Twist hair from the front of the head backwards and down, then gently bring the hair upwards and secure into place using bobby pins. Accessories or beaded pins will add a feminine-festive touch to the look."Celeb hairdresser, Asgar Saboo
TWO-in-one rescue remedy
Why does hair turn all wiry and uncooperative just in time for the festive season? That'll be the drying double act of bitter cold outside and heating inside. Fight back on both fronts with Shu Uemura Urban Moisture Hydro Nourishing Double Serum, £32,a bi-phase spray with hydrating moringa oil and environmental protectors, red algae and vitamin E. Shake up and spray on damp hair to coax it back to silky softness.
THREE Super Stylers
If you never got the knack of curling with irons, feed sections through this rotating barrel and it'll do the tricky bit for you.Remington Curl Revolution, £89.99
Work night out? Why queue for a plug when you can smooth and style with a sleek, rechargable number instead?Paul Mitchell Neuro Unplugged, £99.95
Bouncy curls are big news! Use this skinny wand to reshape natural texture or create from scratch.Babyliss Tight Curls Wand, £25
The FOUR Part Fast Wave
"If you want to add movement quickly, break hair into four (like a hot cross bun), take a tong, wrap each section and hold for 10 seconds. Secure curl with grips, repeat with all sections and blow dry cool. Remove grips and pull fingers through your hair." James Galvin, Kerastase Ambassador
FIVE Gold bling!
Embellishment is THE hair trend of the season, as seen at Rodarte, Alexander McQueen and more for AW16. Embrace it and adorn yourself with the most beautiful accessories to suit every taste and budget. We loveJohnny Loves Rosie Leaf Hair Comb, £16,Rosantica Atena Headband, £190,Accessorize Curved Slides, £7
Hosting? Snap up SIX Handy Hair Savers
Don't so much as think the S word, this is not a scrunchie. Chic SILKE London Hair Bands, £18 for six, (launchinghereNovember 15), shimmy over rather than squeeze hair, so you can pop it up while you prep, then release it, kink-free when your guests arrive.
Seven sins of party styling
Thou shalt not:
Straighten damp hair – that sizzle is your cuticle saying "OUCH!"
Stick to your usual parting; switch by an inch for an instant update
Curl wispy bits that fall from an up-do. Far too Little Bo Peep
Overload with product – there's no going back once sleek becomes slick
One word: Ringlets. Always brush curls through for a grown-up look
Pile on the accessories. 'Tis the season of sparkle but less is more
Backcomb the front of your hair - very 80s and so very ageing
8pm and nowhere to be? Indulge with a bath and a mask
Charles Worthington Strength and Repair Longer and Stronger Hair Mask, £5.99, with keratin to rebuild and protect
Bumble & Bumble Hairdressers Invisible Oil Balm-to-Oil Pre Shampoo Masque, £32, with 6 oils, warm between hands and melt into hair
Josh Wood Colour Care Mask, £10, a five minute gloss for blondes and brunettes, we demand red and silver next!
Nine-to-five insta-style
"The ultimate quick fix if you're going out straight from work is to add a small amount of water to the hair by running it through the mid lengths to ends. Then create a plait and leave in the hair for an hour. When leaving the office, pull it out to form soft, gradual waves." Errol Douglas, MBE
10-day scalp detox
"People tend to get itchy scalps in the winter due to higher stress levels and we usually wash our hair less often in colder months, leading to a build-up of dead cells. Use an antimicrobial shampoo every other day for 10 days, ingredients to look for are piroctone olamine and zinc pyrithione (find inPhilip Kingsley Flaky Itchy Shampoo, £23) Then use an exfoliating scalp mask once a week to moisturise and gently lift away any accumulated areas of dead skin." Trichologist Annabel Kingsley
The £11 secret to amazing volume
Mousse has fallen out of fashion, but there's a reason hairdressers never stray far from the foamy stuff: unbeatable root lift.Schwarzkopf OSiS+ Soft Glam Plumping Shine Mousse, £10.75, contains liquid minerals that won't go stiff or stick your fingers together. Rake a satsuma-sized ball through roots and mid lengths, blow dry upside down, and set with a cool blast for serious lasts-till-bed volume.
Up past midnight? Master a grown-up pony
You've had a fun evening and have morning after hair to prove it – good thing a little residue gives great grip for a chic pony. Lift sections and spray dry shampoo into your roots. NewBatiste Bare, £12.99,refreshes without sickly fragrance. Rub in with fingers, lightly backcomb your crown and gather hair at the occipital bone (the little bump on the back of your head) securing with aHershesons Clear Snagless hairband, £6.50. Wrap a little piece of hair around the band to cover for a sophisticated finish.