Catherine Zeta-Jones' reveals her beauty tips for midlifers - and why she's inspired by Elizabeth Taylor
Catherine Zeta-Jones has always been up there on our beauty icon list.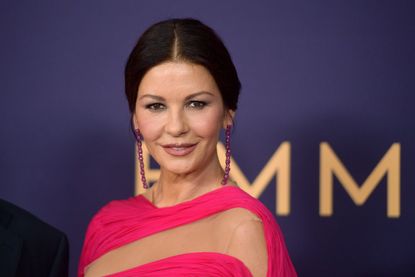 (Image credit: Getty Images)
woman&home newsletter
Sign up to our free daily email for the latest royal and entertainment news, interesting opinion, expert advice on styling and beauty trends, and no-nonsense guides to the health and wellness questions you want answered.
Thank you for signing up to Woman & Home. You will receive a verification email shortly.
There was a problem. Please refresh the page and try again.
A poster for mid-life beauty, Catherine Zeta Jones has recently shared her beauty tips, including some from Hollywood's legends.
Mesmerised by Sophia Loren, Brigitte Bardot, Diana Ross and Ann-Margret when she was younger, Welsh actress Catherine Zeta-Jones hoped one day to be as glamorous as them and she succeeded.
If you wish to follow suit then take a leaf out of her book and look as glamorous as her, then follow these beauty tips she recently shared with The Times.
MORE:The best beauty advent calendars 2020: from Jo Malone, Liberty, Boots, John Lewis and more!
"My mam always looked glamorous (she still does). 'Just making the best of what I've got,' she'd say with a flirty wink. 'You never know when you'll meet the president of the United States!'
"God, I couldn't imagine the president of the United States strutting down our street. Neil Kinnock maybe, the Welsh leader of the Labour Party, but not the president. But duly noted, Mam, duly noted. My love of make-up began with you."
1. Focus on the eyes
"I feel better when I have a bit of definition on my eyes, and even better when I have a lot. As a child, I was obsessed with Elizabeth Taylor's smoky eyeliner, butterfly eyelashes and violet eyes. I do wonder if Elizabeth Taylor hadn't married a Welshman, would I have ever fallen in love with black kohl eyeliner?
"When I was 10 years old, I actually got to meet Ms Taylor at the Victoria Palace Theatre in London. I was finishing my run in the musical Annie and she was in rehearsals for the play Little Foxes. I asked her if she would take off her sunglasses so I could see her eyes. She graciously replied, with a smile: 'Oh sweetheart, it's too early in the morning for that.' She kissed her hand and placed it on my head. That was enough for me. I felt like I had been ordained."
2. Application is key
"I hate harsh lines. I draw and blend around the eyes with my pencil, extending out a little to elongate just past the lash line. I call this my everyday look. I use an eyelash curler for my eyelashes, which is as essential to me as the vast amounts of water I consume daily. Note to self: I need to add my eyelash curler to my desert island must-haves. (I will forage for water.) Next comes mascara. I don't hold back here — lashings and lashings. After the lashes, I take my eye pencil and go back for an extra smudge."
3. Make the best of what you've got
"My face is a blank canvas — everything is there in the right place, but a little, well, nondescript. That's not my own personal insecurities talking. Listen, I should know, I have been looking at my face for 50 years, but with a little maquillage, I too can look like the dancing, sword-wielding femme fatale in The Mask of Zorro."
4. Mum always knows best
"In December 2000, I was newly married and in Washington for an event, when I received a last-minute invite to see the newly installed Christmas decorations at the White House. Since I was going to be getting full hair and make-up done later in the day, I went with my scrubbed clean face.
MORE:Caroline Hirons's skincare routine is a no-nonsense approach to beauty
"After a private tour, I bumped (make-up-free) into the president, Bill Clinton, chipping golf balls outside the Oval Office. My mother's words of wisdom were ringing in my ears. Why didn't I listen? Here I was speaking to the president of the United States! He mentioned that he loved my movie The Mask of Zorro and all I can remember thinking was thank God my make-up was fabulous in that movie."
Casa Zeta-Jones, The Makeup Line by Catherine Zeta-Jones, is available atwunder2.co.uk
Sign up to our free daily email for the latest royal and entertainment news, interesting opinion, expert advice on styling and beauty trends, and no-nonsense guides to the health and wellness questions you want answered.
Rachel is a freelance contributor to woman&home, covering news as well as books, lifestyle and travel. Her byline has also appeared in The Independent, The Financial Times, ELLE Magazine, VICE, Glamour Magazine and others. She loves nothing more than talking with people to share their stories. When she is not writing you will definitely find her nose in a book or magazine, or perhaps training for the next half marathon, practicing yoga or eating in London's best restaurants.