Boots new spa brand Aroma Active Laboratories launches today and has beauty editors obsessing - plus it's 20% off!
Meet Aroma Active Laboratories, the high street spin off from Aromatherapy Associates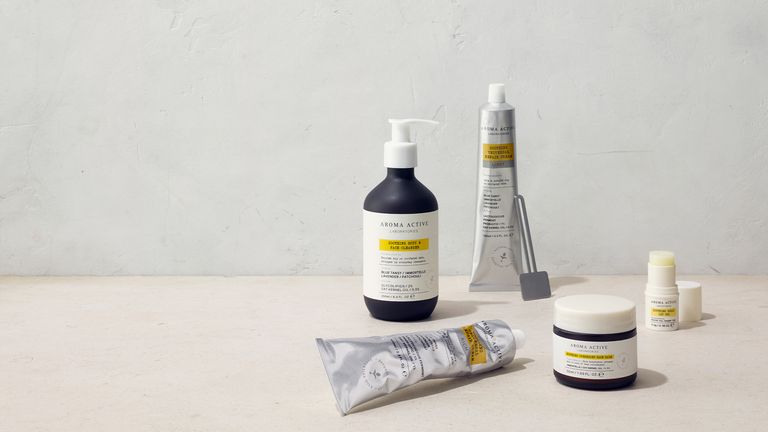 (Image credit: Aroma Active Laboratories)
After weeks of hushed whispers, Aroma Active Laboratories has finally landed. And if the latest research is to be believed, it couldn't have come a day too soon.
According to market research group Mintel, a holistic approach to feeling more physically and emotionally balanced has become a key motivator of consumer behaviour.
Hardly surprising, when the global aromatherapy market was estimated to be valued at $6billion in 2019 and online retailers have reported a 219% increase in sales of nice smelling sleep and wellness products in lockdown.
The biggest sticking point for aromatherapy products up until now, however, has been the price. That's why Aromatherapy Associates wanted to ensure that more people have access to high quality plant-based, science-backed products for their daily wellness needs.
A new mind, body and skincare brand, Aroma Active Laboratories has been created to make the therapeutic power of essential oils more democratic, with prices starting at just £6.
Better still, you can enjoy these introductory offers from Boots until 1st December: 20% off everything and 3 for 2 (meaning if you choose three products you get nearly 50% off). Win-win.
"Life is sometimes hard, more so now thanever,'" says brand founder Anna Teal, who is also CEO of Aromatherapy Associates. "This range was created from the best ingredients that nature has to offer alongside scientific know-how to provide a toolkit of solutions."
In the aforementioned toolkit there are four solution-led collections.
The aptly named Soothe range is powered by calming botanicals such as blue tansy, lavender and immortelle. It includes a low foam cleanser for sensitive skin and two texturally different barrier-building repair creams - one more lightweight than the other depending on preference - to lock moisture into dry skin.
Anti-inflammatory turmeric, arnica and cooling mental take centre stage in the Muscle range. We can't get enough of Muscle Recovery Soak after a Zoom workout - this milky bath is ideal for soaking away stress and relieving tense, weary muscles.
Additionally there is a Sleep range where lavender oil, proven to calm the central nervous system, meets the sedative effects of hops and valerian. Standouts include the Overnight Recovery Facial Oil with added lupinus albus seed attract to boost collagen and the Sleep Pulsepoint Rollerball.
Meanwhile, the SOS range includes a eucalyptus chest rub to open up the sinuses; there's a stomach massage oil for when your digestive system is sluggish and a cooling peppermint forehead balm when a tension headache threatens to strike.
Also noteworthy is the packaging - all recyclable, with many components already made from post-consumer recycled content.
We don't know about you, but we're adding straight to basket and then a 'do no disturb' sign to the bathroom door.
Fiona Embleton is a beauty writer who is now Acting Beauty Editor at Stylist. She is obsessed with Isabel Marant and cats.