32 makeup looks inspired by the '80s for those wanting to make a real statement
These '80s makeup look will fill you with nostalgia as we revisit 32 of the most iconic trends from the decade...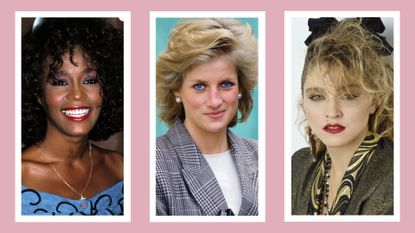 (Image credit: Getty Images (L to R) Walter McBride/Corbis | Tim Graham Photo Library |Sunset Boulevard/Corbis)
From the music to the movies, the 1980s are iconic for a multitude of reasons but especially when it comes to the style and beauty trends. So, to offer you your daily dose of nostalgia, we've rounded up 32 of the most iconic makeup looks inspired by the '80s.
Though '90s beauty trends seem to resurface every few years, there's definitely something to be said about the decade that brought us Top Gun, The Breakfast Club and gravity-defying hairstyles. '80s makeup is synonymous with bold eyeshadow looks, pops of blue eyeliner and shiny lipsticks, all of which were made popular by the likes of Cher, Princess Diana and Whitney Houston.
For our minimalistic-makeup lovers though, it wasn't all about bold statements, the '80s also embraced natural, bushy brows, lived-in eyeliner looks and signature red lipstick. But in case you're in need of a refresher, we've selected 32 makeup looks straight from the '80s that can be easily adapted into your modern beauty regime...
32 throwback makeup looks inspired by the '80s
The 1980s were full of personality and saw more risks being taken in terms of beauty, especially in the makeup department. And while you might not be keen to add a swipe of bright purple onto your eyelids today, there are few lessons we can take from the statement trends.
In fact, the decade offers plenty of inspiration for how to wear red lipstick and we've even seen the more divisive looks - like blue eyeshadow - make a comeback. So, if you're look to channel your inner '80s pop or movie star, keep on reading...
1. Natural skin and a dark red lip
Starting off simple, natural skin and a red lip was a staple look in the '80s, especially for a chic red carpet look. Here we can see Dirty Dancing's Jennifer Grey wearing a flattering shade of rich, wine-like red lipstick, paired with fresh skin and minimal eye makeup. The result is chic and timeless, plus it's so easy to recreate for an evening or occasion look.
Step one
Fresh Sugar Advanced Therapy Treatment Lip Balm
RRP: £24| For a flawless red lip, be sure to exfoliate your lips either with a scrub or a hydrating treatment, to ward off chapped skin.
Step two
Charlotte Tilbury Lip Cheat in Kiss 'N' Tell
RRP: £21 | For a really precise red lip, a trusty lip liner is your friend! This one from Charlotte Tilbury offers a rich and velvety finish.
Step three
Charlotte Tilbury Matte Revolution in Red Carpet Red
RRP: £27 | Everyone needs a signature red lipstick in their makeup bag and Charlotte Tilbury's Matte Revolution lippie comes in a range of flattering rouge shades.
2. Blue underliner
Blue eyeliner was a very popular look in the '80s, made iconic by the likes of Princess Diana, who often wore a pop of light blue on her waterline. If you're looking for a fun but subtle way to incorporate the decade into your everyday makeup, a blue eyeliner is the way to go. Plus, as Princess Di proves, this shade is so flattering on blue eyes.
3. Blue eyeshadow and a red lip
Now, this might divide some readers but blue eyeshadow and red lipstick was something of a staple combo in the eighties. We concede that it's definitely a statement look, but as we can see on Whitney Houston above, when done correctly it can be very flattering indeed. We'd suggest following Whitney's lead, opting for a darker blue rather than a brighter shade and pairing it with a red lipstick that complements your skin's undertone.
4. Black winged liner
A black winged eyeliner is as timeless as it gets, especially when paired with a red lip, as we can see on Madonna. A black liner is wonderfully versatile, as you can opt for a small cat-eye or a more dramatic, elongated wing.
5. Orange lipstick
While vibrant and shiny lipsticks were everywhere in the '80s, classic shades like red and orange were also very popular, much like they are today. So, if you're looking for inspiration on how to wear a orangey hue, Tina Turner paired hers with a subtle smoky eye and a red manicure whilst performing in 1989.
6. Purple eyeshadow
Vibrant eyeshadow really had a moment in the eighties, especially shades of blue and bright purple. The style during the decade was either heavy gradients or blending your chosen shade right up to the brow bone, so if you're looking to accurately replicate the '80s, a daring eyeshadow palette is a must-buy.
7. A dramatic cut-crease
While cut-crease eyeshadow has become very popular in recent years, we can spot the look throughout the '80s, favoured by the likes of Madonna and Cyndi Lauper. Above, Madonna has opted for a white/cream eyeshadow over her lids and then darkened her crease with a smoky black, which also lines her lash line and wings out, creating definition. This look, like blue eyeliner, is easily adapted into your routine and will work with your preferred colour palette.
8. Shiny Baby-pink lipstick
Baby pink lipstick also had it's moment and as Cher demonstrates, when paired with matte skin and a hint of pink/peach blush, it can look very pretty. Personally though, we think her smoky eye makeup is what really pulls this look together.
9. Natural brows and a glossy lip
While much of the makeup throughout the '80s was loud, there are a few natural looks that have endured and are still prominent in today's trends, namely bushy brows. While the '90s saw the rise in skinny brows, the 1980s embraced thicker and feathered brows, with Brooke Shields' brows being the most iconic example of this.
10. Brown smoky eye
Here's one '80s look we can all get behind, a soft brown smoky eye. This makeup look, as modelled by Sarah Jessica Parker is perfect for everyday and is truly timeless - especially when paired with a soft, nude lip.
11. Blue lipstick
If you're looking for an easy way to make a statement, blue lipstick was a trend favoured by Madonna. She paired her iridescent lippie with a dramatic smoky eye and a pop of purple-pink blush. While this look might not work for everyday, it's definitely one to replicate if you want an instantly recognisable '80s look - perhaps for a themed party?
12. Smudgy eyeliner
Up next is another very wearable look, modelled by actress Michelle Pfeiffer. Smudgy liner is a classic look that suits all eye colours and never fails to look chic and effortless. If you're looking for way to apply the best eyeliners or you're an eyeliner beginner, this is a great trend to recreate.
13. Pink eyeshadow
Bright colours were a go-to throughout the eighties and this pink look worn by Dolly Parton is a great example of how to pull off a pastel hue. The singer paired hers with a black liner and a brick-red lip.
14. Pearlescent lipstick
If anyone can make a pearly-pink lipstick look stylish, it's Sarah Jessica Parker (aka Carrie Bradshaw). She paired the shiny lippie with a soft, smoky pink eye look, natural brows and fresh skin.
15. Bold eyeshadow
If you're seeking inspiration for a really bold eyeshadow design, look no further than Cher. During the '80s we saw her wear everything for a smoky eye to this vibrant blue and orange moment. To create this look, you'll want to focus your orange in the centre of your lid, to really make the shade pop against the blue - though, you can also recreate this eyeshadow design with any two colours, as long as they're contrasting.
16. Sculpting bronzer
While cream contour sticks weren't really around in the '80s, bronzer and blush were often concentrated around the cheekbone, to recreate a sculpted and defined look. If you're not versed in contouring, this placement is an easy way to give your face a lift.
17. Defined bottom lashes
Another simple look to replicate from the '80s is defined lower lashes. Pictured in 1985, Princess Diana sported perfectly feathered top and bottom eyelashes, the latter of which really popped against her blue eyeliner. This trend is very reminiscent of the '60s and is a mascara style that always makes it's way back into the beauty zeitgeist.
18. Mauve blush
Blush placement in the '80s, like with bronzer, was often focused around the cheekbones, either above for a bold and lifted look or underneath, to chisel while also adding a pop of colour.
19. Dark blue eyeshadow
While pastel and baby blues took centre stage in the '90s, the decade prior leans more towards navy shades, as demonstrated by Grace Jones in 1987. Jones concentrated the colour across the lid and up to the brow bone, creating a very statement look.
20. Monochrome eyeshadow
Black and white eyeshadow was also quite a staple look, especially on stage, with the likes of Blondie's Debbie Harry and Madonna wearing monochromatic eye makeup whilst performing. Here we can see that Debbie Harry focused the lighter shade on the centre of her lid, while the darker shade carved out her crease and lined her lower lash line.
21. Smoky eyeshadow wing
If you find a liquid eyeliner wing too dramatic, you could take a few notes from Kate Bush, who often opted for a smoky eyeshadow liner. For a subtle take, try a brown shadow and be sure to invest in a tapered eyeshadow brush.
22. Matte skin & bold lip
Matte skin was favoured in the '80s, with a focus on powdered products as we can see on Meryl Streep, pictured with flawless skin and hint of matte blush on the apples of her cheeks. If you have oiler skin, this might be a good option for you, but keep in mind that there is a risk of your face looking a little flat without any cheek or highlighting products to add dimension.
23. Cheekbone blush
Blush that doubled as contour was very popular look and we can definitely see why, especially if you're trying to create a cohesive look with your eyeshadow and lipstick. Here, Diana Ross wears a pink blush, diffused over the line of her cheekbone, with a similar shade on her eyelids and lips.
24. Coral lipstick
For a more subtle option, along with red and burgundy lipsticks, coral was also a classic shade worn by celebrities throughout the decade. Audrey Hepburn is just one of the many stars who favoured the soft orange-pink.
25. Natural skin with a smudgy liner
For our natural makeup lovers, you can channel the '80s with just a simple smudgy eyeliner look and a hit of lip gloss, as proven by actress, Goldie Hawn. This look is very timeless and even reminds us of French makeup.
26. Light purple eyeshadow
If you're looking for another pop of colour to add to your eyeshadow repertoire, why not follow Jamie Lee Curtis' lead with a light purple? This is definitely a retro look, but we love that she paired the pastel hue with a shiny pink lipstick!
27. Shiny lipstick
Speaking of shiny lipsticks, it looks as though this was the go-to finish back in the 1980's with many celebrities, from Whitney Houston to Sarah Jessica Parker opting for a slight glimmer on their lips. We must say, this is definitely an easy way to elevate your makeup from day to night.
28. A berry-red lip
If you're a lover of bold lipstick looks, this glossy berry looked, modelled by Joan Collins will make a lovely addition to your regime. It's classic and will pair perfectly with any of the eyeliner looks on this list.
29. Peachy eyeshadow
Peach, light brown and grey were often paired with a black liner in the '80s, creating an eye-catching contrast. For a more modern take, this shade can easily be swapped out for a copper, which is perfect if you have blue eyes - to really make the colour pop.
30. Classic smoky eye
Naturally, a smoky eyeshadow look is a classic and was just as popular in the '80s as it is today. Here Angelica Houston paired her grungy eye look with a matte, cool-toned lip and the combination is so chic.
31. Browbone eyeshadow
Placement-wise for eyeshadow in the 80's was often all over the lid and up to the brow bone, which allows you to really show off your chosen eyeshadow colour. Winged eyeshadow was also popular, which will compliment your makeup routine if you're already a fan of a dramatic winged liner.
32. Diffused smoky eye and a pink lip
This look, modelled by Iman is by far one of our favourites. The balance of the diffused smoky grey eyeshadow, with the more precise and angular eyeliner looks so chic and the pop of glossy pink lipstick really ties the whole look together.
Sign up to our free daily email for the latest royal and entertainment news, interesting opinion, expert advice on styling and beauty trends, and no-nonsense guides to the health and wellness questions you want answered.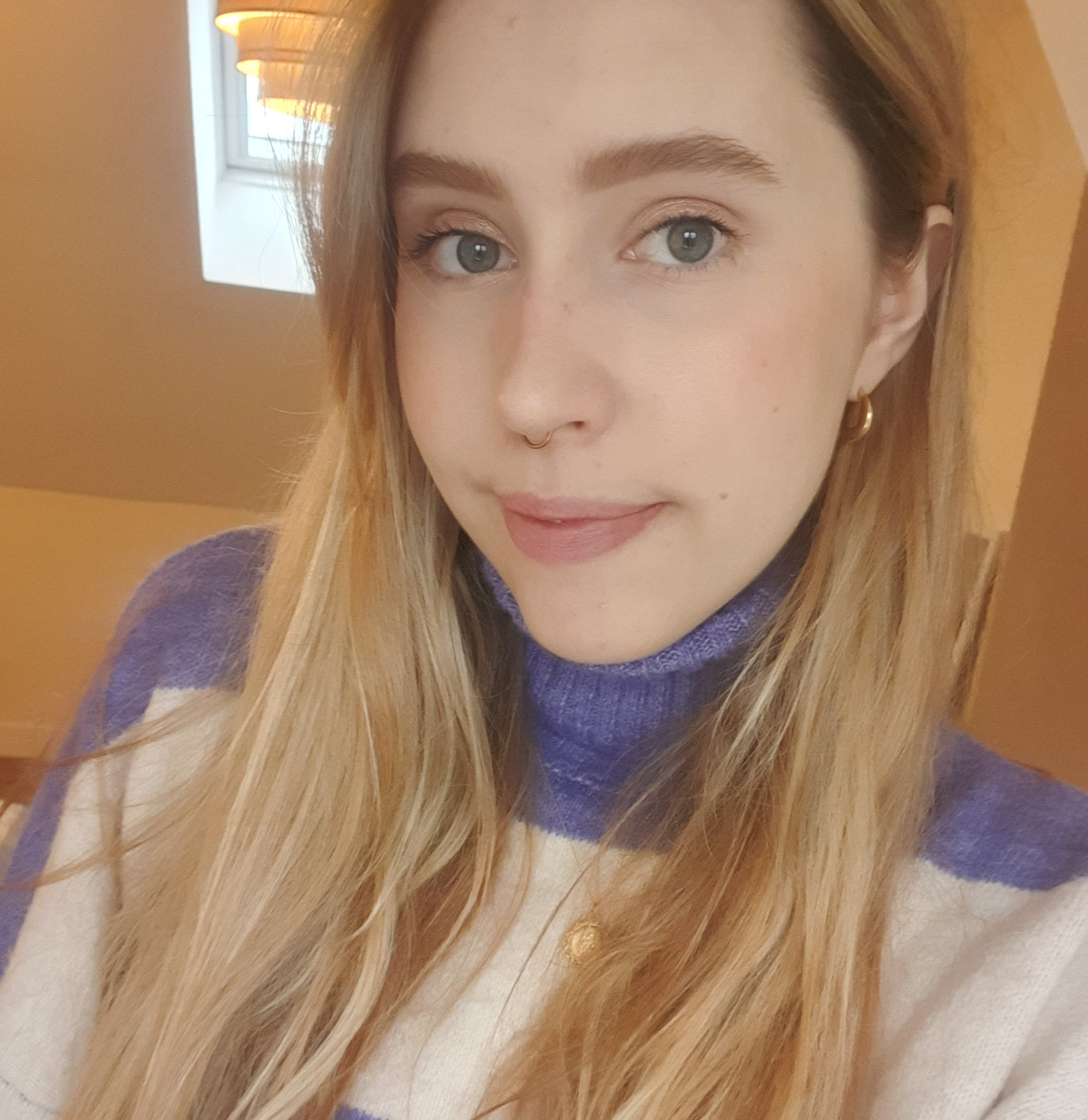 Naomi is a Beauty Writer from Woman&Home, where she covers everything from skincare to beauty trends, as well as reviewing products and sharing her personal shopping recommendations. She specialises in feature and e-commerce writing and has previously worked as a Lifestyle News Writer for My Imperfect Life magazine, where she used her savvy for TikTok trends to bring readers the latest beauty buzzwords, fashion movements and must-have products. During her time on this title, she also reviewed beauty and skincare products and was commissioned to design some illustrations for one of the team's relationship features.
Before that, Naomi also worked across both GoodTo and My Imperfect Life, whilst training for her Gold Standard diploma in Journalism with the NCTJ, for which she earned a Distinction. Interestingly though, Naomi actually has a background in design, having studied illustration at Plymouth University but leapt into the media world in 2021, after always having a passion for writing.
Before working for Future Publishing's Lifestyle News team, she worked in the Ad production team. Here she wrote and designed adverts on all sorts of things, which then went into print magazines across all genres. Now, when she isn't writing articles on the best perfumes and must-have beauty buys, you can find her drinking copious cups of coffee, drawing and probably online shopping.