Slow cooker Recipes
says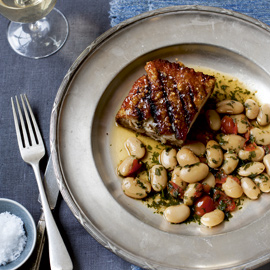 Slow cooker recipes are the ultimate comfort food with no fuss, from rich beef casseroles to warming chicken stews that you can leave to cook themselves.
The best thing about cooking with a slow cooker is that once you've prepped the ingredients and put them in, you can leave it to cook for most of the day while you get on with something else. There's nothing quite like a good cut of meat left in the slow cooker cooked very slowly for up to 8 hours. All you have to do is brown the meat first, then add the ingredients to the slow cooker pot and leave it cook. The results are always perfectly tender, using about the same amount of energy as a light switch.
One of the best and easiest slow cooker recipes is our Normandy pork casserole - it's comforting and filling, without being too heavy. It works well in autumn, if you're not quite ready for heavy wintry stews yet - but you can definitely enjoy it year-round!
Lorraine Pascale's slow cooker Asian pulled pork is one of our favourite slow cooker recipes, as it's SO easy - all you have to do is put pork shoulder and spices into a slow cooker and cook it on low for 8-10 hours, then serve it with an easy coleslaw and lightly toasted bap. It's really worth the extra time as the flavours really develop, but there's no extra effort - it's actually easier than most pulled pork recipes.
However, if you want something that's more like our stew, then our slow cooked beef with mushrooms and red wine is the perfect winter warmer. The whole family will love it and it's really no-fuss as it cooks away on its own, allowing the flavours to really come together. The red wine also adds a lot of depth and richness. This delicious beef dish is ideal served with mashed potato and will quickly become one of your staple meals.
The great thing about using a slow cooker is that you can make ahead recipes that will feed a crowd, but without having the hassle of cooking with all sorts of pots and pans, and with hardly any washing up. Slow cooker recipes are ideal for the weekend when you have a little more time and although they take a few hours to cook, they're all really easy to put together so you can get on with other things, or simply put your feet up and enjoy your day off!
Delicious Slow cooker recipes
Slow cooker recipe videos