Slow cooker Recipes
says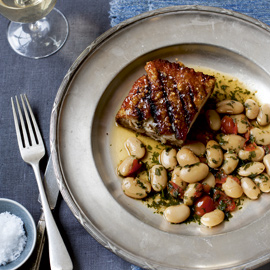 Our slow cooker recipes – from delicious beef casseroles to warming chicken stews – are the ultimate comfort food and ideal for warming you up on a cold day.
There's nothing quite like a good cut of meat left in the slow cooker for a few hours; it's always perfectly tender and melts in the mouth, but if you're vegetarian or simply want to opt for a meat-free recipe, then we have plenty of those for the slow cooker too.
The best thing about cooking with a slow cooker is that once you've prepped the ingredients and put them in, you can leave them to cook for several hours whilst you get on with something else.
Our 5-hour shoulder of lamb with chamomile and honey is the ideal dish for the weekend when you have some extra time and are expecting guests round. It feeds quite a crowd and especially when you serve it with sides of potatoes, salad or couscous, it'll go even further.
Our slow-roast pork belly recipe is also a favourite and great for when you're entertaining friends and family. However, if you want something that's more like our stew, then our slow cooked beef with mushrooms and red wine is the perfect winter warmer. The whole family will love it and it's really low-hassle as it cooks away on its own, allowing the flavours to really come together and infuse. The red wine also adds a lot of depth and richness. This delicious beef dish is ideal served with mashed potato and will quickly become one of your staple meals.
Our slow cooker recipes are ideal for the weekend when you have a little more time, and although they take a few hours to cook, they're all really easy to put together so you can get on with other things, or simply put your feet up and enjoy your day off!
Delicious Slow cooker recipes
The chunks of pork in this fragrant casserole, are slow cooked in a sweet, spicy sauce, until meltingly tender
Your guests will be in for a treat when you serve them tender, slow-roasted lamb, flavoured with camomile and honey
Slow-cooked to perfection, this roast lamb recipe features balsamic vinegar, to give it a sharp, sweet depth of flavour
Middle Eastern spiced lamb makes a sweet, spicy recipe that's easy to make
This easy pasta dish makes flavoursome, meaty pappardelle
Slow cooker recipe collections
Slow cooked recipes to take your time over, including a tender pulled pork recipe, slow roasted lamb shoulder and beef and mushroom casserole
Discover easy, delicious recipes perfect for winter from James Martin's new book, Slow Cooking - along with some of the best slow cooking recipes from woman&home