Roasting the cauliflower really adds depth to this comforting vegetarian meal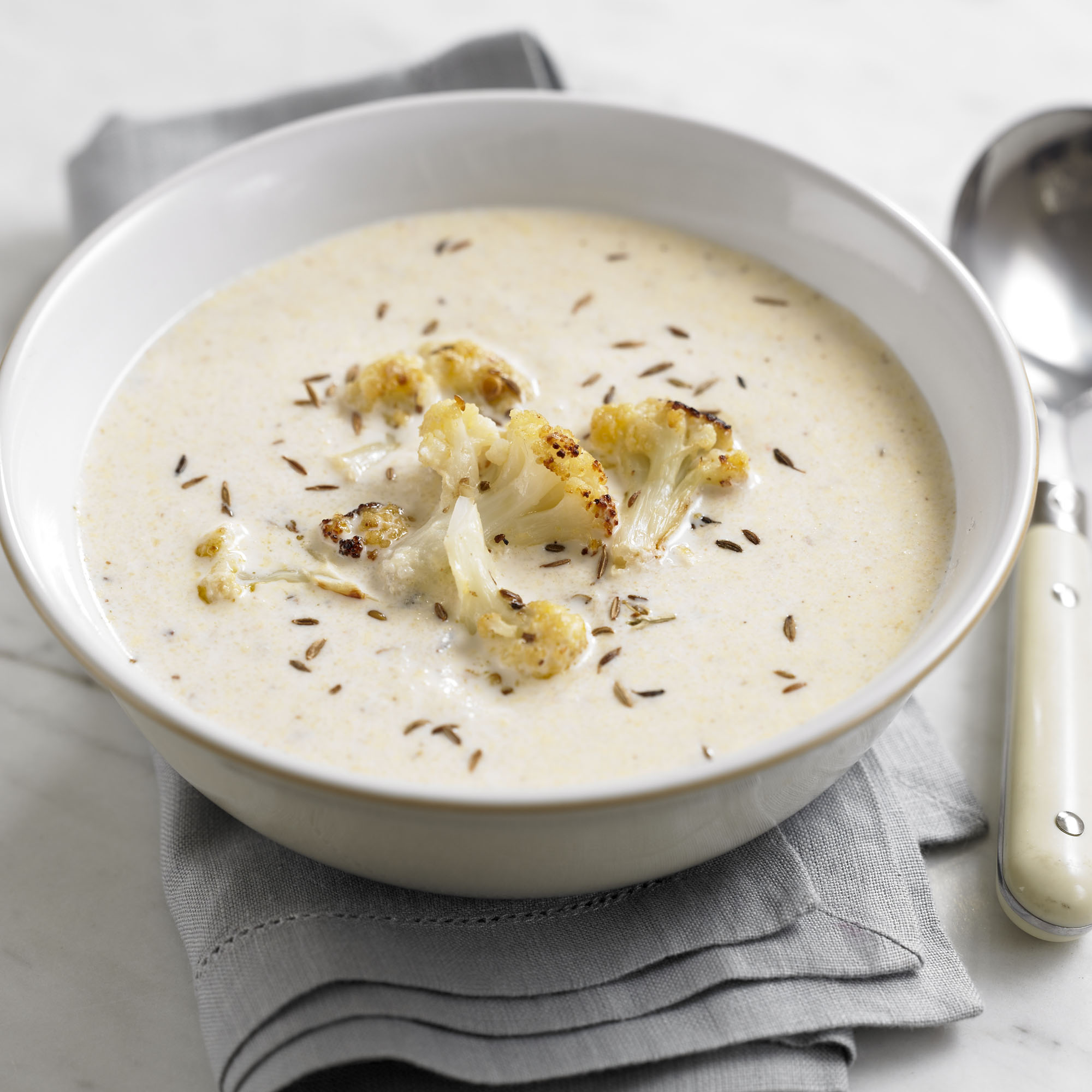 Ingredients
2 cauliflowers, broken into florets
2 tsp coriander seeds
2 tsp cumin seeds, plus 1 tsp to garnish
1 tsp fennel seeds
3 tbsp olive oil
1 red chilli, finely chopped
1 lemon, zest and juice
2 medium onions, finely chopped
400ml (14fl oz) hot vegetable stock
500ml (18fl oz) semi skimmed milk
200ml (7fl oz) single cream
Tip
Fry some slices of smoked bacon, then chop and use to garnish the soup
Preparation
Preheat the oven to 200C/180C fan/400F/gas 6. Place the cauliflower in a large pan of boiling water and cook for 3 minutes before draining well.

Grind the seeds in a pestle and mortar. Toss the cauliflower florets in 2 tbsp of oil, the spices, chilli and lemon zest. Transfer to two baking sheets, season well and roast for 15 minutes.

Fry onions in the remaining oil for 10 minutes until soft. Reserve a handful of cauliflower and roughly chop the rest, then stir through the onions and cook for a further 10 minutes.

Pour over the lemon juice, stock and milk. Use a stick blender or food processor to whiz until smooth.

Return the soup to a saucepan and bring to the boil. Take off the heat and stir through the cream.

Place the remaining 1 tsp of cumin seeds in a frying pan and dry fry for 2 minutes over a high heat. Sprinkle over the soup and garnish with the reserved cauliflower to serve.
Daily Email
Get the best entertainment news, recipes, fashion, beauty and wellbeing advice for you. For FREE.
Sign up