Make this fabulous pancake recipe your new standby pud - mix, pour, flip, done!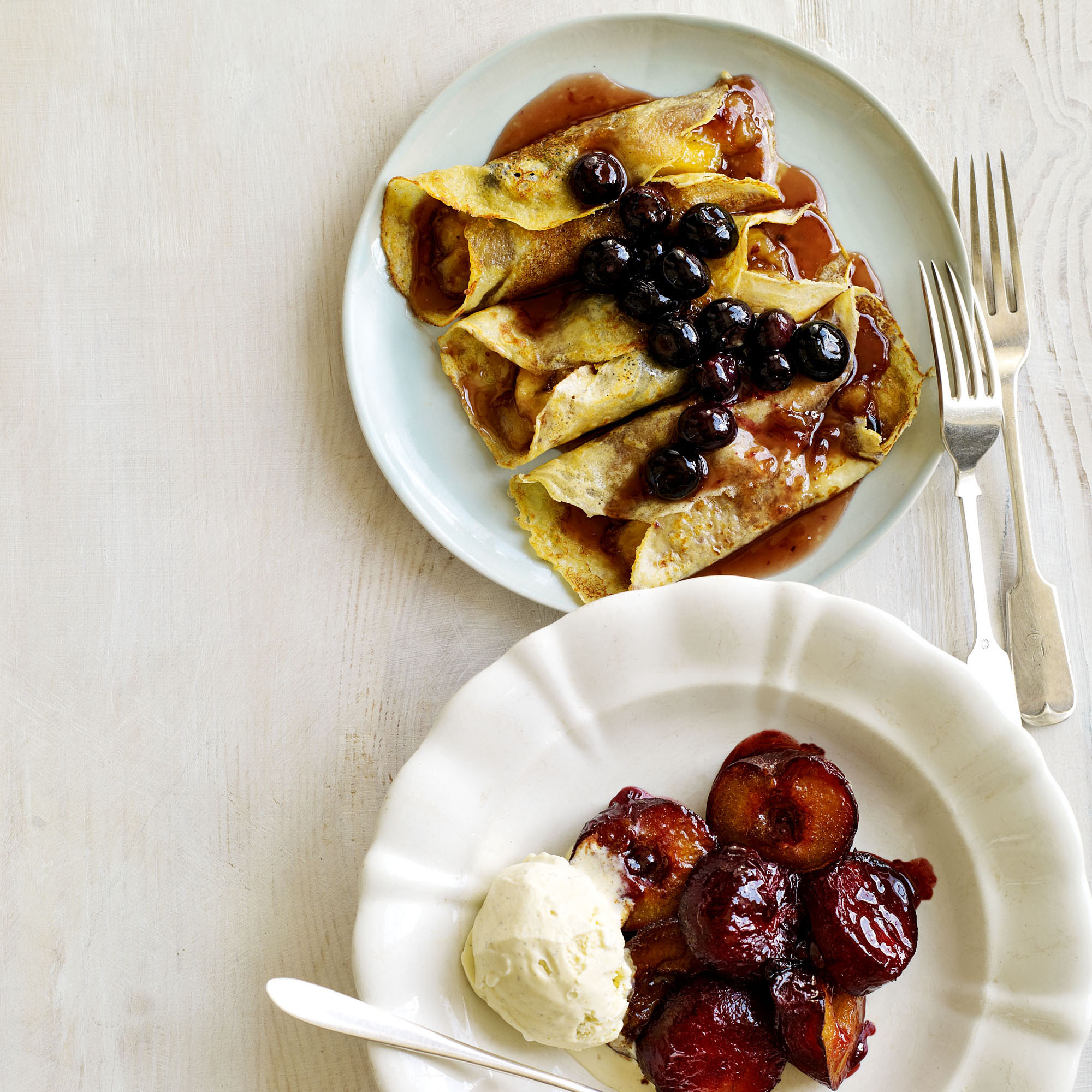 Ingredients
for the pancakes
50g (2oz) plain flour
1 free-range egg
200ml (7fl oz) milk
butter, for frying
for the filling
75g (3oz) light muscovado sugar
75g (3oz) butter
juice ½ lemon
100g (4oz) blueberries
1 banana (preferably a little under-ripe), peeled and sliced thinly on the diagonal
you will need
1 small non-stick frying or crêpe pan
Tip
This cinnamon and vanilla sugar is also lovely sprinkled over buttered toast or eggy bread, for an indulgent breakfast
Preparation
First, make the pancakes. Sift the flour into a bowl and make a well in the centre. Crack the egg into the well and gradually stir the flour into the egg, adding the milk in a thin stream as you go, until you have a smooth batter the same consistency as single cream. The batter will happily sit in the fridge for a couple of hours until you are ready to cook the pancakes.

To cook, heat a non-stick frying pan and melt a small knob of butter. When hot, pour a small amount of batter into the pan, and swirl to create a thin pancake. Cook for a couple of minutes on each side until golden and crisp around the edges. Transfer to a plate and keep warm while you make the rest of the pancakes.

In another pan, heat the sugar gently for a couple of minutes then add the butter, and continue to heat for a few more minutes until you have a smooth caramel sauce. Add the lemon juice and the blueberries, and cook for a couple more minutes, until the blueberries are beginning to collapse. Add the banana and coat well in the sauce.

To serve, fill the pancakes with the bananas, then fold the edges over and drizzle with the blueberries and a generous helping of the warm caramel sauce.