How to make 'marry me' chicken - the delicious recipe all over TikTok
We never thought a chicken dish would convince anyone to fall in love, but here we are...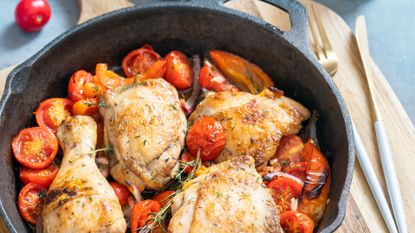 (Image credit: Getty Images)
TikTok has recently popularized a recipe called "marry me" chicken, and people are actually in love with the savory dish. Here's how to make it...
Everyone has that one recipe that they make when cooking inspiration feels scarce - and for TikTokers, that recipe is "marry me" chicken.
We know what you're thinking - the name sounds a little old-fashioned. Once you try this recipe, though, you'll understand why it carries that name. This isn't the first chicken recipe to get a love-worthy label, though - celeb chefs like Martha Stewart (who recently debuted a sleek bob), Ina Garten, and Rachael Ray have all created their own versions of "engagement chicken" in the past.
These celeb chefs' recipes are so effective, in fact, that actress Emily Blunt has said in the past that she and her now-husband John Krasinski got engaged after she made the engagement chicken for him. So, if you're trying to send your loved one a little hint... maybe jot this recipe down.
The main difference between "marry me" chicken and "engagement" chicken are that, while engagement chicken is roasted whole in the oven, TikTok's marry me chicken uses just chicken breasts that get sautéed in a pan. Plus, while engagement chicken predominantly focuses on a fragrant, lemony sauce, marry me chicken calls for sun-dried tomatoes, parmesan cheese, and basil combined with some heavy cream and chicken broth.
Luckily for us, this recipe is also pretty simple to make, even if you're not a regular chef like Ina or Martha.
The end result? Hearty, delicious chicken boasting Italian flavors - made even more perfect when served over your favorite carbs, like rice, potatoes, or pasta.
Here's the recipe for "marry me" chicken, plus a brief play-by-play of how to make it:
"Marry Me" Chicken Recipe
Ingredients:

1 1/2 pounds chicken breast
1/2 cup flour
1 tablespoon butter
1/4 cup minced onions
3-4 garlic cloves, minced
1 cup heavy cream (can use more or less depending on your texture preference)
1/2 cup chicken broth
1/2 cup sun-dried tomatoes
1/2 cup parmesan cheese
1 teaspoon Italian seasoning
1/2 teaspoon red pepper flakes
Basil, for garnishing
Salt and pepper to taste
Method:
Season whole chicken breasts with salt and pepper to taste, then cover them in flour.
Cook the chicken in an oiled pan over medium heat, flipping halfway through, until fully cooked and crispy on the outside.
Remove chicken from pan and add butter, onion, and garlic.
Once those ingredients are browned, add heavy cream, chicken broth, and chopped sun-dried tomatoes.
Stir in the parmesan cheese, Italian seasoning, and red pepper flakes. Let it simmer until the sauce thickens.
Return the chicken to the pan, spooning sauce over the chicken. Add basil and cook for two to three minutes, until chicken is warmed again.
Serve over your favorite carb - and enjoy!
Madeline Merinuk is woman&home's US lifestyle news writer. She covers celebrity, entertainment, fashion, and beauty news but is also obsessed with internet trends - you can find her reciting trending TikTok sounds out loud at any given time.
After winning multiple student journalism awards for her investigative work, she graduated from Hofstra University in 2021 with a B.A. in Journalism. After graduating, she worked at today.com, the digital site for the Today Show, where she wrote pop culture news and interviewed big-name personalities like Emily Ratajkowski, Haley Lu Richardson, Emma Corrin, and more.
Her personal interests, in no particular order, are: cheese, Joni Mitchell, reading, hot yoga, traveling, having multiple chapsticks in every handbag at all times, and dancing to ABBA songs as if she were in the Mamma Mia movies.