The touching reason Kate Middleton, Prince William and family often wear blue
It's possible the Cambridges favor blue outfits as a tribute to the Queen Mother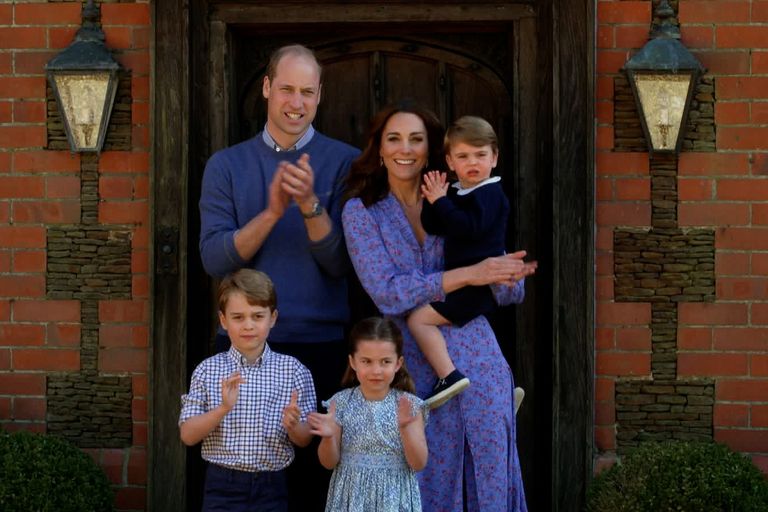 (Image credit: Comic Relief/BBC Children in Need/Comic Relief via Getty Images)
In family outings and photographs, William, Kate and their children, George, Charlotte and Louis are often shown wearing blue outfits. The reason for this, according to one expert, is showing they are coming together as a family, representing themselves as a cohesive unit. But others also point out the connection to the Queen Mother, who favored blue.
William, Kate and their children are quite often seen wearing co-ordinated blue outfits
A behavioural color psychologist has dissected the meaning behind choosing blue. hues, but some sources imply the color was a favorite of the Queen Mother, William's great-grandmother.
In other royal news, find out what special treatment the Queen's Christmas dinner will go through before she sees it.
---
The clothes we all wear say something about us, and that is never more true than with members of the Royal Family. Their outfits are dissected and analysed in minute detail, and often go on to inspire trends or sell out immediately.
When not thinking purely in fashion terms, the choice of their clothing can also play a powerful role in projecting a specific image to the public, something one expert believes Prince William and Kate Middleton seem to pay a lot of attention to when dressing as a family.
When the Cambridges are pictured as a pair or complete family unit, they more often than not choose to go for a co-ordinated blue theme in their outfits.
Karen Haller, Behavioural Color Psychologist and author of The Little Book of Color spoke to MyLondon about the Cambridge family's clothing choices.
Haller said, "Wearing the same hue when the Cambridges are showing they are coming together as a family, representing themselves as a cohesive unit.
"When it comes to colour psychology darker blues communicates you are in a position of authority, trustworthy, reliable and can be depended on. You have a sense of duty and take that seriously with committed focus."
Royal fans will also remember that the Queen Mother was often seen wearing blue outfits.
The royal, who died at the age of 101 in 2002, was known to many as the 'Best Loved Royal', with her dedication to royal duties something that many people admired.
It's possible the Cambridges are taking a leaf out of her book, but one thing is for certain, the Queen didn't follow in her mother's footsteps.
The Queen is famous for her love of bright colours, often seen matching a technicolor coat with matching accessories.
A royal biographer, Robert Hardman, once told a story in which the Queen even joked that she "can't ever wear beige because nobody will know who I am."