The Queen carried these sentimental items in her handbag at Prince Philip's funeral
The Queen kept Prince Philip's memory alive at his socially-dsitant funeral on Saturday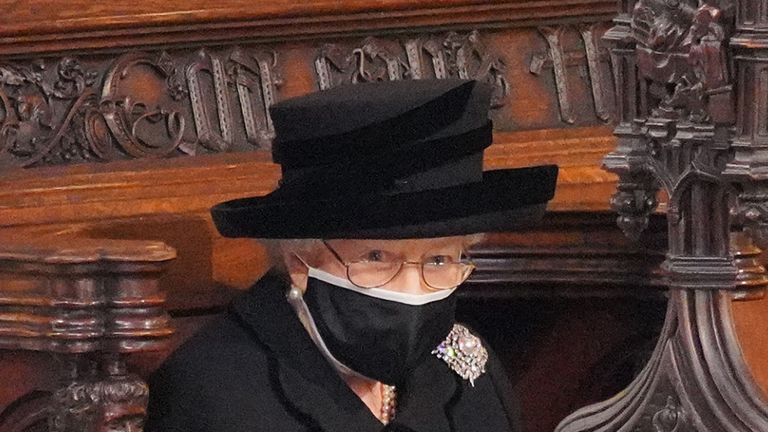 (Image credit: Jonathan Brady - WPA Pool/Getty Images)
The Queen may have looked solitary sitting alone as she bid farewell to Prince Philip on Saturday, but the bereft monarch made sure she was united with her late husband in spirit.
The Queen may have sat in solitude at Prince Philip's funeral last Saturday, but she wasn't actually alone.
Her Majesty reportedly kept a couple of special items that reminded her of the Duke of Edinburgh tucked in her handbag throughout his funeral at Windsor Castle, which was attended by just 30 guests due to Covid-19 restrictions.
The Queen's relationship with Prince Philip on Earth may have ended, but the memories from their 74-year-long marriage are well and truly alive. The 94-year-old monarch carried two sentimental possessions in her purse to comfort her during the distressing occasion and to remind her of happier times with the late duke.
The first item she chose to accompany her to the service was a photograph of her with Prince Philip in the early days of their marriage. The black-and-white snap is believed to be taken in Malta, where the couple was stationed between 1949 and 1951 during the duke's military service in the Royal Navy.
The Queen has described this period as one of the happiest times of her life in the past, as it gave her the rare opportunity to live 'normally'. Detached from her royal bubble in Briain, she had far more control and independence in her day-to-day life. The young princess handled cash, drove cars, and even visited the local salon at their temporary base of Gwardamanġa. This was likely the last taste of true freedom for Elizabeth, who would be coronated as Queen two years later in 1953.
Her Majesty also took a treasured handkerchief belonging to Prince Philip to the funeral. Designed by the legendary tailors Kent and Haste, the white silk square was always worn by the duke during royal engagements.
The photo and handkerchief were both stored in the Queen's handbag, which was designed by Launer, one of the monarch's favorite British brands.
Emma is a news writer for woman&home and My Imperfect Life. She covers the Royal Family and the entertainment world, as well as the occasional health or lifestyle story. When she's not reporting on the British monarchy and A-list celebs, you can find her whipping up vegan treats and running the roads to cheesy '90s pop music...but not at the same time, obviously.