How Prince Harry doomed Meghan Markle's royal future with a simple four-word phrase
Prince Harry's offhand remark doomed Meghan Markle's relationship with her new in-laws, according to a royal expert.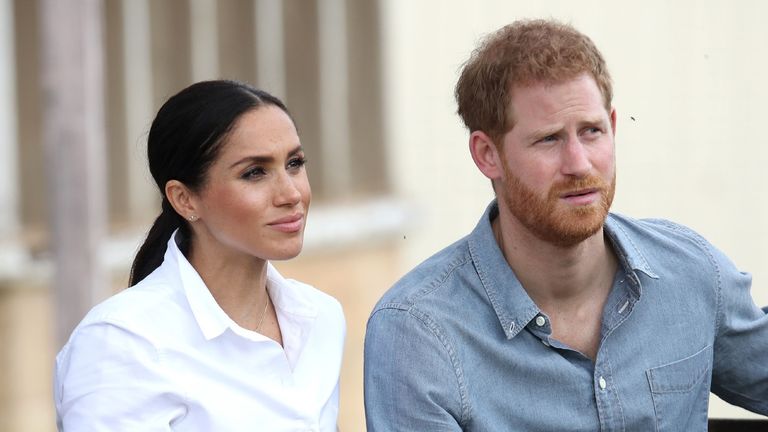 (Image credit: Photo by Chris Jackson - Pool/Getty Images))
By Emma Dooney
Meghan Markle's doomed fate in the Royal Family could have been predicted as early as 2017, according to a royal expert. 
Meghan Markle's future in the Royal Family was doomed by Prince Harry's four-word phrase over three years ago. 
Prince Harry made the offhand remark on BBC's Today show in 2017.
The Duchess of Sussex had a tough transition into royal life, facing intense pressure from both the tabloid press and her new in-laws. 
After three years of relentless scrutiny and abuse, it became clear that the British monarchy would never embrace Meghan. In January 2020, the couple finally regained their autonomy by formally withdrawing from their royal duties and emigrating to the US. It was a bold move that stunned the world. 
With Meghan largely blamed for failing to adjust to royal life, Prince Harry's involvement in her rejection has often gone unnoticed. 
However, he may have played more of a role than the Prince led us to believe. The Duke is said to have wreaked havoc for the Royal Family, and consequently for Meghan, with a solitary fleeting remark over three years ago. 
During an episode of BBC's the Today show, Prince Harry shared his experience of spending Christmas with Meghan and his family at Sandringham. During this interview, he uttered the damning words, referring to the royals as the "family she [Meghan] never had." 
More from Woman&Home:
While the phrase was not heavily criticized at the time, it may have been the catalyst for Meghan's turbulent integration into her new family. It immediately tipped the press off about the conflict in the Duchess's family and invited even more attention onto the already heavily scrutinized new bride. 
Royal journalist Daniela Elser wrote in the NZ Herald that the remark had set "an unfortunate precedent" and resulted in the overshadowing of his "impressive work, including an interview with Barack Obama." 
According to Elser, it also raised the Royal Family's expectations of the Duchess. Under the impression that Meghan had come from a troubled household, it was understood that she should jump at the opportunity to join a stable family. 
"The collective, prevailing assumption was that Meghan should be grateful to be given entree to such a rarefied world and therefore willing to give up the qualities, values, habits and passions — whatever necessary — that she might hold dear such that she would be seamlessly absorbed into HRH-dom."
Emma is a news writer for woman&home and My Imperfect Life. She covers the Royal Family and the entertainment world, as well as the occasional health or lifestyle story. When she's not reporting on the British monarchy and A-list celebs, you can find her whipping up vegan treats and running the roads to cheesy '90s pop music...but not at the same time, obviously.