First lady Dr. Jill Biden bonds with Kate Middleton on important topic
Two powerful women!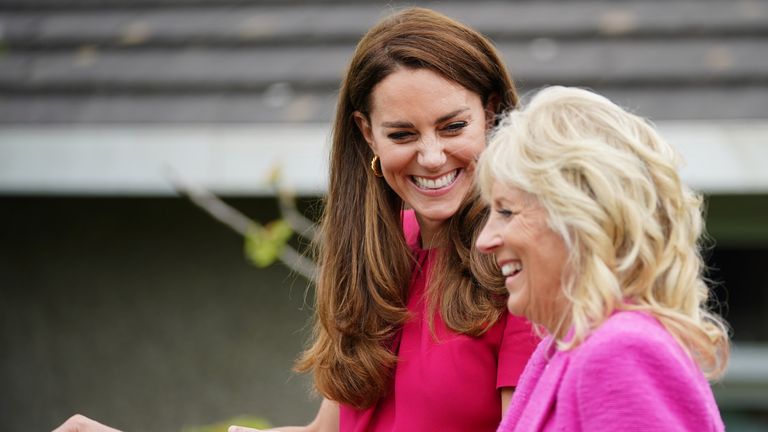 (Image credit: Getty)
Kate Middleton and First Lady Dr. Jill Biden have bonded over their passion for childhood education.
---
Kate Middleton and Dr. Jill Biden were a vision in pink on Friday as the pair bonded over their shared passion for childhood education.
The Duchess of Cambridge and US First Lady took a joint trip to see children aged four and five at the Connor Downs Academy near Camborne as part of the wider G7 activity in Cornwall this weekend.
The ladies—both looking powerful in pink—believe better education is needed for our young children following the covid-19 pandemic.
Early years development is a topic Kate has been passionate about since becoming a mother. And now she's joined forces with former teacher of over 30 years, Jill Biden—wife of US President Joe Biden—to talk further on the topic.
In a joint opinion piece published for CNN, the pair said a "fundamental shift" was needed in both the UK and US' approach to education, in which "early childhood care and education should be seen as among the defining, strategic issues of our time."
It added, "As we look to a post-pandemic future, there are few issues more worthy of our attention than the transformative power of early childhood care and education for our communities and nations."
Although it was the first time the Duchess and Dr. Jill have met, it looked as though the women got on like a house on fire.
And it's just as well as the classroom they visited were "scared to death" for their arrival, so the women had to put on a welcoming show in order to relax the children.
The head of school told reporters, "The kids are quite aware of who's coming and obviously incredibly excited in the way that a 4 of 5 year old can be."
When greeted by silence upon entering the classroom, the first lady joked, "They've scared to death. It's the quietest class I've ever been to!"
Georgia studied Print Journalism at university in Nottingham, England before going on to work on several leading celebrity magazines, as well as freelance writing for international magazine Grazia Middle East. An enthusiastic, hard-working and ambitious writer, Georgia recently launched her own communications consultancy, farq media. As Director and Founder, Georgia helps businesses with their Public Relations strategy, as well as influencer and celebrity marketing. She also represents several influencers of her own. She lives with this motto in mind; "if your dreams don't scare you, they aren't big enough."