Kelly Clarkson and Brandon Blackstock's divorce—why they broke up and that spousal support agreement
Kelly Clarkson's divorce from Brandon Blackstock is ongoing after the singer filed last year, but spousal support has been agreed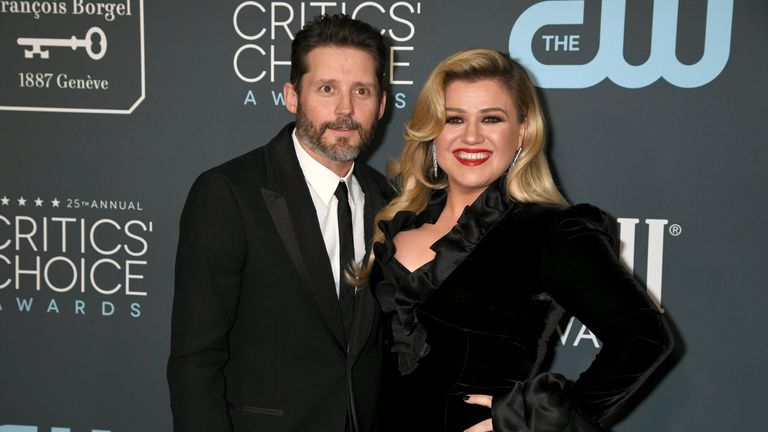 (Image credit: Photo by Jeff Kravitz/FilmMagic via Getty)
Kelly Clarkson's divorce from Brandon Blackstock remains an ongoing process after the American Idol star filed back in June 2020. But after seven years of marriage and two beautiful children, why are the couple divorcing, and what spousal support with Brandon Blackstock get?
Kelly Clarkson stunned the world last year when it was revealed that the Stronger singer had filed for divorce from her music manager husband Brandon. Described by the star as, "The worst thing ever for everyone involved", it's thought that the proceedings to dissolve their marriage are getting a little messy.
Having recently been confirmed for the Ellen DeGeneres Show's primetime slot, Kelly's career is going from strength to strength. Though fans will still remember the singer and TV host getting a little teary-eyed performing emotional covers like Toni Braxton's Another Sad Love Song earlier this year. While Kelly herself has revealed she "can't even imagine" getting married again.
But with no official end in sight for their marriage quite yet, there's one question still on everyone's lips—why are Kelly Clarkson and Brandon Blackstock divorcing?
---
Why did Kelly Clarkson get divorced?
Kelly Clarkson's divorce proceedings from Brandon Blackstock started back in June 2020 when she filed and it's understood to have cited "irreconcilable differences" in the papers. According to Us Weekly, a source claimed to the publication in June 2020 that Kelly and Brandon's time in quarantine together made them see things differently.
"They clashed on so many levels, and being in quarantine together heightened their problems to the point of no return. So she filed for divorce," they alleged.
However, whilst Kelly said she'll never be "truly open" about their break-up for the sake of their children, the TV host did allude to one possible reason behind her divorce during a segment on her show, The Kelly Clarkson Show, about what she'd learned in 2020.
Despite branding the tumultuous year a "dumpster fire" and an "emotional rollercoaster," Kelly revealed she did take some positives from 2020, and the personal growth she experienced.
She explained, "I'm grateful in 2020 for the lesson I learned about… myself. Even at 38, I feel like I'm always changing and progressing in a good sense, in a good way. And I always want to make sure I'm being the best version of myself."
Kelly also revealed that her mother, Jeanne, always told the singer to surround herself with positive people. And that's not all, as the singer also hinted that the couple were simply on "different paths".
"My mom has been telling me since I was a kid: You are who you surround yourself with," Kelly explained. "You want to make sure you're surrounded by people that also want to be the best versions of themselves and also want a good common goal for everyone, not just themselves, right?"
The TV host added, "People, like, could be bad for you in a certain time. And I think that everybody just goes, 'Oh, well that means they're bad.' Well it doesn't necessarily mean that, it just means that you're on different paths.
"And I think that that's okay. Everybody's on a different learning curve."
How much is Kelly Clarkson's spousal support to Brandon Blackstock?
Whilst Kelly Clarkson and Brandon Blackstock's divorce proceedings go on, there has been a recent development. As reported by People, the singer is now required to pay her ex-husband nearly $200,000 per month in spousal and child support. The publication claims that a Los Angeles County Judge handed down the order that Kelly give Brandon $150,000 per month in spousal support, as well as $45,601 per month in child support.
This new alleged arrangement means that Brandon will receive $195,601 overall from Kelly each month. Whilst People reports that the order also requires her to pay $1.25 million towards her estranged husband's attorney fees and costs for their ongoing divorce.
Did Kelly Clarkson have a prenup?
Whilst many Hollywood A-listers are known to have signed prenuptial agreements prior to their high-profile marriages, it's not been officially confirmed whether or not Kelly and Brandon Blackstock did the same before Kelly's divorce filing. However, the Daily Mail has previously reported that the former couple supposedly have an ironclad prenup which was signed before they married in 2013.
The publication went on to allege that Kelly asked the judge to honor the prenuptial agreement between her and Brandon, but not to award her ex-husband any spousal support. Since then, spousal support has been awarded, though Kelly and Brandon's official divorce has not yet been granted.
Who is Kelly Clarkson's husband, Brandon Blackstock?
Kelly Clarkson's estranged husband is music manager Brandon Blackstock, whose clients have included Blake Shelton and Rascal Flatts. His first marriage was to Melissa Ashworth, with whom he shares two children, an eighteen-year-old daughter Savannah and a thirteen-year-old son Seth. Brandon is the son of Narvel Blackstock, who is Kelly Clarkson's ex-manager, and through Narvel is also the former stepson of Country Music legend Reba McEntire.
How long was Kelly Clarkson married?
Kelly Clarkson's divorce filing came after she and Brandon Blackstock had been married for seven years. Their wedding was held at Blackberry Farm in Walland, Tennessee and Kelly took to social media to share a sweet snap of the couple's big day.
Alongside a stunning picture of the bride and groom, beaming on a bridge decorated with fairy lights, Kelly wrote, "I'm officially Mrs. Blackstock :) We got married yesterday at Blackberry Farms in TN, the most beautiful place ever!"
I'm officially Mrs. Blackstock :) We got married yesterday at Blackberry Farms in TN, the most beautiful place ever! pic.twitter.com/vYYqopBAcrOctober 21, 2013
See more
How many kids does Kelly Clarkson have?
A year later, Kelly and Brandon welcomed their daughter River and two years after that, their son Remington.
Kelly Clarkson and Brandon Blackstock have two children together, six-year-old daughter River Rose and four-year-old son, Remington Alexander. Whilst upon their marriage Kelly also became a devoted stepmom to Brandon's two older children, Savannah and Seth Blackstock.
After Kelly's divorce filing, she won primary custody of River and Remington and it's currently thought the couple will share joint physical and legal custody, but Kelly will have primary custody in Los Angeles.
According to The Sun, a court document suggested the couple were not seeing eye-to-eye around the plans for their children.
It is said to have read, "The level of conflict between the parents has increased. The parties have a difficult time co-parenting due to issues of trust between them".
How did Kelly Clarkson and Brandon Blackstock meet?
Kelly Clarkson met Brandon Blackstock, back in 2006, at a rehearsal for the Academy of Country Music Awards in 2006. It was Brandon's dad Narvel who first introduced the future couple. Kelly and Brandon became friends, though romance wasn't on the cards when they initially met as Brandon was married to Melissa Ashworth.
Instead, Brandon and Kelly went on to reconnect years later at the Super Bowl. Speaking to People after her and Brandon announced their engagement, the singer revealed, "He'd been divorced for a year, and it was kind of like, 'Is this too soon?' But it just worked."
The couple got engaged in 2012 and tied the knot in October 2013.