Kelly Clarkson confirmed for Ellen DeGeneres Show's primetime slot—and it's the move fans have been waiting for
Kelly Clarkson is replacing Ellen DeGeneres on NBC and fans couldn't be more excited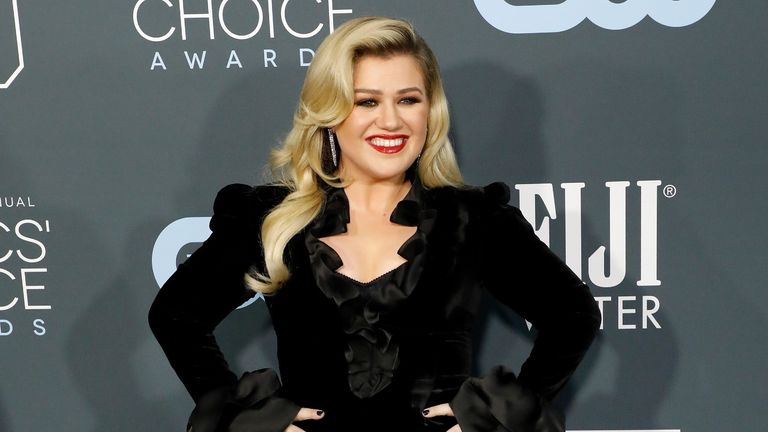 (Image credit: Photo by Taylor Hill/Getty Images)
Kelly Clarkson's self-titled talkshow might only be in its second season, but it's been confirmed that it will be taking the Ellen DeGeneres Show's premier daytime slot.
Kelly Clarkson may have risen to fame with her American Idol win back in 2002, but now her talent as a talkshow host has been truly recognized as she is set to replace Ellen DeGeneres on NBC. This comes after the comedian announced that The Ellen DeGeneres show will end after 19 seasons. After 19 years of celebrity interviews, comedy and human interest stories, many long-time fans will be sad to see Ellen go.
However, earlier this year it was reported that The Ellen DeGeneres show has lost 1 million viewers. Some have speculated that this could be linked to the allegations of a "toxic workplace environment" that surrounded the show in recent times. Addressing her reasons for ending the show as she opened a recent episode, Ellen told viewers she was following her instinct and felt it was the "right time".
Now The Kelly Clarkson Show will be replacing Ellen and it seems like this is just the move her fans have been waiting for.
Is Kelly Clarkson replacing Ellen DeGeneres?
It has now been officially confirmed that Kelly Clarkson will be taking over the Ellen DeGeneres Show's daytime slot on NBC with The Kelly Clarkson Show. The network made the announcement just weeks after Ellen revealed that her eponymous show would be coming to an end after it's 19th season.
As reported by The Hollywood Reporter, President of NBCUniversal Local Valari Staab declared: "These are remarkable achievements for a talk show in its second season. We look forward to Ellen DeGeneres' 19th season paired with Kelly Clarkson for what is sure to be a blockbuster year. By 2022, The Kelly Clarkson Show will be the star of our daytime entertainment schedules and an asset to our early afternoon newscasts."
The announcement is made all the more significant given The Kelly Clarkson's Show's position as a relatively new talkshow. According to Tracie Wilson, Executive VP of NBCUniversal Syndication Studios, this is all down to Kelly and her team's "incredible passion" and focus on creating a show that "resonates" so deeply with it's audience.
"The Kelly Clarkson Show is one of the most optimistic success stories in first-run syndication", Tracie revealed in a statement.
"Kelly and our entire production team put their heart, intent and incredible passion into making a show that resonates with people of all ages, cultures and backgrounds. We're working on some big plans for season three and are looking forward to becoming the premier show in daytime for years to come."
The Ellen DeGeneres Show's final episode isn't set to air until next year, but the news that Kelly will be taking over this much-coveted slot from autumn 2022 has already been met with overwhelming support from fans.
Fans react to the Kelly Clarkson Ellen DeGeneres Show announcement
The Kelly Clarkson show might not have debuted in it's new slot yet, but fans are more than a little excited. Taking to Twitter, many expressed their delight that "justice" had been done in awarding Kelly's show this prestigious position. Whilst others praised the host's kindness and positivity.
'[Y]es!!!! omg. LOVE KELLY!!!!!', one fan commented excitedly, whilst another simply posted a clip of former US President Barack Obama with the words 'Justice has been done' appearing on screen.
Though some have been delightedly surprised by the news, it seems several people had already predicted things would go in Kelly's favor.
'Congrats! I told my wife last week you would be best in replacing her,I will watch the show now', another person wrote.
Congrats! I told my wife last week you would be best in replacing her,I will watch the show now🤓May 26, 2021
See more
Someone else eagerly replied echoing this sentiment: 'I agree because she is so kind and inclusive and it's genuine'.
'Kelly Clarkson is known to be genuinely kind. This is wonderful news', another fan stated in what could be seen as a reference to Ellen DeGeneres' well-known ethos.
Kelly Clarkson is known to be genuinely kind. This is wonderful newsMay 26, 2021
See more
Throughout her career, comedian Ellen's on-screen warmth and her consistent plea for people to "be kind" captured audience's hearts across the world. Though fans' comments Kelly's "genuine" kindness following NBC's announcement could be seen to indicate many fans remain disheartened after the scandal that sadly engulfed the Ellen DeGeneres Show last year.
The Ellen DeGeneres scandal explained
The Ellen DeGeneres Show found itself at the centre of a huge controversy last year after allegations were made by one current and ten former employees that they experienced bullying, microaggressions and racism on set. The employees, who asked to remain anonymous, claimed the hit show had a "toxic workplace environment" behind the scenes. Fans were left shocked and appalled by the revelations after they were published by BuzzFeed News in July 2020.
Following the publication, an internal investigation was launched by WarnerMedia and it was later reported that three of The Ellen DeGeneres show's top producers had been fired amid accusations of misconduct. Ellen DeGeneres has always been proud of the positive and kind atmosphere of her show and in a letter sent to staff, she discussed her great sadness and disappointment at all that had happened.
"On day one of our show, I told everyone in our first meeting that The Ellen DeGeneres Show would be a place of happiness — no one would ever raise their voice, and everyone would be treated with respect. Obviously, something changed, and I am disappointed to learn that this has not been the case. And for that, I am sorry. Anyone who knows me knows it's the opposite of what I believe and what I hoped for our show," she wrote, in the letter published by The Hollywood Reporter.
She later affirmed: "I'm committed to ensuring this does not happen again", before going on to open the show's 18th season with an on-air apology, directly addressing the allegations.
"As you may have heard, this summer there were allegations of a toxic work environment at our show. And then there was an investigation. I learned that things happened here that should never have happened. I take that very seriously," she explained.
"And I want to say I am so sorry to the people who were affected. I know I'm in a position of privilege and power. And I realize that with that comes responsibility. And I take responsibility for what happens at my show."
Ellen went on to add, "We have made the necessary changes. And today we are starting a new chapter."
Though there will no doubt be many fans who will miss watching the bubbly comedian next year, Kelly looks set to bring her own warmth and humor to this daytime slot when The Kelly Clarkson Show premieres on NBC in autumn 2022.
Emma is a Senior Lifestyle Writer with six years of experience working in digital publishing. Her specialist areas including literature, the British Royal Family and knowing all there is to know about the latest TV shows on the BBC, ITV, Channel 4 and every streaming service out there. When she's not writing about the next unmissable show to add to your to-watch list or delving into royal protocol, you can find Emma cooking and watching yet more crime dramas.