Val Kilmer documentary trailer shocks fans with Val's new voice following throat cancer as son steps in to help narrate
New documentary 'Val' shows Val Kilmer after tracheotomy surgery following throat cancer diagnosis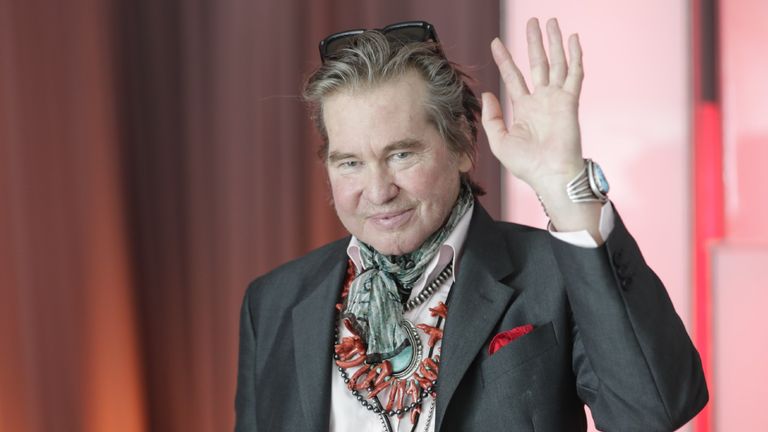 (Image credit: EuropaNewswire/Gado / Contributor / Getty Images)
Val Kilmer is releasing a new documentary about his life. Titled 'Val' the documentary will explore his career and his diagnosis with throat cancer that has left him speaking with a voice box. 
Val Kilmer's new trailer for his documentary 'Val' has just been released by Amazon Prime and fans were shocked by the actor's new voice after his tracheostomy. 
A voice-over, read by son Jack, in the trailer says, "I was recently diagnosed with throat cancer, I'm still recovering and it is difficult to talk and be understood. But I want to tell my story more than ever." Val's voice post-surgery is then revealed as he says through his voice box in a raspy robotic tone, "I've tried to see the world as one piece of life." 
Val Kilmer's son Jack stepped in to fill in the narration for this documentary as his voice is similar to his father's before his surgery. Fans loved this sweet gesture and many complimented Jack by saying, "Good on his son for doing the voice-over so well."
Another tweeted, "And his son Jack is the narrator??!?!? Crying hard tears." While a third wrote, "ok so apparently Val Kilmer's son Jack sounds EXACTLY LIKE HIM and ngl that freaked me out a little bit, but having him do the narration is pretty genius."
---
More from woman&home:
---
The trailer also showed that the documentary consists of a lot of personal footage and home movies that Val created throughout his life and career. This means that the documentary is a personal look into Val Kilmer's childhood as he reveals in the trailer, "I was the first guy I knew to own a video camera."
He then said, "I have thousands of hours of videos tapes and film reels that I've shot throughout my life and career."
The trailer also featured appearances from a young Kevin Bacon and Sean Penn, with Kevin captured on Camera saying, "Oh, that's really cool Val." This comment seemed to be about Val's (at the time) high-tech video camera that was recording him.
In the trailer, Val also opened up about his troubled past and revealed, "I have behaved poorly, I have behaved bravely...Bizarrely to some." 
This commentary from Val referenced the controversy that he faced during his lifetime. Val Kilmer was slammed by some of his former directors and John Frankenheimer was quoted in Entertainment Weekly in May 1996 as saying, "I don't like Val Kilmer, I don't like his work ethic, and I don't want to be associated with him ever again."
It was also rumored that Val Kilmer burned a crew member with the end of a cigarette on set on the 1996 film The Island of Dr. Moreau. 
Adding the controversy surrounding his life, in 2017, Caitlin O'Heaney said that she had been paid off after she was struck by Kilmer while screen-testing for the role of his girlfriend in 'The Doors.' The actress revealed this after the rise of the #metoo movement sparked Hollywood actresses to come forward with their stories in 2017.
The trailer revealed that this documentary will not be released by Amazon until closer to the end of summer in a month on Friday 6th August 2021.
The description from the film read, "Who is Val Kilmer? He's Batman. He's Iceman. He's Jim Morrison. And he's a lifelong filmmaker. Get re-acquainted with the legend on August 6."