Should we be wearing two masks to fight Covid-19? Here's why double masking works
Infection rates are on the rise - but should we be wearing two masks?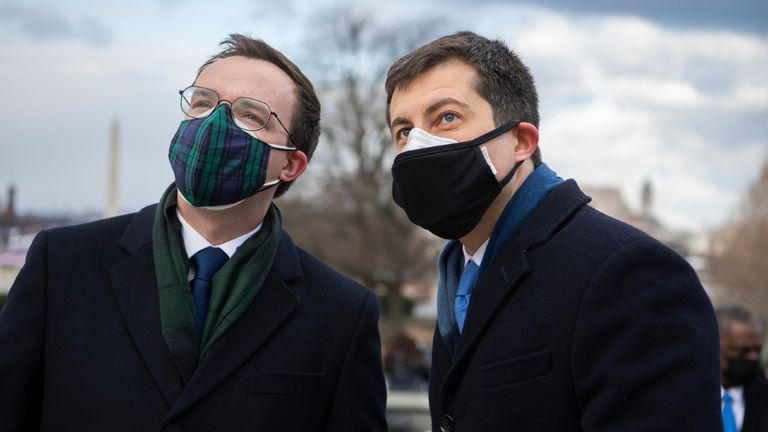 (Image credit: (Photo By Tom Williams/CQ-Roll Call, Inc via Getty Images))
It's taken some getting used to, wearing face masks in public. But should we actually be wearing two masks, instead of one?
We know what you're thinking: surely one breathing barrier is enough, right? After stocking up on the best reusable face masks wearing a mask in public for almost a year, we can all agree that this is an accessory we'll be happy to retire when the time comes.
But with new variants of the coronavirus now spreading throughout the world, it looks like masks aren't going out of style anytime soon. In fact, as people grow more anxious about transmission rates, wearing two masks instead of one has become increasingly common.
The new PPE hack, which landed in the spotlight after Pete Buttigieg donned it at President Biden's inauguration, may look a little extra, but it has merit. Medical experts have already endorsed the idea to double up your mask as one of the most effective - and simplest - ways to fend off the virus.
More from woman&home:
What is double masking?
Double masking is exactly what it sounds like: wearing two masks instead of one. Once considered an OTT measure against Covid-19, this layered look has been widely adopted in recent months as the infection rates continue to rise.
How does double masking work and is double masking worth it?
Simply put, double masking is a bit like Factor 50 sunscreen. It's not as good as avoiding the sun altogether, but it'll probably keep you from getting a sunburn.
According to Dr. Linsey Marr, an expert on the airborne transmission of viruses at Virginia Tech, wearing two masks will give you added protection against infection.
"If you combine multiple layers, you start achieving pretty high efficiencies," Marr told the New York Times.
This position is backed up by Dr. Anthony Fauci, the Chief Medical Advisor to the President, who has been spotted wearing more than one mask in the past. "It just makes common sense that it would be more effective," he said on the Today Show.
Should we be wearing two masks?
Don't worry, you don't need to stash an extra mask in your bag for every outing. Double masking is advised when you need to be around people for extended periods of time, such as on public transportation or passing through heavily populated environments. It's also a good call to layer up if your mask is made of thin fabric or isn't correctly fitted.
Emma is a news writer for woman&home and My Imperfect Life. She covers the Royal Family and the entertainment world, as well as the occasional health or lifestyle story. When she's not reporting on the British monarchy and A-list celebs, you can find her whipping up vegan treats and running the roads to cheesy '90s pop music...but not at the same time, obviously.