Sarah Paulson shares 'regrets' over fat suit costume to play Monica Lewinsky's friend—'Fatphobia is real'
Sarah Paulson's role as Linda Tripp in American Crime Story: Impeachment has attracted criticism from some fans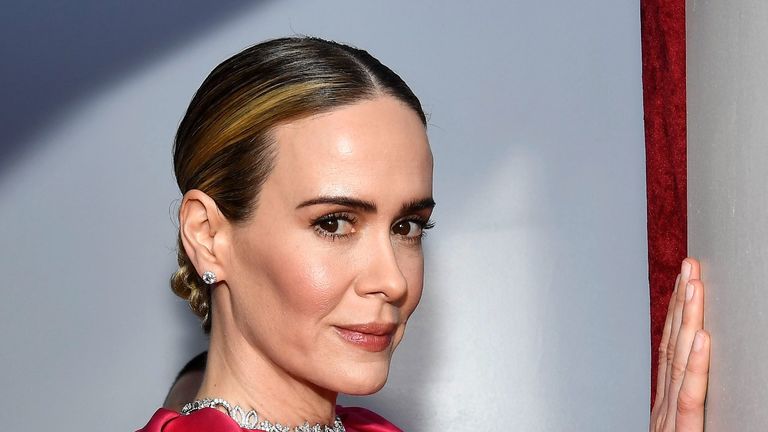 (Image credit: Kevork Djansezian/Getty Images)
By Emma Dooney
Sarah Paulson has admitted she holds 'regrets' about her forthcoming role as Linda Tripp, after critics condemned her for wearing a fat suit to portray the iconic character. 
American Crime Story: Impeachment, sees the People vs OJ Simpson star play the notorious historical figure in the highly anticipated FX true-crime series about President Clinton's fall from grace. 
Tripp, who was a close friend of Monica Lewinsky, infamously recorded the White House intern divulging details about her affair with the POTUS, before giving the tapes as evidence to investigators. The program doesn't hit screens until 7 September, but it's already drawing criticism. 
In the American Crime Story: Impeachment trailer, Sarah can be seen wearing a fat suit—as well as a prosthetic nose and fake teeth—to play the late US civil servant, Tripp. The casting has been questioned by some folks, who feel that a person of Tripp's stature should have been chosen rather than a petite actor. 
---
I just don't want to see Sarah Paulson in a fatsuit when an actor of that person's size could have gotten the role instead.August 13, 2021
See more
Sarah has since responded to the backlash, revealing she can understand the public's objection to the costume. 
"It's very hard for me to talk about this without feeling like I'm making excuses," she said in an interview with the Los Angeles Times. "There's a lot of controversy around actors and fat suits, and I think that controversy is a legitimate one. I think fatphobia is real. I think to pretend otherwise causes further harm." 
The Emmy-award winner went on to admit that, despite viewing the role as "the challenge of a lifetime", she harbors "regrets" over the portrayal. 
"I think the thing I think about the most is that I regret not thinking about it more fully," she added. "And that is an important thing for me to think about and reflect on. I also know it's a privileged place to be sitting and thinking about it and reflecting on it, having already gotten to do it, and having had an opportunity that someone else didn't have." 
Sarah can now see the offensive nature of the costume and is empowered to avoid making a similar mistake in the future. 
"You can only learn what you learn when you learn it," she said. "Should I have known? Abso-f***ing-lutely. But I do now. And I wouldn't make the same choice going forward." 
Emma is a news writer for woman&home and My Imperfect Life. She covers the Royal Family and the entertainment world, as well as the occasional health or lifestyle story. When she's not reporting on the British monarchy and A-list celebs, you can find her whipping up vegan treats and running the roads to cheesy '90s pop music...but not at the same time, obviously.