Jeopardy! hosts Mayim Bialik and Ken Jennings will continue sharing the coveted role
It's official: the current Jeopardy! hosts have signed long-term contracts to continue splitting the role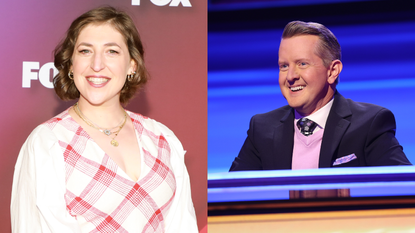 (Image credit: Jason Mendez / Stringer and Raymond Liu / Contributor)
The question has been on everyone's mind since Alex Trebek's passing in November 2020: who will lead iconic quiz show Jeopardy! moving forward? Turns out, there will be two Jeopardy! hosts for the time being.
According to Variety (opens in new tab), Mayim Bialik and Ken Jennings, who have been splitting hosting duties for months now, have respectively signed long-term contract deals with Sony Pictures Entertainment to continue leading the show in unison.
---
Mayim, who is 46 years old, and Ken, who is 48 years old, will also co-host the new Celebrity Jeopardy! series that will soon start broadcasting on ABC.
As long-time fans of the quiz show know, the road to the present has been very bumpy. After Alex passed, producers started auditioning a slew of potential would-be hosts on air, including Katie Couric, Dr. Mehmet Oz, Anderson Cooper, Aaron Rodgers, and Robin Roberts.
Eventually, Jeopardy! producer Mike Richards was asked to take on the job permanently while Mayim, who had guest hosted in the past, was set to lead Jeopardy! primetime and Jeopardy! National College Championship, a spinoff show.
Just a few weeks after the decision was made public, though, Jeopardy! host Mike Richards past sexist remarks were unearthed prompting him to officially step down as host shortly thereafter.
That's when Mayim, an actor known for her hilarious role on the Big Bang Theory and also a neuroscientist, and Ken, a Jeopardy! star who still holds the record for most consecutive games won and highest winnings in a regular season, began their co-hosting duties.
Who will be the permanent host of Jeopardy!?
Turns out, there will be two permanent hosts of Jeopardy! moving forward: Mayim and Ken. As is the case with just about any piece of news these days, fans of the show had mixed reactions to the development. Some argued that, to keep up with its legacy, producers should select a single host, while others celebrated the decision as pleasantly progressive.
Among the plenty of fan reactions peppering Twitter, one user stated, "Make Jennings the full time host."
"Bummed about #jeopardy continuing to have 2 hosts because there is a CLEARLY superior candidate but really I'm just glad people are still talking so much about Jeopardy," someone else noted. "t's my favorite show and it deserves the hype (Also please let Ken Jennings host the Tournament of Champions)."
On the other side of the spectrum, Twitter users congratulated both hosts. "So happy I will see you continue!," someone wrote.
"The two current Jeopardy hosts are very fun, we enjoy them," another noted. "They're both great! So why not keep them! Ken Jennings is super laid-back and king of born for the job, but Mayim is super charming, quirky-smart and stylish!"
Others yet took a middle-of-the-road attitude to the news. "I was on Team Jennings because Ken already knows all the answers to the questions he's asking so it comes natural to him," a user wrote on Twitter. "Mayim is a good host in that she's an actor who knows how to play the part. Jeopardy is in good hands either way."
We couldn't agree more with that last part.
Anna Rahmanan is a New York-based writer and editor who covers culture, entertainment, food, fashion and travel news. Anna's words have appeared on Time Out New York, the Huffington Post, Fortune, Forbes, Us Weekly, Bon Appetit and Brooklyn Magazine, among other outlets.