Is Code of a Killer based on a true story and how many episodes are there?
Code of a Killer depicts a major forensic breakthrough—but did it really happen?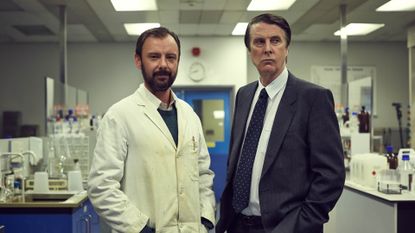 (Image credit: ITV)
Code of a Killer is back on ITV, depicting the investigation into the shocking murders of two schoolgirls and the use of mass DNA screening to identify the sadistic criminal responsible.
As the cold nights draw in, the idea of immersing yourself in an equally atmospheric crime drama becomes hard to resist. And with the Vigil finale leaving us in suspense and Silent Witness 2022 a year away, it's the perfect time to discover another series. ITV's autumn scheduling is certainly packed full of gripping shows, including Angela Black and Hollington Drive, and two-part drama, Code of a Killer, is just as unmissable.
Set in the 1980s, Code of a Killer stars John Simm and David Threlfall as Sir Alec Jeffreys and DCS David Baker, the scientist and the police officer who join forces to solve the brutal murders of two teenagers. Treading new ground, forensics take center stage as the pair conduct a mass DNA screening, though the killer schemes to avoid detection.
But is Code of a Killer based on a true story, how many episodes are there, and has it been on before?
*Warning: spoilers for episode 2 ahead*
---
Is Code of a Killer based on a true story?
While Code of a Killer might initially seem like a classic crime drama, this two-part series has an even more sinister edge as, just like recent hit show Manhunt The Night Stalker, it's based on a chilling true story. Created by Michael Crompton, Code of a Killer focuses on Alec Jeffreys' discovery of DNA profiling and follows him and DCS David Baker as they use the now well-accepted method to convict murderer Colin Pitchfork.
The Colin Pitchfork case was successfully solved in 1987, but only after an extensive manhunt was launched across Leicestershire following the brutal murders of two 15-year-old schoolgirls. As reported by the BBC (opens in new tab) it was in November 1983 that baker Pitchfork raped and strangled Lynda Mann in Narborough, as she was on her way to visit a friend in the next village.
His appalling crime was made even more chilling as Pitchfork is understood to have had his baby son with him, asleep in the car, whilst he murdered Lynda. Afterwards, he drove home and put his son to bed, as if nothing had happened.
Then, just three years later, Pitchfork raped and murdered another 15-year-old, Dawn Ashworth, less than a mile away from where Lynda was killed. According to the BBC, the pathologist who examined Dawn's body afterwards described his attack as a "brutal" assault.
However, as depicted in Code of a Killer, the investigation into the crimes and the journey to identify Pitchfork as Lynda and Dawn's murderer was in need of a serious breakthrough.
And it was the University of Leicester's Alec Jeffreys who provided it, after the talented scientist unlocked a little-known technique to identify a specific individual's DNA and not just a suggestion of a similar blood type. It was DCS David Baker who approached Alec in 1984 about using his new technique in his case.
This came after a local 17-year-old was arrested for the crimes after his motorbike was seen unattended in the vicinity. The teenager was later charged with Dawn's murder, though when David asked Alec to run a DNA test on the suspect and compare it to the DNA collected from Lynda Mann, it eliminated him from the police's inquiry.
A further test on samples from Dawn Ashworth proved that the 17-year-old was also not responsible for her death. Following the result, David and Alec set about carrying out a mass screening of 5,000 men from the local area and even mounted a huge-scale publicity campaign.
Attempting to get around the DNA profiling, Pitchfork persuaded a colleague to take the test for him. Though it seems the remorseless killer couldn't help boasting about his ingenuity in the local pub and he was soon arrested, with DNA proving he was Lynda and Dawn's murderer. Eventually pleading guilty, Pitchfork received a life sentence, though he was released in September 2021 after serving 33 years in prison and must now comply with strict license conditions.
This horrifying true story of his crimes and capture inspired the events depicted in ITV's Code of a Killer and Pitchfork was the first person to be convicted using DNA evidence, paving the way for millions of future investigations.
How many episodes of Code of a Killer are there?
There are two episodes of Code of a Killer, telling the twisted true story of Colin Pitchfork's crimes, with each episode 80 minutes long. Code of a Killer Part 1 is already available on ITV Hub for anyone who might have missed the beginning of this compelling series. Though viewers will have to wait to see Pitchfork identified by David and Alec, as this opening episode instead focuses on the murder of Lynda Mann and the resulting investigation. It is in Code of a Killer Part 2 that the concept of forensic DNA is brought to the attention of the world, with the murderer finally running out of time as the police close in.
Has Code of a Killer been on before?
As fans of Code of a Killer will already know, the tense drama has been on before and the two-part series first premiered on ITV in April 2015. However, with the Covid-19 pandemic meaning filming on a lot of upcoming shows was delayed and with fans of hit dramas such as Line of Duty looking for their next chilling watch, there's never been a better time to be reintroduced to this gripping and powerful show.
When is Code of a Killer next on TV?
For Code of a Killer fans wondering when they will get to see sadistic Colin Pitchfork brought to justice, the wait is almost over. Code of a Killer Part 2 is set to air on October 18, 2021, at 9pm on ITV and, just like Part 1, will be available to catch up on via ITV Hub.
Emma is a Senior Lifestyle Writer with six years of experience working in digital publishing. Her specialist areas including literature, the British Royal Family and knowing all there is to know about the latest TV shows on the BBC, ITV, Channel 4 and every streaming service out there. When she's not writing about the next unmissable show to add to your to-watch list or delving into royal protocol, you can find Emma cooking and watching yet more crime dramas.