The best portable induction hobs that are energy efficient, super speedy and easy to clean
These are the best portable induction hobs in the shops that will help you cook with confidence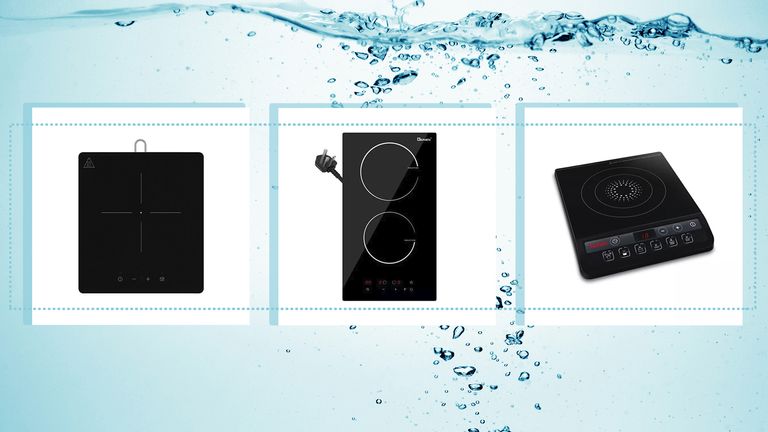 (Image credit: Future)
Want one of the best portable induction hobs? We don't blame you. When it comes to versatility in the kitchen, portable induction hobs are truly a gift. 
There are so many reasons why people are moving away from gas and electric and towards induction these days - not least of which the energy you can save by doing so.
But if you're in a kitchen space which only caters to gas or electric and you don't have the capacity for a remodel any time soon, then opting for a portable induction hob might be the way to go. If you're a camper or like to go on a lot of staycations, then a portable induction hob can even kill two birds with one stone as you can pack up your hob and your best induction pans and take them on the road with you whenever you head away.
Portable hobs offer solutions to so many problems, from maximising limited kitchen space or adding an extra hob to make use of your space when you're preparing for a big gathering, or even providing the option to cook and eat outdoors. They're also a smart buy if you're undertaking a kitchen renovation, or even as a stopgap while waiting for a new cooker - an ideal appliance for those who are keen home cooks!
How do I choose the right portable induction hob for me?
There are a few things to consider when picking the best portable induction hob for you. The first step is to narrow down exactly what you need from your portable induction hob. For instance, if you have a big family you'll probably want a machine with more than one hob, while those looking for a cooking surface to supplement an existing stovetop during busy moments might prefer a piece of kit with a single ring. 
When on the lookout for a good portable induction hob it's also worth considering factors such as temperature capabilities, additional settings and small (but important) details, such as how long the plug cable is and how noisy the fans gets.
If this is your first induction hob, you may well need new induction cookware, so you'll also want to factor in the types of pans that you need. If making the switch from gas or electric, some people find sourcing induction pans a tricky task. An easy way to test your existing kitchenware is to try sticking a magnet to the bottom; if the magnet stays in place, your pans will work. It's also important to bear in mind that induction hobs are not suitable for anyone with a pacemaker. 
The best portable induction hobs as reviewed by our experts
1. VonShef Twin Digital Induction Hob
Best overall portable induction hob
Specifications
Dimensions: W60.5 x D37 x H6.5cm
Number of rings: 2
Number of heat controls: 10
Reasons to buy
+Two hobs for dual usage+Easy to clean+Good value+Compatible with large pan sizes
Reasons to avoid
-Short cable-Unclear instruction manual 
We haven't found a more efficient portable induction hob at this price point than the VonShef model by VonHaus. Its clean, contemporary looks are supplemented by ten heat controls that allow you to carefully tailor the settings – so whether you need rapidly boiling water for pasta, or are slow-cooking a batch of stew it can handle your cooking needs. 
We love that the hot plates themselves are larger than most, allowing you to use generously-sized soup pans with ease. Small drawbacks include a relatively short cable and a slightly unclear instruction manual. However, as with most portable induction hobs, the settings are fairly intuitive – once we'd got to grips with the basics we found no need for the help sheets anyway. 
2. Lakeland Smart Touch Induction Hob
Best luxury portable induction hob
Specifications
Dimensions: W31 x D39 x H4cm
Number of rings: 1
Number of heat levels: 10 power and temperature settings
Reasons to buy
+Compact+Useful, pre-programmed settings+Wipe-clean surface
Reasons to avoid
-Loud warning sounds-Sometimes fiddly controls
Being compact and easy to clean are two plus points on a long list of positives for Lakeland's portable induction hob. Other attributes include a hugely helpful instruction manual, which is available online and offers detailed step-by-step processes, as well as including interesting hints, tips and FAQs to allow you to make the most of your machine. It also features a slim design, making storage simple when the hob is not in use, as well as plates that aren't overly sensitive to pan positioning – something that was problematic on many competitors. 
Small niggles include loud warning noises (which admittedly, some users may like) and having to rotate through all the settings to find your favourite, rather than being able to individually select one. Overall, a standout example of an easy-to-use, neatly designed portable induction hob. 
3. IKEA Tillreda Portable Induction Hob
Best portable induction hob on a budget
Specifications
Dimensions: W30 x D38.5 x H5.4cm
Number of rings: 1
Number of heat levels: 10
Reasons to buy
+Quiet when operating+Easy to store, thanks to hanging handle+Competitively priced
Reasons to avoid
-Slightly heavier than other models-Single ring only
As with all things Ikea, the Tillreda portable induction hob has an innovative design, namely the power cable that neatly winds around a carrying handle for easy storage (that doesn't require cupboard space). There are a fairly standard range of controls but, considering this is one of the most affordable pieces in our guide, we think this has great functionality. At 3kg it's heavier than many other portable hobs, and a little thicker than most too, but if you're not planning on moving it far that shouldn't be a problem. The accessible price point means that even if you're only planning to use your hob occasionally, it's still worth the spend. 
4. Tefal IH201840 Everyday Portable Induction Hob
Best portable induction hob for smaller spaces
Specifications
Dimensions: W27.5 x D34.5 x H5.7cm
Number of rings: 1
Number of heat levels: 9
Reasons to buy
+Small and sturdy+Made by a trusted brand+Two-year guarantee+Additional settings+Great price point
Reasons to avoid
-Coarseness of controls-Two-hour time limit before switching off
Tefal is already a trusted brand across the UK so, if you like the reassurance that that sense of brand familiarity brings, this one could be for you. While a little trial and error is needed in order to find your perfect setting, there are plenty of elements to commend this small, efficient model. We like that it offers good value for money, with a few above-average offerings; the stew mode, for example, can be used to slow cook everything from pulled pork to baked beans. Be warned though, it has a two-hour limit so some monitoring is needed if your recipe requires a little more time. Slight drawbacks come in the form of a loud fan noise and fairly piercing warning beeps when you remove a pan – although these are fairly standard across the board.  
5. Gionien Domino Induction Hob
Best portable induction hob for regular use
Specifications
Dimensions: W29 x D52 x H7cm
Number of rings: 2
Number of heat levels: 9
Reasons to buy
+Can be built in or used ad-hoc+Good temperature control+Higher heat than many competitors +Sensitive touch controls
Reasons to avoid
-Noisy fan-Substantial investment 
While some induction cookers can struggle to get up enough heat to sear a steak well or achieve a lovely crisp skin on a piece of fish from flash frying, this model beats the odds to allow for intuitive cooking at any temperature. There's good variation on the settings too – you can go from a gentle simmer to a rapid boil in minutes, and the addition of a boost function means the latter takes less time than a regular hob to come up to heat. 
Things unravel slightly with a common complaint: the noisy fan, which in this case goes on for minutes post switching off, so can be irritating. If you can brave the noise, the positives elsewhere make it a useful addition to any kitchen and, while it's not strictly classed as 'portable', the plug-and-play functionality means you can buy it as a temporary fixture and if you like it enough, have it built in later. We like that kind of commitment-free option!