The best pillows for neck pain, reducing aches for front, back and side sleepers
Designed for cervical spine support, these specialist best pillows for neck pain are an investment in comfortable sleep
Included in this guide:
1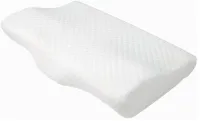 Kally
Sleep Cervical Neck Pain Pillow
2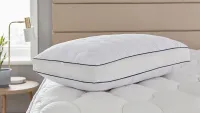 Sealy
Zonal Support pillow
3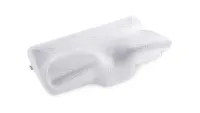 MARNUR
Memory Foam Pillow
4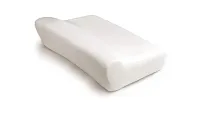 Sissel
Classic Orthopaedic Pillow
5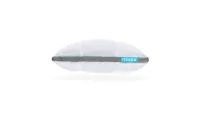 Simba
Hybrid pillow
6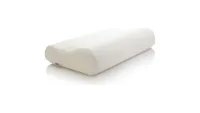 Tempur
Original Support Pillow
7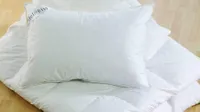 Cuddledown
Edelweiss Hungarian Goose Down pillow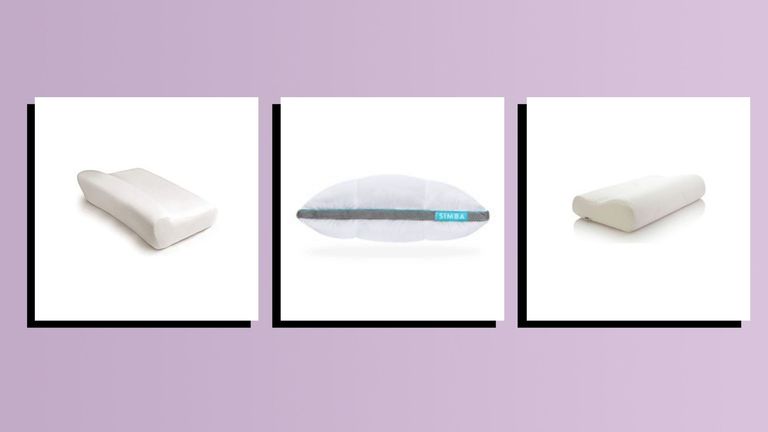 (Image credit: Future)
The very best pillows for neck pain aim will keep your head, neck, and spine in alignment and reduce pressure on the top of your body to alleviate aches and pains. If that sounds like what you need, we've rounded up our expertly chosen list of the best, to help you sleep comfortably.
When it comes to finding the best pillow for you, it all depends on your specific needs and preferences. If you're experiencing neck pain at night, or feel stiff come the morning, it might be worth investing in a pillow specifically designed to alleviate pressure in that area. Pillows designed for neck pain aim to keep your body in neutral alignment. They ensure your head, neck, and shoulders are supported and at the optimum height to avoid any unnecessary strain on that area of your body.
To help you find the best pillow for neck pain, various expert testers assessed a range of pillows from popular brands (including Sealy, Simba, and Tempur) over the course of a few nights. Evaluating pillows made from different materials, they worked out how well each one alleviated neck pain—whilst judging other factors too such as value-for-money, hypoallergenic options and style. And, if you suffer from pain elsewhere while you sleep, you may want to see our expert guide to the best pillows for back pain, too.
The best pillows for neck pain as reviewed by our experts
1. Kally Sleep Cervical Neck Pain Pillow
Best pillow for neck pain overall
Specifications
RRP: £29.99
Size: 56cm x 34cm x 10cm
Filling: Memory foam
Cover: 100% cotton
Guarantee: None
Reasons to buy
+
Firm base for back and side sleepers
+
Cotton outer helps to prevent overheating
+
14-night trial period
+
Great value-for-money
Reasons to avoid
-
Shape and firmness might not suit everyone
-
Smaller than standard pillows
This Kally Sleep Cervical Neck Pain memory foam pillow features a butterfly shape with a divot in the middle that gently cradles the head, while simultaneously offering cervical (spine) support. Filled with soft memory foam, the slow-rebound inner is medium-firm in density, coming in at a seven for firmness on a scale of 1-10.
The breathable, 100% cotton outer will also help those who tend to suffer from overheating at night or who often find themselves waking up feeling hot and wondering how to get back to sleep in the middle of the night. It's slightly smaller than a standard pillow though, so it's wise to invest in bespoke covers as extras, which can be bought online. Kallysleep also offers a 14-night trial so you can test it out for a couple of weeks to ensure it's the right fit for you. One of our best pillows for neck pain overall, offering good value-for-money, a good trial period, and great support.
Best pillow for those who sleep in different positions
Specifications
RRP: £44.99
Size: 71cm x 45cm
Filling: Hollowfiber
Cover: 100% cotton
Guarantee: Three years
Reasons to buy
+
Subtle support for head, neck and shoulders
+
Bounces back after use for longevity
+
Springy feel for comfort
+
Crisp but soft casing for a luxurious feel
+
Available in firm, medium and soft support
Reasons to avoid
-
Not as plump as others so could take some getting used to
If you're someone who finds yourself tossing and turning at night, moving through all manner of sleeping positions—then finding a pillow for neck pain is no mean feat. Luckily, the Sealy Zonal Support pillow ticks all the boxes. It offers firm support, which usually suits side sleepers better, but the slightly flatter size means it also works to align back sleepers perfectly. There's also a soft option, if you prefer your pillow to feel a bit more marshmallow-like, and it features a soft edge to support your neck and shoulders comfortably. This supportive but pliable cushioning also helps if you find yourself sleeping on your tummy a lot. With the luxury feel this supportive pillow offers, we were sold.
3. MARNUR Memory Foam Pillow
Best pillow for tummy sleepers
Specifications
RRP: $35.99/£39.99
Size: 64.5cm x 37cm
Filling: Memory foam
Cover: Polyester and spandex
Guarantee: None
Reasons to buy
+
Great for tummy sleepers
+
Ensures even pressure distribution to reduce strain on neck and head
+
Two different heights
+
Sweat-reducing cover
Reasons to avoid
-
Shape requires custom pillow covers
Front sleeping is not really recommended as it can cause neck issues, but if you're unable to sleep any other way then this strangely-shaped offering (the best pillows for neck pain often aren't a classic shape) might help. It's the MARNUR Contour Memory Foam Pillow Orthopedic and it's designed specifically to cater to all sleepers, including those who spend the night on their stomach.
The pillow has a unique ergonomic shape, designed to maintain the natural curve of your neck. Armrests at the side reduce pressure on arms and wrists, and a contour area properly aligns the neck, while the middle section provides optimal support and comfort for the head. The cervical curve helps reduce head and neck rotation, ensuring even pressure distribution for comfortable stomach sleeping. The breathable, sweat-reducing pillowcase fits neatly and can be removed for washing, too (see our guide to how to wash pillows for tips).
4. Sissel Classic Orthopaedic Pillow
Best pillow for preventing tension headaches
Specifications
RRP: $84.50/£49.95
Size: 47cm x 33cm (medium); 47cm x 33cm (large)
Filling: Polyurethane (PU) foam
Cover: 75% cotton, 25% polyester
Guarantee: Five years
Reasons to buy
+
Good price for a specialist pillow
+
Soft, washable outer cover
+
Five-year guarantee
Reasons to avoid
-
Might not suit front sleepers
If your neck isn't supported properly when you sleep it can strain the vertebrae and tendons, resulting in soreness and stiffness in the morning. This can lead to tension headaches, headaches that then prevent you from sleeping properly.
Having created cervical spine support pillows for more than 30 years, expert brand Sissel offers a number of options, including the Sissel Classic Orthopaedic pillow. This foam pillow is designed to sit snugly in the space between the neck and shoulders when you sleep, and properly reduces aches and pains come morning. This prevents your muscles from tensing up to keep you in position if your pillow isn't supportive enough. The soft, velour cover is removable and can be popped into the washing machine.
Best adjustable neck pillow for a cool night's sleep
Specifications
RRP: £99
Size: 50cm x 75cm
Filling: Memory foam cubes, microfibre casing
Cover: Cotton
Guarantee: One year
Reasons to buy
+
Loose filling allows for a bespoke fit
+
Cooling effect
+
Removable cover for washing
+
Bag to store spare Nanocubes
+
One-year guarantee
Reasons to avoid
-
Needs occasional plumping
-
Expensive
Simba do some of the best mattresses around, and their pillows are equally good. There are hundreds of foam Nanocubes inside the Simba Hybrid pillow that will gently cushion your head, neck, and spine, while also creating a supportive base.
The loose cubes—encased in a zip pocket—can be taken out or added to depending on your sleep position and preference, creating a personalized sleeping experience. It's no surprise we rate this as one of the best pillows for neck pain. Keep more filling in for a firmer base with a higher loft (great for side sleepers) or, if you're a back sleeper, remove a handful of the cubes until you have the perfect lower, slightly softer sleep. To help you keep cool at night, especially if you suffer from hot flushes, the cubes are sandwiched between a hypoallergenic fiber, enriched with minerals, called Aerelle Cool Night that dissipates heat, and a microfibre padding for softness.
See our full Simba Hybrid pillow review
6. Tempur Original Support Pillow
Best pillow for firm structured neck support
Specifications
RRP: $109/£105
Size: 50cm x 31cm (medium); 61cm x 31cm (large)
Filling: Visco-elastic memory foam and polyester
Cover: Polyester
Guarantee: Three years
Reasons to buy
+
Good support for side sleepers
+
Three-year guarantee
+
Hypoallergenic
Reasons to avoid
-
Pricey compared to other pillows
-
Not suitable for front sleepers
Made with the same space-age material that fills its mattresses, the Tempur Original Support pillow has been specifically designed to cradle the neck and shoulders to provide pain-free slumber.
Through the night, the firm memory foam filling gently molds to the shape of your head and neck and then springs back to its original shape afterward, ensuring that each sleep is as comfortable as the last. It's available in three height sizes, so you can pick the one that suits your style of sleeping—Tempur recommends the medium or large for women and the large or XL for men. There's also a 30-night trial if you're not sure which one is best for you. The soft outer cover can be washed at 60˚and spares are available to buy, too—to help you guarantee good sleep hygiene.
Best comfortable pillow for neck pain
Specifications
RRP: £169
Size: Five sizes available
Filling: Goose down
Cover: Pure Swiss cotton cambric 400 thread count
Guarantee: Five years
Reasons to buy
+
Very plump and cushiony
+
Bounces back after use
+
Hugs the head and neck for maximum support
+
Luxury, high-end quality
Reasons to avoid
-
Sinks slightly when you lie on it
-
Expensive
Super squishy pillows probably won't offer enough in the way of neck support, as these types of pillows can sink under the weight of your head during the night. If you prefer a softer surface, then you'll also need to invest in something with firmness and a good bounce-back to protect your neck and spine. Cue—the luxurious Cuddledown Edelweiss Hungarian Goose Down pillow. With a good loft and a supportive fill—it features 20% extra down to provide the perfect balance of softness and support and gives you the plush feel you would expect from luxury hotel pillows. We rate it as the most comfortable—yet supportive—pillow for neck pain.
How to choose the best pillow for neck pain
The best pillows for neck pain are not a one-size-fits-all solution. When shopping for a new pillow, you should consider what type of sleeper you are, whether that's a back sleeper or a side sleeper, and the type of mattress you sleep on. You should consider:
Sleeping position—if you're a side sleeper, you'll need a firmer pillow that can retain its height over the course of the night. If you're a back sleeper, opt for a pillow with less depth and density so it's not forcing your spine out of alignment while you sleep.
Mattress type—some mattresses are firmer than others, so it's important you choose a pillow that matches and offers the right support, advises osteopath Caroline Baker. "A softer mattress could benefit from being paired with a firmer pillow. However, if you use this same pillow in conjunction with a super firm mattress, you could be met with a loftier combination that will do your neck and spine alignment no favors."
Material—A 2020 study published in the International Journal of Environmental Research and Public Health shows pillows made from latex or memory foam offer the best neck and shoulder support. Caroline also advises taking note of the label on pillows you've loved at family and friend's houses, or hotels, for inspiration on the type of material and firmness you like best.
Ysanne Brooks comes from a family of wordsmiths, artists and jobbing journalists. Among other things, her somewhat lengthy career includes 10 years working on specialist magazine 25 Beautiful Kitchens, nine of those as editor.
For more years than she cares to reveal in public, she's opined on planning, designing and buying for all areas of the home. She's too long in the tooth to be a tech geek but she knows what's what when it comes to beautiful, useable products that make modern living just that little bit more comfortable. She now combines supplement editing and freelance feature writing for interiors magazines and websites with a new venture as a budding ceramicist.
Tired of London but not tired of life, she moved to Surrey 8 years ago, where she now lives with her husband, also a journalist, and Buffy the cat.