Two fashion designers demo what to wear this autumn using only Monsoon clothes and the result is inspiring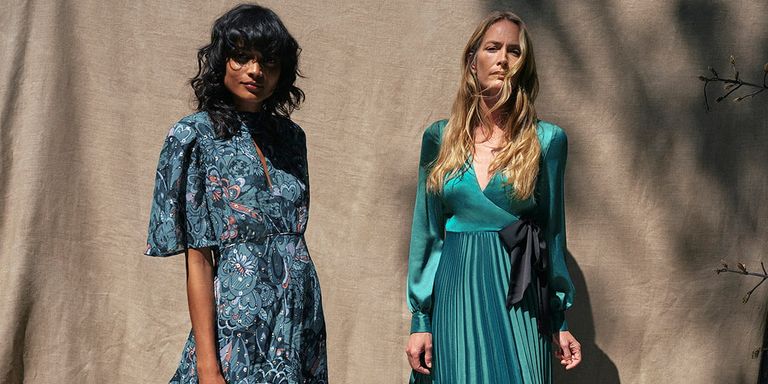 Style duo and fashion designers Belle and Bunty recently put together their edit of Monsoon's Autumn/Winter collection. And they revealed this edit in a fun video on Instagram.
The video, posted on both Belle and Bunty's Instagram account (opens in new tab) and Monsoon's (opens in new tab), not only unveiled their Monsoon collection picks, but it showed how to wear the pieces, with some neat new-season styling tips.
What we love about the video is that many of the ideas are entirely transferable to things already in our wardrobes.
We've all got some midi skirts and a stripey knit in the cupboard. There's probably a blazer hanging about (probably more than one). And umpteen long strap bags too... But the approach to mixing the pieces, textures, and layers feels fresh and elegant, yet still autumn appropriate at the same time.
Belle and Bunty said, "We love the versatility of the pieces and hoped to show in our styling videos different ways of wearing pieces to compliment your wardrobe and to get the most out of styles such as outerwear and blazers."
Mission achieved!
Belle and Bunty are actually called Alice Shreeve and Hannah Coniam-Thompson. They're the designers behind bridal label Belle and Bunty, which has been featured in Vogue, Marie Claire and Elle. Their modern and unique take on the vintage aesthetic has lead them to amass a lot of fashion fans, and so as well as designing and manufacturing wedding dresses in the UK, they're branched out into fashion influencing. They have over 73,000 followers on Instagram and their videos are watched by thousands of people.
They're certainly influenced us, we're now convinced that boilersuits do actually look good...
Belle and Bunty cite Monsoon's take on the boilersuit as their must-buy piece from the collection.
"We love the denim boilersuit and how you can dress it up and down plus the colour palette too has a really rich, autumnal feel but with some pretty beings like the minty shades!"
SHOP NOW: Boilersuit, £70, Monsoon (opens in new tab)
The pieces Belle and Bunty's selected are available both in stores and online now. Prices start at £30 for the croc effect bag. Some styles are already almost out of stock, so if there's something that's caught your eye, don't dally.
Manuela has worked for Woman & Home since June 2019, when she joined as a Freelance Fashion Assistant to help compile the magazine's shopping pages and to write on-trend, fashion-focussed features for the web. She has worked in the high street and luxury markets for brands including Woman, Woman's Own, Woman's Weekly, Chat and MailOnline as well as Woman & Home.
Manuela is fluent in two languages and describes herself as a 'Brazilian in London'. She currently writes celebrity-driven fashion content for the Fashion Finder section at MailOnline.