What is tea tree oil and how does it work?
Tea tree oil is a popular herbal oil seen in a lot of beauty products—see how this known antifungal can benefit your routine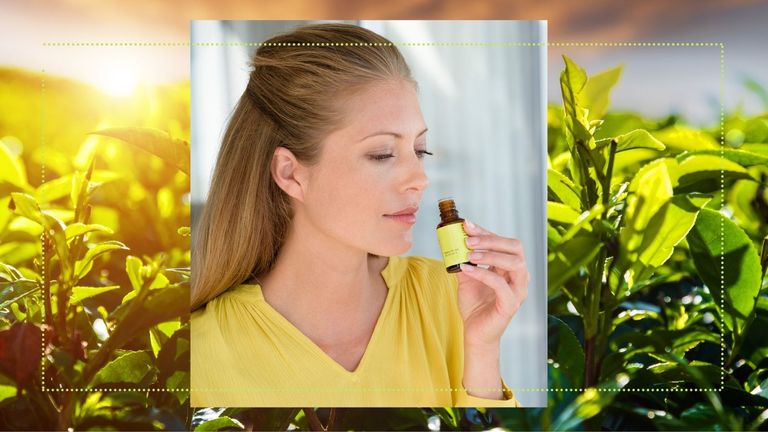 (Image credit: Future/Getty Images)
Chances are, you've heard of tea tree oil. A popular ingredient in skincare, it's best known for its abilities in treating acne and breakouts. It may surprise you then to know that the benefits of this natural antiseptic extend beyond general pimple-fighting powers.
Whether you're making the switch to using more natural ingredients in all areas of your life, or have heard someone speak of this essential oil's magic powers, tea tree oil is an excellent weapon to have as part of your wellness arsenal.
What is tea tree oil?
A popular essential oil, tea tree oil is produced by extracting the natural residue from the leaves of tea trees in Australia. Part of the myrtle family that's indigenous to Australia, the tree gained its moniker from Captain James Cook, who noticed that aboriginal peoples made tea from the leaves of the tree. (Editor's Note: it is not advised to ingest tea tree oil, it can be toxic).
Now widely exported beyond its native homeland, this essential oil has various uses—many of which are proven to be beneficial as part of a regular skincare routine (or as part of an at-home facial), as well as for our personal health in general. Tea tree oil can even be used as a natural disinfectant around the home—that's what we call versatile.
Most of the time, tea tree oil comes in a small bottle; the high concentration of the oil means it needs to be diluted for safe and effective use. Always read the instructions on the bottle.
Tea tree oil benefits
This healing essential oil, which was used extensively before the invention of penicillin, is antibacterial, antiviral, anti-inflammatory, and antifungal. One of nature's most powerful cleaning agents, it has been a staple of alternative medicine for centuries. Its known properties are:
Antifungal: It kills germs, viruses, and fungi. This essential oil has long been used to prevent minor infections and protect us from unwanted bacteria.
Natural and versatile: It's safe to use on all kinds for surfaces—not only your body, but also around your house as a natural cleaning agent.
Antiviral: Tea tree oil contains a compound that increases the activity of healthy white blood cells, so your body's natural immunity is stronger and better able to fight infections.
When to use tea tree oil in your beauty regimen
Tea tree oil is a naturally powerful disinfectant so, while you should always consult a doctor concerning any serious issues, you may find that you can use it for a host of common daily needs. Because of its powerful cleansing properties, tea tree oil is not recommended for anyone with eczema or other severe skin sensitivities.
Acne prevention: Applying tea tree oil topically can help clear up your skin over time. Many people find that using tea tree oil is a great inclusion in skincare for acne, as it can help to clean pores and remove bacteria that cause bumps and redness (if you suspect your redness is rosacea related read our guide about how to treat rosacea).
Athlete's foot: As an antifungal, tea tree oil has the ability to help clear up athlete's foot—an overgrowth of fungus that can create unpleasant odors. With steady topical application over time, tea tree oil can help relieve symptoms of this, and other fungal infections.
Hand sanitizing: Instead of using heavy amounts of alcohol and chemical-filled hand sanitizers, turn to tea tree oil; it works as a trusty natural disinfectant, which you can use whether you're at home or on the go.
Insect repellant: Insects don't like the smell of tea tree oil, so they often shy away from its scent (hurrah!). Diffuse it into the air to help eliminate bugs in your home.
Mouthwash: Tea tree oil can be used as a mouthwash to help combat the bacteria that cause bad breath, and that also have a hand in tooth decay. While you don't want to only use tea tree oil in your dental routine, it's a great addition to your existing products. NOTE: do not swallow this solution, as tea tree can be harmful if ingested.
Dandruff prevention: Tea tree oil can, in some cases, decrease dandruff production and leave you with fewer itchy white flakes. Add a few drops of tea tree oil to the best shampoo and conditioner for your hair type, or choose a brand that already contains this essential oil.
Tea tree oil side effects
While tea tree oil is typically quite safe to use, some topical side effects may occur in some people when using this oil. These include:
Dry, itchy skin
Redness and burning
Skin irritation or allergic reactions
Tea tree is for external skin use only, or for use as a natural cleaning agent. It can be toxic when ingested, which may lead to more serious side effects. Keep out of reach of children, and remember to always dilute this essential oil before use.
How to use and apply tea tree oil
As mentioned, if you're using it topically, you will need to dilute tea tree oil in water. Since different brands may have different dilution levels, check the recommended dilution on your bottle. Some tea tree oils do come pre-diluted, meaning you can start using them right away.
Tea tree oil is a safe antibacterial and antifungal agent that you can use in many ways throughout your home. It's pet-safe and ideal if you're looking to reduce your family's exposure to harmful chemical cleaning products. Add it to your daily cleansing routine—whether personal or household—to start experiencing its benefits.
Tea tree oil-infused products to try
KitavaMD Tea Tree Spot Treatment
The best thing about this dermatologist-formulated line is the research that goes into the proportions used in their products. This acne treatment is rich, spreadable, can be used twice a day, and most of all, super effective against blemishes without excess irritation or dryness.
---
Biossance Squalane + Tea Tree Balancing Oil
Acne oils don't have to be drying, as seen in Biossance's breakthrough formulation. Combining Northern Australian tea tree oil to purify skin oil with superstar ingredient squalane to keep moisture in, this vegan blend helps banish redness, eruptions, and minimize visible pores.
---
Eunice Lucero-Lee is the Beauty Channel Editor for woman&home. A lifelong creative writer and beautyphile, she graduated from De La Salle University in 2002 and was hired a year later to front all beauty coverage for Pink Magazine, a teen lifestyle publication, after submitting a page-long thesis on why Stila was the best brand to come out of the Aughts. She was hired an hour later.
Her writing—which has since then expanded to cover pop culture and astrology, both equal passions—led her to spearheading columns in Chalk Magazine, K-Mag, Metro Working Mom, and SugarSugar Magazine. Upon receiving her stripes at New York University's Summer Publishing Institute in 2008 she was immediately headhunted to work as the Beauty Editor, thereafter Managing Editor of Stylebible.ph, the digital home of Preview, the Philippines' best-selling fashion magazine, where she also did double-duty as Associate Editor of the print edition.
It was during this stint that the hallyu wave started taking hold and when she was tapped to co-found Sparkling, Asia's first-ever English K-Pop print magazine. Originally planned as a one-off, the project became a runaway hit and saw her taking Korean classes on the weekends for three years, as she found herself frustrated by the lack of breadth translators provided for celebrity profile coverage. She was Editor-in-Chief until her move to New York in 2013. The now-iconic magazine has remained in publication since 2009 due to massive fan support.
A beauty, astrology, and pop culture obsessive and insider for over 18 years, Eunice is an internationally published editor (and now certified astrologer) whose work has been featured in publications such as Cosmopolitan, Esquire, and The Numinous, among many others. The former Editor-in-Chief of All Things Hair and a (very) proud cat mom, she spends her time in Manhattan figuring out the correct Pilates-to-sushi ratio, obsessing over celebrity natal charts, luxury skincare, and Scandi-noir crime procedurals, as well as finding the perfect K-Pop vid to save the day. She can still order drinks perfectly in Korean. Find her on Instagram @eunichiban.