What are peptides and how do they work?
Peptides are an amino acid and common beauty ingredient - here's everything you need to know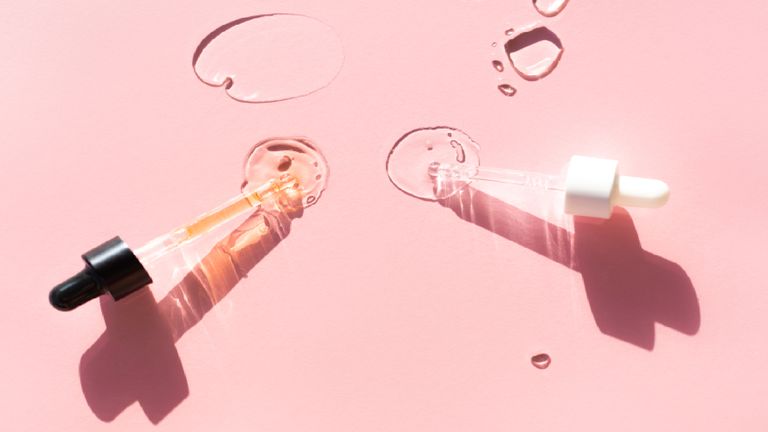 (Image credit: Getty Images)
Peptides, most often found in skincare, are a great example of an ingredient that you should know about when scanning the beauty aisles at your local drugstore.
Commonly found in cleansers and creams, peptides are a popular ingredient for most products in your skincare routine, particularly those targeting dry and sensitive skin.
What are peptides?
Peptides are composed of strings of amino acids naturally found in the human body and are similar to proteins but shorter, making them easier for our bodies to absorb. For this reason, peptides are often added to beauty products and supplements. Peptides are found naturally in many foods we eat, like eggs, dairy products, meat, seafood, beans, and more.
Peptides are most often used in anti-aging cosmetic products because of their potential to protect skin from damage, improve skin health, and minimize the impact of premature aging. The peptides in cosmetics are often derived from the collagen in animal products.
When products containing peptides are applied topically onto skin, the peptides send messages to skin cells telling them to carry out specific tasks, like building collagen, elastin, keratin, and other proteins that are essential to younger-looking skin.
Benefits of peptides
Peptides have some substantial benefits worth considering when incorporating them into your beauty regimen:
They help slow down aging: Products with collagen peptides may combat wrinkles, make your skin appear more youthful, and fight against the formation of new lines.
They protect skin: They may prompt your body to produce more melanin, which can improve your skin's ability to protect against sun damage.
They're easily assimilated into our bodies: Collagen is a substance found in hair, skin, and nails. Collagen peptides can easily be absorbed by bodies, improving skin's radiance and glow.
They help accelerate healing: Formulas with peptides help heal skin faster. Collagen is an essential part of healthy skin, and collagen peptides can reduce inflammation, helping our bodies heal.
Peptides side effects
While peptides have plenty of benefits, you may be wondering if there are any drawbacks to using them. In most healthy adults, there's no reason to avoid products containing peptides. That said, more research still needs to be done before we understand the full impact of peptides on our skin and how much they impact signs of premature aging.
Benefits may vary from person to person, so while peptides are generally safe for everyone to use, your results may be different from another person using the exact same product.
When to use peptides (and when not to)
If you are looking for a solution to combat the symptoms of aging skin, products containing peptides may be right for you. However, you should always consult with your doctor if you have any specific concerns or questions. Always refer back to your dermatologist if you have a special skin condition, are taking specific medications, or are pregnant or breastfeeding before exploring a new ingredient.
Peptides are available in a wide range of skincare products across many beauty brands, so regardless of your skin type, budget, or preference, you'll likely find a formula that is right for you. Before buying, it's always a good idea to do your own research, check out reviews or get recommendations from a trusted friend.
How to use and apply peptides
You can use products containing peptides as a part of your daily beauty regimen and even in your skincare night routine. When checking the label, look for ingredients containing the words Tripeptide, Tetrapeptide, Pentapeptide, Hexapeptide, or Heptapeptide, as these are all standard peptides used in skincare products.
Because peptides are found in such a wide variety of products, when and how you use them may vary. For example, you may choose an anti-aging moisturizer containing peptides that you can apply in the morning or before bed. You may also look for which one of these best cleansers contain peptides to use when washing your face. Always follow the directions on the package, and stop using immediately if you have any side effects. It may help to try out a few different products to find one that works best for you and your preferred beauty routine.
While clinical results may not be conclusive on the complete benefits of peptides for skincare, the benefits that have been found can be a valuable addition to your skin's health and wellbeing. The next time you're at the drugstore, check out formulas with peptides and see if this popular beauty ingredient is right for you.
Eunice Lucero-Lee is the Beauty Channel Editor for woman&home. A lifelong creative writer and beautyphile, she graduated from De La Salle University in 2002 and was hired a year later to front all beauty coverage for Pink Magazine, a teen lifestyle publication, after submitting a page-long thesis on why Stila was the best brand to come out of the Aughts. She was hired an hour later.
Her writing—which has since then expanded to cover pop culture and astrology, both equal passions—led her to spearheading columns in Chalk Magazine, K-Mag, Metro Working Mom, and SugarSugar Magazine. Upon receiving her stripes at New York University's Summer Publishing Institute in 2008 she was immediately headhunted to work as the Beauty Editor, thereafter Managing Editor of Stylebible.ph, the digital home of Preview, the Philippines' best-selling fashion magazine, where she also did double-duty as Associate Editor of the print edition.
It was during this stint that the hallyu wave started taking hold and when she was tapped to co-found Sparkling, Asia's first-ever English K-Pop print magazine. Originally planned as a one-off, the project became a runaway hit and saw her taking Korean classes on the weekends for three years, as she found herself frustrated by the lack of breadth translators provided for celebrity profile coverage. She was Editor-in-Chief until her move to New York in 2013. The now-iconic magazine has remained in publication since 2009 due to massive fan support.
A beauty, astrology, and pop culture obsessive and insider for over 18 years, Eunice is an internationally published editor (and now certified astrologer) whose work has been featured in publications such as Cosmopolitan, Esquire, and The Numinous, among many others. The former Editor-in-Chief of All Things Hair and a (very) proud cat mom, she spends her time in Manhattan figuring out the correct Pilates-to-sushi ratio, obsessing over celebrity natal charts, luxury skincare, and Scandi-noir crime procedurals, as well as finding the perfect K-Pop vid to save the day. She can still order drinks perfectly in Korean. Find her on Instagram @eunichiban.