Our beauty editor reviews No7's new skin-boosting base—this was her verdict
No7's newest foundation is the perfect blend between skincare and makeup. Our beauty editor puts it to the test…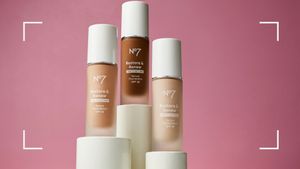 (Image credit: Boots No7)
The right foundation can transform your whole look, and enhance your complexion. The best option should enhance your skin, not hide it, but it can be surprisingly hard to find.
For me, efficiency is key when it comes to choosing beauty products - I'm all about finding buys that work hard, are faff-free and do exactly what they say on the tin. This is why multitasking products make all the difference, cutting time out of my routine - and saving some pennies too!
Finding the right base can feel like a real journey - I know it has been for me! It's hard to find the perfect formula that offers enough coverage without feeling heavy, that also matches my skin tone. My days can be quite busy, whether I'm testing products at home or out and about in meetings, I rely on hardworking products that I can trust to get on with the job. Step in No7 Restore & Renew MULTI ACTION Serum Foundation, which contains more skincare ingredients than their existing foundations - it's my new beauty hero!
It creates the perfect, radiant finish, all while providing five powerful benefits, leaving skin looking smoother, firmer, lifted and radiant with the appearance of a flawless, even tone. The serum foundation also has a flexible formula that moves in harmony with my facial expressions, without settling into lines and wrinkles.
It's powered by No7 Restore & Renew Serum technology, including Collagen Peptide Based Technology, Pro-Retinol, Ceramide complex and Vitamin C. It cares for skin while adding that flattering finish to my complexion.
Don't just take my word for it, two other women of different ages, skin tones and complexions gave it a thorough testing. Let's hear how they got on…
"I use makeup to enhance my skin, not hide it."
Ritamaria wears No7 Restore and Renew Serum Foundation in shade Bamboo.
"Beauty and youth are not mutually exclusive. Yes I am older, and my products need to work a little harder, but I still look and feel fabulous. I want people to see the real me, not the hidden me and over the years I have now come to grips with the mature me, so I like my makeup and beauty products but it's to enhance me and not hide me."
No7's skin-enhancing formula gives skin five powerful benefits. Making it look smoother, firmer, lifted and radiant, with a flawless even tone. So all ages can wear this skin-boosting formula and feel fabulous.
"When my foundation matches my skin I feel confident."
Anita wears No7 Restore and Renew Serum Foundation in Amber.
"In the past I have felt like an afterthought. My skin colour has never been considered as important by the beauty industry. When my foundation matches my skin I feel radiant and confident and ready to take on the world. It's an amazing feeling once I've put my face on".
Everyone has the right to the perfect foundation match. No7 knows that shade matching is a perfect science. That's why all No7 foundations are formulated with skin expert shade science technology, analysed against 1.9 million global skin tones to give customers the perfect true-skin match.
Other women agree...
9/10 women said their skin looked smoother, whilst wearing the product after 2 weeks* and 90% said it concealed their fine lines and wrinkles without creasing or cracking.
Find your perfect match like Rhiannon, Ritamaria and Anita…
No7 Restore & Renew MULTI ACTION Serum Foundation SPF30 is available in 18 shades and blends seamlessly for a natural look. No7 take shade matching seriously—they've harnessed Skin Expert technology, informed by a scientific analysis of 1.9m skin tone measures, for a true-skin match.
For the perfect shade match, head to No7 foundation finder at Boots.com/no7 (opens in new tab). Or head to Boots.com/no7-pro-derm-scan (opens in new tab) to find your nearest store and book a No7 Pro Derm Scan consultation.
Flawless, smoother skin is easy to achieve with No7 Restore & Renew MULTI ACTION Serum Foundation SPF30, £19.95. Available at Boots and Boots.com (opens in new tab).
---
*consumer study on 220 women, whilst wearing the foundation.
Rhiannon Derbyshire is the Senior Beauty Editor for Woman & Home and other publications.
She started interning for magazines while working alongside her Fashion Journalism degree. There, she was lured to the beauty desk, seduced by matte lipsticks, posh shampoos and every skincare product imaginable. A first-language Welsh speaker, she can tell you why the best mascaras are always high street, why SPF is a non-negotiable all year round and how to find the exact right red lipstick in two languages.