The best travel hair dryers for neat packing and smooth vacation styling
We've tried and tested the best travel hair dryers that are lightweight, portable, and powerful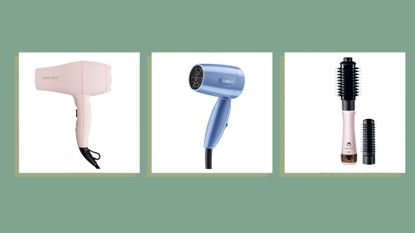 (Image credit: Future / Ulta / Amazon / Calista)
Packing for a vacation can feel overwhelming – and scouring beauty aisles for the best travel hair dryers can add to that stress.
Just like packing mini-sized bottles of your favorite liquids or organizing your clothing items into packing cubes, the best hair dryer for travel will save space in your suitcase and allow you to achieve your go-to styles wherever you are. Many of today's travel-friendly dryers boast impressive features like a foldable handle, dual voltage functions, and an incredibly lightweight feel. Beyond this, it's important to find one that doesn't sacrifice power for being travel-friendly, and one that works for your specific hair type and length, be that a low-maintenance short hairstyle for women or long hairstyle that requires more power and attachments.
We're serious about the hot tools we put on our hair, so we've curated this list of the best travel hair dryers that are easy to pack in your best suitcase, lightweight to hold, and foolproof to style with. If you've had enough with hotel air dryers, check out these options before your next trip.
How we tested the best travel hair dryers for this guide
Whether you're traveling internationally, domestically, or locally, there are a number of factors that go into selecting a travel hair dryer. We took each of the below considerations into account, testing dozens of dryers in a variety of scenarios, at home and on the go. We also assessed how easily they packed away in carry-on or suitcase and how their performance compared with our usual hair dryer.
Key considerations:
Size and weight: The first thing to consider is where you're traveling and what mode of transport you'll use, which will determine how big and heavy the hair dryer should be. "If you are taking it on a plane, you'll want something that's lightweight and small enough to fit in your carry-on bag," says Asako Ito (opens in new tab), beauty expert and founder of Divine Lashes. If you're traveling by train or car, you may be able to get away with something a bit heavier and bigger. Some travel dryers are small enough to fit into a small duffel bag or purse, which can be helpful for quick on-the-go touchups if you're running in between meetings or stopping by Happy Hour after work.
Dual-voltage: Many travel hair dryers come with dual-voltage functionalities, and it's definitely an option to seek out if you make frequent international trips. According to Jasmine Rilington (opens in new tab), hairstylist and founder of The Glam Room, "using a non-dual-voltage hair dryer overseas could cause a fuse to be blown at best and damage to your hair at worst."
Material: As with other tools like your best hair straighteners, material matters. "Ceramic is a great option as it puts out non-damaging infrared heat, which is good for frizzy hair and protects the hair from heat damage," says Rilington. "Tourmaline emits infrared heat too but also negative ions, which can make the styling process easier and provide a glossy finish." This material is a great option for anyone wondering how to get shiny hair.
The best travel hair dryers, chosen by our experts
1. Revlon Compact Folding Handle Travel Hair Dryer
Best travel hair dryer for most people
Specifications
RRP: $18/£23
Key features: Removable end cap, foldable
Best for: All hair types
Reasons to buy
+
Ergonomic design
+
Cool shot button holds style
+
Gives bounce and volume to hair
This compact hair dryer from Revlon checks all the boxes: it folds, weighs just over a pound, and packs a big punch during styling. Not to mention, it sits at an affordable price point. During testing we liked how easy this dryer was to hold, not just due to its lightweight nature, but because it was easy to get a good grip and have control over where it dries. We also loved the cool shot button, which gives out cold air to lock in your chosen hairstyle for a long-lasting 'do.
Finally, the dryer features a ceramic coating and ionic technology to help minimize frizz and protect from heat damage (though we still recommend using heat protection for hair whenever you're using a hot tool). One thing we noticed while testing was how loud this dryer was compared to other products, so keep that in mind if you're going to be staying in a vacation home or in a room with other people.
2. Drybar Baby Buttercup Travel Blow-Dryer
Best luxury travel hair dryer
Specifications
RRP: $139/£85
Key features: 2 heat settings, includes concentrator nozzle
Best for: All hair types
Reasons to buy
+
Extremely powerful
+
Provides bounce and volume
+
Lightweight design
+
Includes travel dust bag
Reasons to avoid
-
A little pricey compared with others
Think of Drybar's Baby Buttercup Travel Blow-Dryer as your hair stylist in a hot tool. The dryer is extremely powerful, serving up a 1200-watt motor and two heat settings for complete customization. This dryer was able to dry our hair in record time – and without the frizz that most other hot tools leave behind.
That's all thanks to the negative ion generator that seals the cuticle and keeps flyaways at bay while drying, which is helpful if you want to keep your destination's weather (be that humidity or wind) from ruining your hair. It also comes with a concentrator nozzle for more precise styling, which is a nice option to have when you're on the go. We're fans of Drybar's signature canary yellow-hued products, and appreciate that the brand includes a dryer dust bag to keep it protected while traveling.
3. Conair Compact Hair Dryer with Folding Handle
Best budget travel hair dryer
Specifications
RRP: $15/£54
Key features: Dual-voltage, folding handle, 2 speed settings
Best for: Short to medium length hair
Reasons to buy
+
Very compact design
+
Not too noisy
+
Affordable
Reasons to avoid
-
Not as powerful as others
Jet setters, rejoice! Conair's compact hair dryer makes it easy to achieve salon-worthy hair on the go. During testing it performed consistently, drying and styling our hair in a variety of weather conditions. When comparing it to other models, we noticed that the nozzle isn't as long as the others and that the handle is shorter when folded, meaning it takes up less space in your suitcase.
While the heat flow was even and it dries quickly, one thing we noticed was that the dryer wasn't as powerful as the other ones we tested, so keep this in mind if you have long, dense hair or want to create an ultra-controlled bouncy blow dry.
4. T3 Afar
Best dual-voltage travel hair dryer
Specifications
RRP: $180/£150
Key features: Auto-dual voltage, foldable handle
Best for: All hair types, frizzy hair
Reasons to buy
+
Reduces frizz
+
Multiple heat and speed settings
+
Compact design is convenient to pack
Reasons to avoid
-
Not for those on tight budgets
If you're willing to invest in a high-quality model that will give you reliable results, look to this one from T3. Lauded for its frizz-controlling, volume-inducing properties, this dryer features the brand's IonAir Technology, which quickly dries hair and keeps it looking smooth for days. It also offers three heat and two speed settings for complete customization depending on your hair texture and how quickly you need it dry.
What sets this model apart from the others, though, is its auto-dual voltage, which automatically shifts voltage depending on where you are for worry-free styling. You can also pop on the concentrated nozzle for smoother looks. All in all, this is a winning dryer that'll give you flawless results every time.
5. Eva NYC Mini Healthy Heat Pro-Power Dryer + Bag
Best travel hair dryer for small bags
Specifications
RRP: $24 (US only)
Key features: 2 speed settings, removable air filter
Best for: Frizzy hair, damaged hair
Reasons to buy
+
Dual-voltage function
+
Extremely lightweight and compact
+
Gives hair a shiny finish
The compliments will come pouring in after whipping out this mini dryer from Eva NYC – not just for the gorgeous hair it yields, but for the eye-catching carrying case that makes it so easy to throw in your duffel, carry-on, and even your best gym bag. This is the smallest dryer on our list but definitely doesn't lack power or strength. It features tourmaline-infused ceramic components and a 1200-watt motor, giving you the same speed and intensity as your standard-sized dryer but in compact form.
We appreciated the concentrator and diffuser attachments that came with the dryer, which allowed for more customized styling. But most of all, this dryer never left hair looking frizzy, making it a solid option if you're traveling to a humid destination.
6. Skanwen Professional Hair Dryer
Best folding travel hair dryer
Specifications
RRP: $202 (US only)
Key features: Cool shot button, quick dry button, 3 concentrator nozzles
Best for: All hair types
Reasons to buy
+
Slim design
+
Various heat and speed settings
+
Quiet
Though it's the priciest model on our list, this highly-rated option is also the slimmest when folded, making it ideal to fit into tight spaces. It has several heat and speed functions to choose from, which makes it great for all hair types whether you have a fine, medium, or thick and curly hairstyle.
We found the 360° rotatable nozzle a notable feature – it made it easy to smooth out hard-to-reach areas like the nape of the neck. We also enjoyed how quiet the model was compared to the others we tested. Finally, the fact that the concentrator nozzles were magnetic meant that we didn't need to fuss with putting them on and taking them off, which can add to styling time if you're in a rush.
7. It's a 10 Miracle Mini Travel Kit
Best travel hair dryer set
Specifications
RRP: $40 (US only)
Key features: Removable filter, concentrator nozzle, dual-voltage
Best for: Dry hair
Reasons to buy
+
Shampoo and conditioner are hydrating
+
Smoothes out the hair
+
Dries very quickly
Looking for a no-fuss option that'll have you covered during every step of your styling? This set from It's a 10 will be your newest travel companion, featuring the brand's best shampoo and conditioner in addition to the hair dryer. The haircare duo uses aloe vera and sunflower seed extract to hydrate the hair and seal the cuticle pre-styling.
As for the dryer, it's small but mighty, featuring a removable filter that makes it easy to clean out and prevents lint buildup from impeding your style. One thing we docked a point off for is that the dryer isn't foldable, which can make it difficult to pack into smaller bags.
8. Hot Tools Pro Signature Ionic Travel Hair Dryer
Best travel hair dryer for frizzy hair
Specifications
RRP: $40 (US only)
Key features: 2 heat settings, cool shot button, concentrator and diffuser attachments, foldable handle
Best for: Damaged hair
Reasons to buy
+
Extremely powerful
+
Dries hair quickly
+
Swivel cord makes it easy to maneuver
Traveling to a humid destination? We recommend this hair dryer from Hot Tools. At 1875 watts it's the most powerful model we tested – and the results showed for it.
Our tester had extremely coarse, flyaway-prone hair and it was able to dry the hair efficiently and without frizz. The drying and styling process was also made easy thanks to the swivel cord, which allowed us to rotate the dryer without rotating our hands (no sore arms here!). We're fans of the sleek black and gold signature Hot Tools color, too.
9. Mayraki Straightening/Volumizing/Wavy 3-in-1 Styler
Best multi-use travel hair dryer
Specifications
RRP: $89 (US only)
Key features: Adjustable temperature control, 5 heat settings
Best for: All hair types
Reasons to buy
+
Easy to use
+
Auto shut-off
+
Shapes the hair
This do-it-all hot tool dries, straightens, and waves hair to perfection. Though it may look intimidating, we found it quite easy to use – the heated teeth provide even heat distribution while the variety of heat settings makes it easy to customize your look.
It also features a 360-degree swivel power cord, so you won't get tangled up during styling. Plus, the automatic shut-off function is good for forgetful types. While it doesn't fold or have dual-voltage capabilities, the tool is extremely compact and won't take up too much space in your bag, making it a great travel-friendly option.
10. Calista StyleDryer Pro Hair Drying Brush
Best travel hair dryer brush
Specifications
RRP: $69 (US only)
Key features: 2 styling attachments
Best for: Frizzy, lackluster hair
Reasons to buy
+
Good price
+
Gives significant volume
+
Dries hair quickly and evenly
Reasons to avoid
-
No dual-voltage capabilities
If you want to look like you just stepped out of the salon, the Calista StyleDryer Pro Hair Drying Brush is a hot tool you need in your arsenal. The brush comes with two attachments: an oval brush for giving your ends that polished flip for more youthful hairstyles and the styling brush for detangling and giving major volume. Each tourmaline-infused brush offers even heat distribution and reduces frizz, static, and flyaways.
We like that this is a two-in-one product and that you won't need another tool to finish off your style. During testing, we appreciated the brush's feather-light feel and slim, suitcase-friendly design. This tool doesn't have dual-voltage functions, so keep this in mind if you're traveling overseas
11. Lura Mini Portable Travel Hair Dryer
Best travel hair dryer with a diffuser
Specifications
RRP: $36 (US only)
Key features: Folding handle, removable filter, comes with concentrator nozzle
Best for: Curly, textured hair
Reasons to buy
+
Dual-voltage function
+
Lightweight
+
Comes with a carrying case
Reasons to avoid
-
Exterior of dryer gets hot
Enhancing a natural hairstyle or various curl types while traveling is made easy with this portable dryer from Lura. Because this dryer is extremely small, the diffuser is too, making it easy to pack for a trip. Plus, it's lighter than a Cola Cola bottle, according to the brand, and you won't need a converter since it has dual-voltage capabilities.
While we love the portability and texture-friendliness of this dryer, during testing we found that the outer part of the dryer got hot after use. So be sure to let it cool off before storing it away.
Michelle Rostamian is a Los Angeles-based beauty writer with 10 years of experience in the beauty industry. She began her career as a publicist, content writer, and social media manager, representing beauty brands and industry professionals. Currently, she is an editor and writer on all things makeup, beauty, skincare, and lifestyle. Michelle graduated from the University of California, Los Angeles with a B.A. in Communications. She has bylines at Cosmopolitan, Elle, Marie Claire, Allure, The Zoe Report, HelloGiggles, Yahoo, Byrdie, Well+Good, Reviewed, Women's Health, Runner's World, The Girlfriend, and more.