The best vineyard tours and wine tasting holidays around the world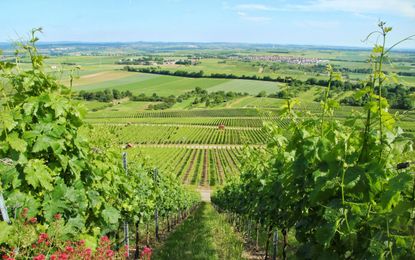 If you fancy yourself a bit of a wine connoisseur - or just really appreciate a glass in the evening - there are hundreds of brilliant wine destinations around the world.
Whatever your tipple, there's a wine region out there for you to explore and taste. From the obvious to the underrated, these are the best places in the world for a wine tour.
Here's our pick of the best vineyard tours across the globe...
Wine taste your way around the Okanagan, Canada
Little-known internationally, the Okanagan Valley remains fairly undiscovered by Brits. Surrounded by mountains in the north and desert-land in the south, and set aside the gorgeous, glistening Lake Okanagan, the vineyards here produce some of the finest Pinot Noir in North America.
It's full, fruity and varied from vineyard to vineyard, so it's essential to try them all on an epic tour. Hire a car in Vancouver and take the drive up through the British Columbia countryside. You can stop in at wineries, cider orchards and even breweries on route up to Kelowna and Vernon, where exceptional hotels and restaurants await.
The drinking highlights are Summerhill Pyramid Winery, where the bohemian owner believes putting his wine in a manmade pyramid will make it taste better, and Mission Hill. The latter was visited by Prince William and the Duchess of Cambridge and has a spectacular outdoor restaurant.
Stay at
Sparkling Hill Resort. Owned by Swarovski, millions of crystals don the walls and artworks in this place. The luxurious spa is a wonderful evening break, and the lake-view rooms have superbly-placed bathtubs.
2. Enjoy stunning vineyard tours in Slovenia
This tiny country produces some truly mighty wines (opens in new tab), and its compact size means it's easy to sample from a few different regions. Fly into Ljubljana and hire a car - it's less than two-hours to any of the surrounding borders, so mosey east if you fancy reds and west if you prefer whites.
Pullus has a whole host of award-winning wines, from sweet Muscats to spritely Sauvignons. Visit them in historic Ptuj - a spa town - for an idyllic break. Alternatively, head into the rolling countryside of the Ljutomer-Ormoz district in search of fabulous whites by the Jeruzalem Ormoz Winery. You'll be forgiven for thinking you're in Tuscany.
Slovenia also produces some fantastic orange wines, made from white grapes but vinified like a red. The skins are left in with the juice for up to a month, producing a unique colour and flavour. Head to Ajdovščina and sample some of the best at tasting room Faladur (opens in new tab). Head to Maribor in the north to see one of Europe's biggest wine cellars, and the oldest vine in the world.
Stay at
A farmstead, or the Terme Ptuj. The latter has a fantastic spa with geothermal waters, and the bathtub in your room is fed by the warm mineral water below ground.
3. Sample some robust reds in Portugal
Here, it's all in the name. Famous for its port, of course, Portugal is a brilliant wine destination. Enjoy some of the dark, fortified wine in the cellars of Porto, the capital, alongside local delights such as pastel de nata and hard cheeses, before you head out into the countryside for some tasting.
The Douro Valley, sliced down the middle by the picturesque river of the same name, is one of the country's best wine regions. The sloping vineyards that climb away from the riverbanks produce a variety of fine red grapes, including Touriga Nacional, Touriga Franca, Tinta Barroca, and Tinta Roriz - ideal if you're a fan of Rioja or Ribera del Duero.
Whites include Malvasia Fina and Rabigato, and the key winemakers are Niepoort (opens in new tab) and Quinta do Crasto (opens in new tab). Tour it by car or - even better - explore from the water on a river cruise.
Stay at
Quinta de Casaldronho (opens in new tab) - an ultramodern wine hotel in the heart of the region.
Book it:Take the 8-day Riviera Travel river cruise along the Douro Valley (opens in new tab)
4. Enjoy wine with a view in the Western Cape, South Africa
The manicured vines and pretty orchards of South Africa's Winelands are an affecting sight for any wine lover. Backed by rocky mountain peaks, this stunning valley is home to some of the best South African wines out there.
Stellenbosch is the hub, with hundreds of estates dotting its expanse. A university town, it has less of the stuffiness many wine destinations are associated with, and has a selection of excellent bars and restaurants to match its fun-loving population.
Stay at
Delaire Graff Estate (opens in new tab). It's not a bargain (with low-season rates from £695), but views like this don't come cheap. Breakfast, wine-tasting and evening canapes are included.
Book it: Stop off in Stellenbosch with the Riviera Travel South Africa Rovos Rail trip (opens in new tab). which includes a stay on the luxurious train, safaris in Kruger National Park and plenty of excellent wine.
5. Enjoy the varied wine offering of France
The classic wine pilgrimage, France could well be considered the home of exceptional vin. In the south you'll find fabulous rosé blends in Provence, Grenache and Carignan in Languedoc Roussillon, and Syrah and Grenache blends in the Rhône.
Elsewhere, there are wonderful whites in the Loire, brilliant bubbles in world-famous Champagne and some rich reds in Bourgogne. There's no end to the wine adventures available in France, and a wine tour of the country could last months.
Any wine holiday here should start in Bordeaux, though, where the Cite du Vin (opens in new tab) museum pays homage to the humble grape, the industry's history and the wine pioneers of today.
Wine tastings are available in cellars and on vineyards throughout the country, but head to Beaujolais to see France's answer to Tuscany and taste the country's 'new' wine culture (opens in new tab). Drive over from the UK and you can stock up at each place you stop to bring a little home with you - the perfect souvenir.
Stay at
Chateau St Pierre de Serjac (opens in new tab), half way between Toulouse and Marseille. The hotel now has a working winery and is bottling its first vintagesin 2018.
Book it: The Riviera Travel cruise through Burgundy, Rhône and Provence (opens in new tab) offers an opportunity to sample some of the best French wines, while on a serene cruise through beautiful bucolic scenery.
6. Take a ride on the wine train in California
America's most famous wine region, vineyard tours of California are a tourism staple here. But go beyond the obvious (Napa, Sonoma) and explore a little-visited, but exceptional area making some of the best Cali wines under the radar. Enter the Tri-Valley - an area of three valleys with some exceptional wine on offer.
This is one of the oldest wine-making regions in the country, and the area prides itself on being 'viticultural pioneers'. There are 28 wineries to tour (opens in new tab) in the Livermore Valley Wine Country area. Hire a bike and spend a few days exploring. The best part? You can ship your favourite bottles home for free (opens in new tab).
Of course, the Napa and Sonoma wine tours are popular for good reason. If you're keen on exploring the big hitters, don't miss a ride on the Napa Valley Wine Train (opens in new tab).
Stay at
The Purple Orchid (opens in new tab), a gorgeous hotel next to a number of vineyards. You needn't ever be more than a few hundred metres from the next vine.
Lottie is an NCTJ-trained journalist, an experienced travel writer and an expert in creating compelling digital content.
Lottie has been in the travel writing business for nearly a decade and has writing and photography bylines at The Telegraph, The Times, The Independent, the i and National Geographic Traveller. She's done broadcast work for BBC Radio 4 and have contributed to a number of guidebooks and coffee table titles during her career.