Review: Velassaru by Universal Resorts, Maldives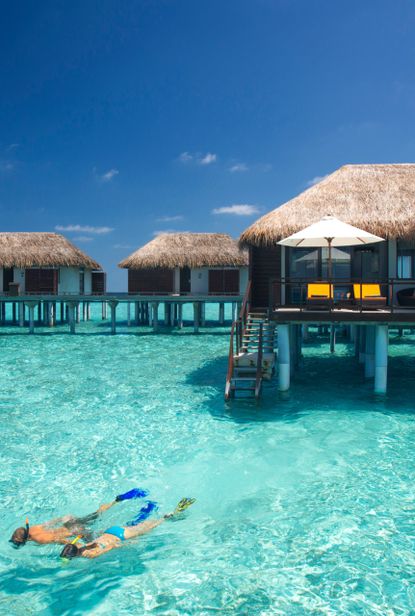 Breathtaking views, white sandy beaches and turquoise sea, sounds like paradise right? Well if this is what you're after for your next vacation there is only one destination...the Maldives. It's time to finally treat yourself to that once in a lifetime holiday, escape from the everyday and immerse yourself in pure relaxation.
Our top recommended place to stay has to be Velassaru by Universal Resorts. This 21-acre coral island is located in the south Male Atoll. Our Fashion team recently stayed there to shoot our high summer issues, and fell in-love with the resort. You travel to the island via speedboat. Instantly you're greeted with a smile and a cold bottle of water. The trip to the island is quick and relaxing, plus you can spot a few dolphins on route. Pulling into the island hotel is truly a breathtaking. Crystal clear water with dreamy white beaches and classic sea bungalows are the first thing you spot. The staff at the hotel line up ready to take your luggage and take you to where you'll be staying.
Whether you stay on the water bungalows or a beach villa, the luxe factor isn't scrimped on either. The individual beach villas are located just off the shore and tucked behind palm trees. The water bungalows are everything you envision and more, each with a private pool, ocean views and step access to the sea, they're complete paradise. All rooms have large king-size comfy beds with pillows that you just melt in to.
The service at Velassaru is outstanding. The staff are so welcoming and completely accommodating. Nothing is too much for them. Another incredible part of the Velassaru experience is the food. There are several restaurants located around the main reception and pool area. From Mediterranean cuisine at Etesian, to Japanese at Teppanyaki, or to the ever-changing buffet at Vela - there is something for all. The curries especially are a must! Evening entertainment at Velassaru is varied every night, from live music to DJ's and even a movie night set up right on the beach - you'll never get bored.
Being an island resort, understandably the best daytime activities revolve around the ocean. Book a windsurfing experience, catamaran tour, kayak hire, or diving. Complementary activities on the island are daily morning yoga, a morning cruise around the island and snorkelling tours.
For those seeking total relaxation, The Spa at Velassaru is an experience not to be missed. One of the most beautiful over water spas in the Maldives, it's ten treatment rooms, pool and yoga pavilion are all set on stilts with indisturbed views of the beautiful Indian oceans. The spa offers signature treatments and rituals that are created to provide an authentic healing experience.
Velassaru is the perfect romantic get away loaded with every kind of luxury. With it's incredible hospitality, mouth wateringly good food and truly mesmerising aesthetic, this Maldivian treasure is one to tick off your bucket list.
Samantha Rnic is a fashion stylist and writer from Colchester. She has worked for titles such as Grazia, The Sun and Look magazine. She is currently studio bookings manager at Matches Fashion.