What to do in Jamaica: The best things to do off resort - from someone who's tried them all
I absolutely loved Jamaica, these are all the things I'd recommend getting off resort for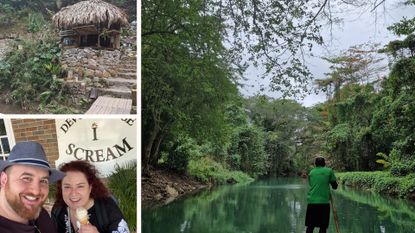 (Image credit: Rivkie Baum)
Most associated with white sandy beaches and clear blue water, we're not denying just how beautiful this Caribbean island is. But there is also so much to do in Jamaica, that simply lazing by a pool with a book or sunbathing on the sand will mean you miss out on really seeing the country.
Great music, sensational flavour profiles and a landscape that encompasses lush green vegetation as well as clear seas and sparkling sand, Jamaica is a large island with a lot to offer. While it's impossible to do it all in one trip, you certainly should speak to your resort or hotel about getting out and about. This wasn't my first time in Jamaica and yet I still found I had more to see and do, which is testament to just how action packed this island is.
Whether you're craving active adventure, want to find inner tranquillity or wish to tantalise your taste buds, there are few spots in the world that can offer all that and more. With fascinating history, discover the true Jamaica on your next visit, enjoying an on and off-resort holiday with my guide to the top things to do across the Island, and the things I enjoyed most, covering a little bit of everything.
What to do in Jamaica: Kingston & the Blue Mountains
Despite not having the typical beach aesthetic most tourists associate with Jamaica, Kingston, but in particular, the Blue Mountains are one of my favourite parts of the island. Utterly serene, sensational greenery and with endless views, it's really worth the visit. You'll be blown away by the views and although the steep drive up the mountain can be somewhat nerve-wracking, it is worth it once you get up high, I promise.
To make this leg of your trip easier, you could start your trip by flying into Kingston airport and staying a couple of nights at the Strawberry Hill Hotel, which houses a wonderful spa and an infinity pool and has one of the best lookout points over the capital city. The Strawberry Hill hotel is not just beautiful, but like many places on the island, it has lots of history, particularly music history, with the likes of Bob Marley staying there.
1. Bob Marley Museum
A hero of Jamaica, Bob Marley's music has now been in the charts for longer than the legend was alive, a testament to his influence which traverses generations, making this one for all the family. Whether you're a super-fan or can simply sing along to some of the greatest hits, the Bob Marley Museum is a must-do, if you're to say you've been to Jamaica.
Situated on Hope Street, in Kingston, the museum has been curated in the home in which Bob Marley spent the last eight years of his life. It is where he wrote, recorded and practiced and you will get an opportunity to step into the music studio and see the spots where some of his most well-known songs were written and recorded. A fascinating insight into the man beyond the music and just how much Marley cared for the people of Jamaica, there were points where this felt like quite an emotional experience.
With some spaces in the house largely untouched, you will see everything from Marley's bedroom to his kitchen, still set up as if the music maestro may appear at any moment. Decorated in the many posters, album covers and ticket stubs from Marley gigs all over the world, you will gain a valuable insight into the life of Bob Marley and his family. With so much incredible memorabilia on show, the tour is guided, and filled with wonderful stories, passed on from the Marley family to the many fans who pay homage to the idol here each year. Having sold over 30 million copies of the Legend album, 10 times the population of Jamaica, it's no wonder that this tour is a highlight and a must for any trip to or through Kingston. Bob believed his life was for others and that its worth was intrinsic to what he could give back. An uplifting tour reminding us all of the importance of 'one love'.
I enjoyed the Bob Marley museum immensely, even as someone who enjoyed his music, but wouldn't label myself a super fan, I felt I learnt a huge amount whilst I was there and the fact that so much of the house felt untouched was pretty spectacular. Our tour guide was extremely knowledgeable and happily asked any extra questions.
2. Devon House
A much-celebrated landmark, the Devon House Mansion was built by Jamaica's first black millionaire, George Stiebel. A mix of Georgian and Jamaican architecture, this striking building is available to tour and well worth the walk around, with its lush green lawns and a stunning collection of Jamaican, English and French antique and reproduction furniture. Since becoming a national heritage site, Devon House has evolved into a recreational area for families, locals and tourists alike to dine, relax and play. From delicious traditional patties (delicious and authentic) to the globally famous Devon House ice cream (ranked 4th best ice cream in the world). With super-sized scoops and a host of delectable flavours – including authentic rum and raisin ice-cream, there is no better way to cool off. This is a great lunchtime or early afternoon pit stop.
The ice cream and the patties are really worth the hype, but if you have time I do also recommend the Devon House Mansion tour as it really is wonderfully interesting for those keen on history.
3. Blue Mountains - Jamaican Blue Mountain Coffee
One minute you're driving through the hustle and bustle of Kingston, the next you're on an upward trajectory heading through the Blue Mountain district. Known for the most expensive and, in our opinion, the best coffee in the world, a visit to Craighton Farm offers a unique opportunity to learn about Jamaica's fascinating coffee production history, and a short walk up through the coffee estate will show you these magic beans growing in all their glory. Set in the mountains, the view, as you can imagine, is spectacular, with lush greenery stretching for miles, and the endless enchanting forestation is worth the trip alone.
One of the smoothest coffees in the world, thanks to its low levels of acidity, the coffee tasting (accompanied by superb rum cake) at the end of the tour is definitely a highlight, and there is the opportunity to purchase from the estate so you can take the magic home with you.
I think this is one of my favourite places in the whole of the Jamaica, partially because I can't stop enthusing about Jamaican Blue Mountain Coffee, but I also think it's one of the most beautiful parts of the country as the views of the vegetation are met by absolute peace and serenity. We ended up drinking coffee, eating rum cake and chatting with our guide for so long we were there until night had fully fallen and sitting on a dark mountain, smelling coffee being roasted is a memory that will be with me forever.
4. Pretty Close
I'm a big believer that all great adventures start with secret doors, and this is perhaps my new favourite spot in all of Jamaica. Tucked into the mountainside, Pretty Close unfolded before our eyes, revealing the kind of scenery you can only imagine. A mere 15-minute drive from Kingston, this is a haven of pure escapism. Entirely handcrafted, this ecological hangout was born out of a desire by Omar, the spot's owner and master crafter, to create a place of peace and natural harmony on his land, maximizing its potential and offering tourists and locals an eco-friendly paradise to relax in.
I was absolutely blown away by Pretty Close and I think we told absolutely everyone about it for the rest our trip. It wasn't just how unexpected it all was but how ingenious the build and the passion was behind the project.
Literally whittled into the mountainside, this is one of the most magical spots in Jamaica and offers the opportunity to reset and relax, surrounded by bubbling streams, carved-out hideaways and tree stump seating, as well as an amphitheatre chiselled out of the rockside for the most romantic movie nights possible. This reservation-only spot limits the number of people in attendance to ensure the laidback vibe remains, as overcrowding would certainly spoil this beauty spot.
But you don't just have to sit and potter, with waterfalls a short walk away, you're welcome to explore, with Omar even available to guide you to the best waterfall spots for that ultimate holiday moment. Book in for an authentic Rastafarian ital lunch, which is plant- and fish-focused, with all produce once again grown and harvested by Omar. Cooked on-site by the man himself in his picturesque outdoor kitchen, complete with thatched roof, food is served in calabash bowls, and the stream is used as a refrigerator for cool and creamy fresh green coconuts. Expect some of the best and freshest grilled fish, the tastiest festival and yummy plantain, this is seriously not one to miss, we'll be thinking about those calabash bowls of food for a long time. There's only one problem… you won't want to leave.
---
What to do in Jamaica: Ocho Rios
The port of Ocho Rios is a pit stop for cruise ships and with the main town a short walk, there are excursions and activities to enjoy in the local and surrounding area to make your visit a memorable one.
If you're staying in Ocho Rios, you're around 1hr 40minutes from Kingston, just over 2 hours from the Blue Mountains and and an 1hr 30minutes drive from Montego Bay, so as long as you speak to your hotel to sort a tour guide, there is no reason that you can't add in some action-packed days, alongside your pool time.
5. Chocolate making
Ocho Rios is a popular tourist spot thanks to its vast port, making it a hit with cruise line guests. Nestled on a leisure complex close to where the boats come in, is the expanding headquarters of one of Jamiaca's most exciting chocolate ventures. Pure Chocolate Company crafts some of the best chocolate you may not have tried, but this globally retailed brand combines heart-warming enterprise, supporting their local community, and exceptional flavours - and you can be a part of it.
Rennae Johnson and Wouter Tjeertes are one of those special couples that manage to live and work together and are making a huge difference to those around them in the process. Having met in St Lucia as pastry chefs, the pair were tasked with getting to grips with the excess amount of cocoa beans the island and the resort they worked in had to play with. Learning how to make chocolate, from farming the highest quality beans right through to developing the tastiest final product became something of an obsession and led them to where they are today.
Marrying and returning to Jamaica, they set up the Pure Chocolate Company which has reinvigorated the cocoa production industry in Jamaica, supporting local farmers in best practice, even bagging the prestigious Renee Marcus Garvey Award for Agriculture in the process. Rebuilding and supporting those around them is at the core of the brand and the exceptional artwork that decorates the packaging is produced by local graduating art students, giving them both income and exposure on a global scale. Having won 3 Academy of Chocolate Awards for their products, this traceable brand makes exceptional chocolate bars, flavoured with local spices of Jamaica including Jerk seasoning, lemongrass, and nutmeg, as well as more conventional flavours such as sea salt and vanilla milk chocolate. The pureness in every bite is obvious and the relatively tiny production room also welcomes tourists to come and craft their own chocolate. For just $50pp enjoy a tasting session, followed by fudge making, truffle production and decorating and learn to temper your own chocolate before finessing your own bars. A paradise for any chocolate lover, you'll want to scoop up plenty of these as souvenirs too.
While there wasn't capacity for us to make chocolate that day, we did, for research purposes, obviously do a thorough taste test and have a look at the set up for the chocolate making. We did leave with our rucksacks laden with chocolate which we are still managing to make last, although the lemongrass one is unfortunately long gone.
6. Dunn's River Falls & Park
You can't go to Ocho Rios and not explore Dunn's River, one of Jamaica's most well-known and well-loved attractions. A full-day excursion, there is plenty to see and do, exploring the 960ft falls and all the adventure activities on offer. Divided up into mapped areas, if you're after a softer, more relaxed day in nature, then picnicking in the Tranquility Garden will feel sublimely restful. Explore all the lush vegetation and wildlife the area has to offer, including palms, bamboo, ferns and breadfruit trees to name just a few. For kids (or big kids), head to the Central Garden and enjoy the splash pad and waterslide, ideal for keeping cool and entertaining. Feeling slightly more active and adventurous? Well then, head up the 293 metre-high attraction by foot, or harness up and enjoy the world-famous zipline over the falls, and then reap the rewards for your bravery by lazing on the area's stunning beachfront.
I love the balance here, giving something for thrill seekers and those that want to continue on the R&R time. It's ideal if you're travelling with kids too.
---
What to do in Jamaica: Montego Bay
One of the most popular destinations on the island, Montego Bay is one of the main tourist areas, with plenty of luxury hotels and all-inclusive resorts (including Sandals Royal Caribbean, where we stayed) to choose from. And while you should enjoy the clear blue waters and sandy beach fronts, there's plenty to do in the surrounding areas too.
7. Hampden Estate Rum Tour
Almost certainly the most famous rum brand you might never have heard of, Hampden Estate is integral to many of the rums we drink commercially today. A Jamaican rum, based in Falmouth, it is one of the last surviving distilleries that still uses discontinuous distillation when producing its rum, for total control. Utilising techniques from the 18th century, when the distillery was first established, this reliance on its origins ensures that the brand continues to produce rum with a uniquely high level of esters, which gives it an unparalleled aromatic profile and explains why Hampden Estate is so highly regarded amongst its rum-producing peers.
While perhaps not the most well-known tourist rum tour on the island, if you're a rum lover, then seeing a distillery largely unchanged since the 18th century is a treat that only true fanatics will understand.
Drive past the vast sugar cane fields that signal you're heading into rum land and head down the long royal palm tree-lined path to the heart of the Hampden Estate. To your left, you'll spot the Great House, originally built in the 18th Century. While it has gone through plenty of internal modernisation, it is surrounded by a lush tropical garden that helps to set the scene for the fascinating history of the estate. Your dedicated guide will take you through Hampden's 260-year-old rum production process, showing you both the fermentation boiling house and the pot stills.
My first trip to Jamaica got me into rum and having tasted (again, just for research) many rums from other countries, Jamaican rum is still very close to my heart. If you've been on similar rum, gin or whisky tours, then you'll know a little of what to expect, but where Hampden wins is the history and it's significance to the industry at large.
The two-hour tour, which includes lunch, and of course, a rum tasting (participants of the tour must be 18+), you'll leave feeling like a rum industry insider.
8. Martha Brae
One of our favourite activities of the trip, the Martha Brae raft ride is the Caribbean version of enjoying a gondola in Venice and just 20 miles from Montego Bay, or 40 miles from Ocho Rios, it's accessible from two of the country's biggest hotel hot spots.
The handcrafted 30-foot-long bamboo rafts are surprisingly comfortable, with seats built into the raft, so you can truly sit back and relax as you glide along the winding Martha Brae river. Immerse yourself in some of Jamaica's lush greenery and marvel at its beauty, as your experienced raft captain gently guides your ride, sharing some of the history of the area, or take the opportunity to get off and splash around in the water. Alternatively, follow our lead and get in a round of drinks from one of the sellers on the riverbank - one of our top holiday decisions. Enjoy a fresh coconut with its top sliced off, and a splash of added rum to really embrace that holiday spirit - honestly, nothing will make you feel quite as relaxed. A 1-hour ride, this is a low-key but highly enjoyable activity, and this expedition will leave you feeling calmed to your soul as you take in Jamaica's rich and diverse tropical vegetation, we recommended this one to several people back on our resort and beyond.
9. Glistening Waters
For those visiting during Jamaican summer (July-early Sept), Glistening Waters, or the Luminous Lagoon is not to be missed, particularly if you're staying in the Montego Bay area. An excellent evening excursion, with pick-up available from numerous hotels along the main strip, this trip is ideal for open-water swimmers, although life jackets are provided, and those who are happy to gently bob around, or watch from the boat are able to enjoy the evening too.
A natural nighttime attraction, this memorable experience will have you marvelling at the wonders of this lit-up lagoon, that is home to microscopic organisms which emit a bio-luminescent light when disturbed. This means you can truly light up the water, as a gentle swim will have you feeling like a superhero, sending out bolts of neon-blue light with every movement.
A relatively shallow body of water, just 3-8 feet in depth, after arriving at the port and enjoying your traditional rum punch, (something that seems to be a must before most tourist activities), you'll board a small 30-person boat and head out to the deepest and darkest part of the lagoon. Under the night sky, guests are invited to climb off the boat and enjoy setting the water alight, but those who wish to stay dry will be able to watch the full effects from the boat. With a camera person aboard to capture this moment for you, you'll want to bring cash for the photo, as well as a towel and a set of dry clothes for after your experience.
We went in February when the temperatures were not quite at their perfect levels for this activity, although we definitely still got to see the water light up. I'd recommend this as an evening activity if you are there in the summer, but if you're there in other seasons, it may be worth saving for a later trip.
Prices & How to book
Call Travelbag on 0207 001 4112 or visit www.travelbag.co.uk
All packages subject to availability and based on two adults sharing unless otherwise stated.
For more information you can also check out Visit Jamaica.
Or why not try...
We stayed at Sandals Ochi Beach Resort for part of our trip to break up travelling time. You could easily cover Ocho Rios, Dunns River, Kingston & the Blue Mountains in this leg of the trip before moving, like we did, to Montego Bay to cover another part of the Island.
A seven-night stay for two adults at Sandals Ochi Beach Resort, Jamaica staying in a Butler Village Poolside One Bedroom Villa Suite costs from £2,089 per person. Price includes Luxury Included (all-inclusive) accommodation, Butler Elite Service and 24 hr room service, return economy class flights with Virgin Atlantic from London Heathrow Airport and resort transfers. Price is valid for travel on select dates in March 2024, subject to change and availability. Includes £100 discount per booking when quoting promo code 'AUTUMN100' at the time of booking. To book, call 0800 597 0002 or for more information about Sandals Resorts visit www.sandals.co.uk
Sign up to our free daily email for the latest royal and entertainment news, interesting opinion, expert advice on styling and beauty trends, and no-nonsense guides to the health and wellness questions you want answered.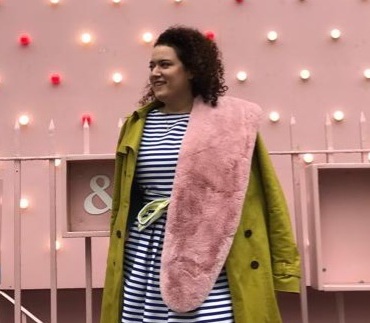 Rivkie is a fashion editor, writer and stylist with over fifteen years' experience in the industry. Having studied design and pattern cutting at the London College of Fashion, Rivkie fell in love with styling and journalism, covering fashion weeks in London, Paris and New York.
Specialising in plus size fashion, Rivkie has long championed that style is for everyBODY and has been a regular talking head on a host of radio stations and television shows, pushing for greater representation for plus size women and fashion throughout her career.