This is the most liked Airbnb of the year so far and the heavenly countryside retreat only costs $140 a night
The Italian countryside villa is the perfect place for couples or friends to get away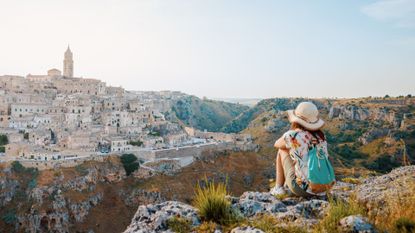 (Image credit: Getty Images)
This Italian countryside retreat is the most liked picture on Airbnb's Instagram of the year so far - here are the details about the dreamy retreat.
Italy has long been a popular getaway destination for people all over the world, not only is it one of the easiest countries to work abroad in, you can eat traditional Italian dishes every single day!
And after season 2 of White Lotus, folks were flocking to Italy even more to experience all of the beauty that the show depicted. And whether you've been to Italy or not, one fact is certain - the Italian countryside simply can't be beaten.
It's no surprise, then, that the most liked Airbnb of the year is this quaint little country house right in Puglia, Italy, nestled in a remote location and boasting beautiful views of the Italian countryside.
The home is called a Trullo, which according to the host, Pasquale, is "a typical Apulian structure, dates back to the ancient architecture of the 1500s."
This Airbnb features a plethora of desirable amenities for guests according to the description, including "utensils, crockery, oven, microwave, toaster, kettle, fridge, coffee maker, table with chairs, sofa, TV, barbecue, complimentary kit, bath and bed linen, hair dryer, heating/air conditioning, security devices (internal alarm and external cameras), free wi-fi throughout the property."
The host mentions that the Airbnb is specifically perfect for couples who love the outdoors and hiking, as the surrounding area is laden with mountains and lush landscapes. "Our trullo is located in the heart of Barsento, a hilly area of Apulia with dry walls and breathtaking scenery, a few kilometres from Alberobello. Ideal for nature lovers and hikers, relaxing stays or for simple romantic weekends," the owner boasts.
This getaway cast host up to 5 guests, seeing as there are three beds and two bathrooms. Plus, luckily for guests, the host provides some local delicacies upon arrival, truly giving a warm welcome. "Upon arrival, you will find a small welcome drink with typical local sweets. You will also be provided with everything you need for a tasty breakfast with homemade desserts and excellent coffee and cappuccino," the host says.
Trullo is decorated very minimally, with neutrals and whites serving as the main color palette, evoking an air of serenity and calmness. But although the property is relatively no-frills, guests don't have to worry about it being outdated - there are still plenty of modern amenities, like a smart TV with a Roku, as well as a washer and dryer, and hot tub that's open all year long.
And, the best part, and the part you've all been waiting for - it only costs $140 per night. Talk about a steal.
Don't take it from us, though, here are some guest reviews that prove the point:
"This accommodation exceeded our expectations. Beautiful villa in a private setting. Everything was super clean and nice," one review reads.
"Absolutely gorgeous! Peaceful and quiet countryside. The hot tub was a wonderful treat as well. The house was beautiful and the fridge was stocked with thoughtful treats," another says.
Madeline Merinuk is woman&home's US lifestyle news writer. She covers celebrity, entertainment, fashion, and beauty news but is also obsessed with internet trends - you can find her reciting trending TikTok sounds out loud at any given time.
After winning multiple student journalism awards for her investigative work, she graduated from Hofstra University in 2021 with a B.A. in Journalism. After graduating, she worked at today.com, the digital site for the Today Show, where she wrote pop culture news and interviewed big-name personalities like Emily Ratajkowski, Haley Lu Richardson, Emma Corrin, and more.
Her personal interests, in no particular order, are: cheese, Joni Mitchell, reading, hot yoga, traveling, having multiple chapsticks in every handbag at all times, and dancing to ABBA songs as if she were in the Mamma Mia movies.