The Best Places To See British Wildlife On Your Doorstep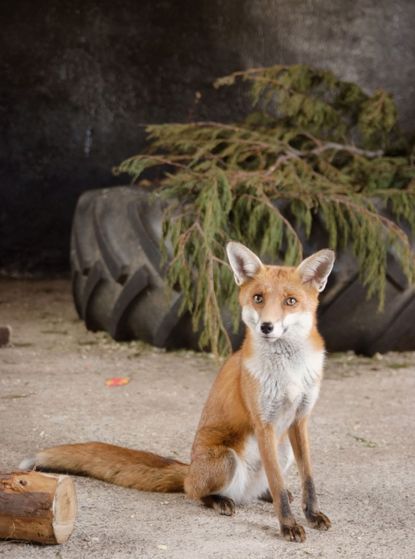 Spot British wildlife on your doorstep at these amazing locations...
Our country is amazingly diverse; you'll find all sorts of landscapes ranging from lush, green pastures to bleak, windswept mountains. There are lakes, hills, forests, fields, marshes and all kinds of coastline that play host to an exciting line-up of British wildlife such as wild animals and birds - and the good news is that much of this British wildlife easily accessible to all of us.
If you like your nature well organised, then do your homework and you'll find a wide selection of nature reserves, world heritage sites, seabird breeding areas, natural wet grassland habitats, national parks and many other venues, where you can join a guided walk or occupy your own hide for a few hours to gaze out over a particular stretch of ground or water. So the good news is you don't have to be a celebrity TV presenter or a tweed-wearing professor to get up close to Britain's wildlife!
We?ve assembled a selection of venues where you stand a really good chance of observing animals, birds and sea creatures. Remember, these are wild animals we're talking about, so they won't be performing to order. Sometimes you'll be sure to get a really good sighting while occasionally there may be less to see, perhaps because of the weather, the time of day or simply bad luck.
Click through to enjoy a fantastic day with the very best of Britain's wildlife... Foxes at Feadon Farm
Feadon Farm is a Wildlife and Conservation Centre situated at Portreath on the North Cornish Coast and is part of the Gwel an Mor Resort, a 5 star holiday complex. Each week there?s a series of wildlife experiences including Meet the Animals, Wildlife Walk, Night Walk and Rockpooling. You also have the opportunity to try your hand at falconry and fly the resident Harris Hawk and Barn Owl and meet the other rescued and tame animals at Gwel an Mor such as hedgehogs, pigs, goats, snakes, bats, squirrels, donkeys and reindeer. The highlight of all the wildlife experiences is getting to meet, stroke, feed and learn about the tame rescue foxes - the only place in the country to do this.
The cost per wildlife experience is £12 per adult and £7 per child with each experience lasting around 2 hours
Visit www.feadonfarmwildlife.co.uk or call 01209 844136.
British Wildlife Spotting: Sand martins
The Suffolk Coast is home to RSPB Minsmere and is a great destination to discover wildlife. Minsmere is home to more than 5,400 species. Hire an Explorer backpack, complete with binoculars and bugbox, build a den, or play in the Wild Zone's sand martin tunnels and bittern nest. The reserve is made up of wetlands, woods, and beach, and is home to an assortment of wildlife favouring these diverse habitats. Take a guided walk or nature trail around the reserve and recharge your batteries at the tearoom which serves up fresh, local Suffolk produce. Entry to RSPB Minsmere visitor centre is free. To visit the countryside walks, Wild Zone and hides is free for RSPB members and RSPB Wildlife Explorers. Non-member adults £8, children (under 19) £4, under 5s free, students £5.50, one child free with two paying adults. Stay in nearby Squirrel Cottage (3 bedrooms) in an area of outstanding natural beauty with RSPB Minsmere a pretty ycle ride away. Two cycles and a tandem are available for guests to borrow at no additional cost. Prices start from £300 per week. Visit www.thesuffolkcoast.co.uk for more details.
British Wildlife Spotting: Bottlenose dolphins
Cardigan Bay and the Ceredigion coastline in particular, is home to the biggest population of bottlenose dolphins in Europe - around 250 of them. It's is a real hotspot for spotting dolphins and you can see them at almost any time of year. The summer months are best for sightings. Spot them from the shore anywhere along the coastline or take a wildlife boat trip to enjoy great views of dolphins, porpoises, seals and birds. Dolphin Survey Boat Trips depart from New Quay, costing £17.50 (children £10) for a 2 hour trip. An eight-hour cruise costs £60 for adults. Contact Cardigan Bay Marine Wildlife Centre on 01545 560032 or visit www.dolphinsurveyboattrips.co.uk for more details.
British Wildlife Spotting: Wild deer and reptiles
Welcome to a living and working place where ponies, donkeys, pigs and cattle freely graze the land and help to keep the patchwork of different habitats intact. Deeper in the forest, wild deer browse beneath canopies of mighty oak and beech - natural scenes unchanged by the modern world. The New Forest is well know for the variety of reptiles you can find. The open heaths are ideal basking grounds for adders and grass snakes, and the many pools dotted around the area make ideal conditions for frogs, toads and lizards Use the latest hi-tech gadgets to look right into the tree-top nests of the New Forest's wild birds of prey and watch their every move - from eggs hatching to food arriving and chicks leaving. You can also learn about the reptiles and amphibians of the New Forest. Staff and volunteers at the Reptile Centre are on hand to answer all your questions about Forest life, and you can find out how you can do your bit to help wildlife in the New Forest, and at home. Entry is free, and it's open until early September. Visit www.thenewforest.co.uk for more details.
British Wildlife Spotting: Seals
Head for Newquay and sign in with the Ticket to Ride Surf School. £45 buys a two-hour stand-up paddleboard adventure. You and your fellow paddlers can explore the calm waters of Newquay Bay and the surrounding headland whilst spotting local ocean dwellers including seals, friendly dolphins and the playful porpoises. A fantastic day out for everyone, this picturesque session is aimed at the truly balance-less beginner upwards. Look at www.tickettoridesurfschool.co.uk for more details.
British Wildlife Spotting: Rare birds
Rare and unusual birds can be found throughout Pembrokeshire but there are particularly large populations on the five main islands of Skomer, Skokholm, Grassholm, Ramsey and Caldey all of which are in the coastal National Park. Several operators run regular trips around the islands from April to October (weather dependent). Ramsey is an important RSPB reserve particularly good for spotting razorbills, peregrine falcons and choughs. Voyages of Discovery offers round the island trips in exhilarating jet powered RIBs, or you can take it at a slower pace in a conventional vessel. Voyaging around Ramsey is simply spectacular as the island provides a wealth of wildlife, spectacular scenery and natural heritage. The RIB trips are between 1 and 1.5 hours, the conventional trip longer. Prices from £25 per adult, children £12, under 4s £5. To book call 01437 721911 or visit www.ramseyisland.co.uk
British Wildlife Spotting: Red kites
Watch the wild red kites as they are fed at Gigrin Farm, Rhayader, every day of the year. With breath-taking feats of aerial piracy, the red kites compete with buzzards and ravens for choice pickings. The number of kites using the feeding station can vary anything from a dozen to 300 or more depending on the weather and time of year. The site has five large hides - three suitable for disabled access - just metres away from where the kites sweep down, providing excellent opportunities for photography. The Red Kite Interpretive Centre offers information on red kites and wildlife. Open daily 1pm - 5pm, closed Christmas Day. Feeding from October to March at 2pm, March onwards at 3pm. Prices: Adults £5, OAP £4, Child £2.50, under 4 years free. Take a look at www.gigrin.co.uk or call 01597 810243.
British Wildlife Spotting: Water voles
The Canal & River Trust is the guardian of 2,000 miles of historic waterways across England and Wales. The Trust launched the Great Nature Watch Campaign to encourage people to go out to their local waterway and record sightings of any wildlife they see. These records will be shared with local record centres. Slimbridge is 15 miles south of Gloucester on the Gloucester & Sharpness Canal, and a great place to spot water voles. Habitat preservation measures have been put in place here and it's one of the few places in the country where they are thriving. There is also a fantastic wetlands centre here for people to explore. Visit www.wwt.org.uk/wetland-centres/slimbridge/ for details. Walking along the towpath at Slimbridge is free; entrance to the wetlands centre is £10.40 for adults and £5.70 for children.
British Wildlife Spotting: Wild mammals
Stone Lodge at Combermere Abbey is located near Nantwich and Whitchurch, on the border of Cheshire and Shropshire. Stay in the Gothic-style Stone Lodge, where you have access to an environment that's largely untouched and rarely open to the public. Explore pasture, parkland, woodlands and walled gardens, the highlight of which is a unique fruit tree maze. A huge glacial mere attracts wetland species, grebe, kingfisher, heron, egret, cormorant, swans, ducks and geese, and other birdlife. Mammals include hare, rabbit, mink, vole, dormice, squirrels, badger and foxes. Ancient 'rides' boast swathes of native flowers, under a canopy of Wellingtonia, Swamp Cypress and the aptly-named Tree of Heaven. A three-night midweek break costs from £360 (£450 from July) - based on midweek 3 nights. Stone Lodge sleeps four. More details from www.combermereabbey.co.uk or call 01948 660345.
British Wildlife Spotting: Whales and dolphins
The Hebrides include some of the remotest, wildest corners of the British Isles - twenty-four cetacean species have been recorded in the waters off the west coast of Scotland, one third of the global total - making it one of the most abundant areas in Europe. The Hebridean Whale & Dolphin Trust offer sailing trips which not only give you chance to spot these creatures, but to contribute to their conservation too. Involve yourself directly with local whale and dolphin conservation; experience first-hand the biodiversity of the Hebrides; contribute to a better understanding of the marine environment; visit some of the remotest, wildest corners of the British Isles; gain sailing skills and data collection experience. This holiday includes all food and accommodation (on the yacht) plus all scientific and yachting training. Bedding and heavy duty waterproofs will also be provided. Species you will spot include Risso's dolphins, bottlenose dolphins, harbour porpoises and the only resident pod of orca in the UK. Other seasonal visitors include minke whales and the common dolphin. Prices from £950pp for nine days on board. Visit www.responsibletravel.com or call 01273 823700.