How to spend 24 hours in Seattle – the jewel of the Pacific Northwest
w&h visited the Emerald city to bring you the very best food, activity and hotel recommendations...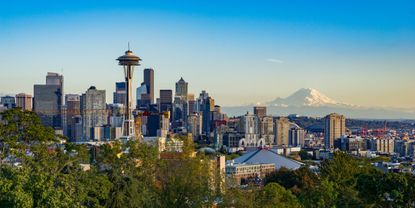 (Image credit: Getty Images)
Planning a trip across the pond?
If you're keen on exploring America for your holiday this year - or, in the near future - you might be considering the US hotspots everyone always talks about – New York, LA, Chicago. Pay a visit, by all means.
But if you do, you'll be missing out on arguably one of the most vibrant, fun, yet relaxed and cities our American brothers and sisters have to offer – Seattle,on the country's Pacific Northwest.
You might not be aware that Seattle is fast-rising as one of the world's most popular pre and post-cruise destinations. The city is considered the 'natural gateway' to a cruise around Alaska, which is home to some of the most majestic scenery in the world - from fjords to glaciers. There are numerous Alaskan cruises you can take from Seattle, but before you depart for your holiday, or for home, why would you not spend time taking in the city? The Port of Seattle make the ship-to-shore transition as easy as possible organising transport, and there's even a dedicated cruising exit from the airport, which means your journey into Seattle could not be easier.
Find out more about cruising to or from Seattle here (opens in new tab).
So what happened when w&h spent 24 hours in the city of Seattle?
After landing in Seattlefollowing a supremely comfortable Icelandair flight (booking business class is so worth the money), we were greeted with a pleasantly easy journey in to the city. With the main airport, Seattle-Tacoma International, just 14 miles away from Downtown Seattle, it literally feels like a hop, skip and jump until you arrive. Enjoy the incredible skyline view as you cruise down the highway too.
MORE:Destination guide: Everything you need to know before visiting Marrakesh, Morocco (opens in new tab)
On approach, it also becomes apparent that Seattle is surrounded by water – more than you might think for a concrete jungle. And it's a welcome sight!
As we wound down the streets of the city, it was the downtown area we were headed for. It's where all of the main attractions of the city are housed, and where the buzz of the nightlife is centred.
On our trip, we marvelled over how much Seattle felt like New York - only calmer, cleaner, and more laid-back. A winning formula, if you ask us...
What to do in Seattle - from museums to nature
There's so much to do in the Emerald city, that you can take your pick. But that doesn't mean you can't see a brilliant range of the best bits during just 24 hours. Make your trip 100 times easier and purchase a City Pass (opens in new tab), which gives you a single ticket for all of the main attractions.
Museums you won't find anywhere else
Conveniently, many of Seattle's top attractions are within just seconds walking distance from each other, nestled within the heart of Seattle. Our first stop was the Chihuly Garden and Glass museum (opens in new tab). The acclaimed glass artist after which the museum is named - Dale Chihuly - is one Seattle's proudest exports, and the man himself still lives right in Seattle. Take a browse around the dimly lit gallery and marvel at the incredible, intricate glasswork on display - all of which are inspired by some part of his life. Extraordinarily, none of the impressive glass artistry in the gallery is shielded by display cases or ropes, because Chihuly didn't want barriers to his art for the public. Just be careful not to fall over!
And as an Seattleite will know, you can't come to the city (or leave), without trying a crab dish. After settling at the Collections Cafe in Chihuly - which is a foodie hotspot in Seattle (unusual with museum cafes) - w&h enjoyed a delicious dungeness crab and bay shrimp roll, finished with sundried tomato and basil pesto in a soft brioche roll - our mouths are watering just thinking about it...
Handily, right next door is the MoPOP (opens in new tab) (the Museum of Popular Culture, an absolute must for fans of all things TV, film, music and culture. Particular favourites were the horror film room (watch out for eerie nosies in the dark space), and the fantasy room, chock full of Harry Potter, Wizard of Oz, and Lord of the Rings memorabilia. And there's even a full exhibition dedicated to the band Pearl Jam – who are natives to the city.
Or, if it's history you want, a visit to the Museum of History and Industry is a must. Located on South Lake Union (a drive away from the MoPOP), it displays much of the city's fascinating history, with visitors able to peruse artefacts you'll only ever see here.
The Future of Flight Aviation Center and Boeing Tour (opens in new tab) also makes for a fascinating visit, even if aviation isn't particularly your thing. You'll spot the museum on your way in to the city, and if you were to pop in, book the factory tour, and you'll be privy to interactive exhibits, a chance to see the gigantic airplanes up close, and, even a chance to see them being assembled right before your very eyes.
Unmissable Seattle attractions
After an hour or two at the MoPOP, pop on over to the building that define's Seattle's skyline – the Space Needle, which is just next door. (opens in new tab)Newly renovated just last year, and sitting at 184 metres high, it's a chance to survey the entire city from a bird's eye view – if you're brave enough! After a gallery look at the incredible history of the place (and terrifying pictures of workmen dangling from impossible heights), it's time to go up in the lift, and to the first level, where only thick sloped glass panels separate you from, ahem, the floor.
Then, there's the final lift to the very top level, shut in, but with a completely see-through glass floor, and expansive glass windows. The floors give you an amazing - if, petrifying - look straight to the ground, while the windows give you an unmissable, 360 degree view of the landscape. Copy many visitors and get a photo lying on the ground (sans swear words, if you can). w&h wasn't brave enough, but it was certainly an incredible experience.
But, to really take in the beauty of the city and its lush green surroundings, taking a seaplane is truly the best option.
Seattle seaplane tour
Do you really need travel insurance?
It may feel like an extra expense but travel insurance can give you peace of mind should the worst happen when you are travelling. The best travel insurance policies should cover most things, from emergency medical expenses and repatriation to flight delays and trip cancellations. You can even choose policies specifically tailored to your type of trip, such as cruise or backpacking insurance.
Compare Travel Insurance Quotes at GoCompare (opens in new tab)
At the south end of the sprawling Lake Union, you'll find Kenmore Air's seaplane terminal, where you can embark on a stunning, scenic air tour of the best sights of the city.
It's a 20 minute journey, and although taking off in a plane from water feels pretty bizarre at first, seeing the scope of Seattle miles above the ground really is an experience you'll never forget. With on-board narration explaining what you're seeing from your seat, you'll be told when you're passing the Lake Washington, Elliott Bay, and of course, the downtown skyline as you've never seen it before. The tour will set you back $99.
Touch back to the ground and catch your breath – and it's off to the next stop.
A chance to explore nature in the city of Seattle
Of course, there's plenty more of of Seattle to see on foot if you'd rather avoid the heady heights of a seaplane and the Space Needle.
No matter how much we all love the buzzing nature of a city and the fun it offers, sometimes there's nothing like stepping back into nature and enjoying some quiet time. Never fear – there's plenty of opportunity to do this in Seattle if that's more your speed.
If you want somewhere local, Kerry Park offers a small bit of greenery, but most importantly, an incredible viewpoint of the city – save your selfies for this expanse!
But for those seeking to really immerse themselves in the blissful quiet of the country, Mount Rainier National Park is just an hour and a half's drive from downtown Seattle.
The mountain itself is even visible from Kerry Park, on a clear day.With the peak sat 14,411 feet above sea level, here you can camp, hike, climb, or simply enjoy the stunning visuals of the pacific coast country.
Where is the best food in Seattle?
Pike Place Market
For foodies in Seattle, you really can't get anywhere better than the historic and iconic Pike Place Market (opens in new tab), sat right on the waterfront. There's something for everyone – from the deliciously warm and sugary Daily Dozen doughtnuts for those with a sweet tooth, or the utterly delectable macaroni and cheese from Beecher's Handmade Cheese for – well – anyone.And expect queues around the block for Pike Place Chowder, a culinary institution.
Also, be sure not to miss the Piroshky Piroshky Bakery, selling exclusively – you guessed it – Piroshky's. For anyone who's not been lucky enough to try one, or isn't familiar with the creation, they're essentially deliciously doughy pastries, with either sweet or savoury fillings. Our favourite was the cheese and potato...
Chukar Cherries is another stall to tick off your list, as well as Ellenos yoghurt. And don't miss the daily chants from the Fish Market – not that you'll be able to miss them throwing the fish around as you browse through the market! It's become somewhat of a ritual at the market, and is as much an attraction as the fresh produce they offer.
Pike Place Market is even home to the first first Starbucks too, for when the time comes to kick back with a coffee during your day or weekend exploring. Opened all the way back in 1971, and largely unchanged since then, the store is as popular now as it was then, so expect a line.
Finally, if you've got the stomach for it, a rather odd must-see for some tourists is the 'gum wall', which is what it says on the tin - a wall full of chewed up gum. The 'tradition' began as theatre-goes queued for shows at the theatre around the corner, and while the wall has had multiple cleans, people just keep coming back to add to the collection. Or, for something slightly less gross, make a detour to the Seattle Great Wheel, an iconic landmark of the Seattle skyline.
For dinner in Seattle, you might be after a more relaxed affair than the market – and for that, we would suggest Purple Café and Wine Bar (opens in new tab) – one of the most sought-after spots in the city. It's an upscale place, but feels fun and friendly, rather than snooty. And for those of us who love a glass of wine at the end of the day exploring a new city, you'd be hard pressed to find a place with better options – Purple stocks a global wine list, as advertised by the enormous spiral of wine in the middle of the restaurant! For food recommendations, we inhaled the Maine lobster Mac and Cheese – fresh, given that Seattle is a sea port – but the pizzas were equally delicious.
MORE:This is the best country in the world according to new report (opens in new tab)
(We know that's what you've been waiting for). Purple offers an incredible white Reisling. However, each dish has been expertly paired with a matching wine, so you won't be short of suggestions and recommendations if you want to enjoy a tipple with dinner.
Best Seattle restaurants
Although it may not be famed for its food, there are a wealth of incredible eateries in Seattle for fine dining, Canlis (opens in new tab) has been an institution in the city for almost 70 years. Offering four courses for each dinner, decide between four options, including a dry-aged ribeye, bean stew, or duck with roasted squash. It's more on the spendy side, so save for a special treat.
Stateside (opens in new tab) offers a more laid-back vibe, with a global menu meaning there's something for everyone. And one of the most popular restaurants in the city is Marination Ma Kai, selling Korean-Hawaiian fare at very reasonable prices. Get a seat next to the window for views across the city.
Where to stay in Seattle - the best Seattle hotels
Once you've enjoyed the sights and the tastes of Seattle, you need a place to rest your head at night – and luckily, it's brimming with fabulous hotels.
If you're searching for a place to stay in the city, w&h would recommend the Downtown area. And when it comes to hotels, you can't get much slicker – than the Thompson (opens in new tab), an affordable hotel option. Just minutes from the waterfront and Pike Place Market, its sleek masculine interior and quite frankly – their ridiculously huge and comfortable beds – will immediately have you ready to relax. Think industrial chic, with the cosy home comforts we all want from our home from home while we're away. Be sure to book a room on the river side. The floor to ceiling windows provide unparalleled views across the scope of the city and the water that surrounds it – anincredible sight at nighttime.
Or, if it's classic luxury you're after, book yourself into the Fairmont Olympic (opens in new tab). Part of a dynasty of global, luxury hotels, there are Fairmont's all over the world, and the historic and quintessential charm is clear to see in Seattle's version. The rooms are decorated in a classic cream and blue, with luxury, grand fixtures everywhere.
Part of the fabric of the city now, many employees there currently have worked at the Fairmont for generations, so there's a lovely homely feel to the place. The hotel is undergoing a renovation at the moment, but rooms are still available from $279. Bonus – it's also got an impressive pool housed in a beautiful conservatory type room, as well as a beehive on the roof, where the chefs get their honey.
For those who want an elegant, sophisticated and modern room – look no further than Hotel Theodore (opens in new tab), centrally located Downtown. The rooms, starting from $349, are beautifully decorated, and a perfect size for a one-day stop over. There's also an delicious restaurant attached – the Rider restaurant, with some of the best food we had in the city. The menu changes regularly, but try the seafood or the cod if you can, as the menu is inspired by the ocean and forests.
So next time you're on the hunt for an Stateside break, or on your way back from or to an Alaskan cruise - you might want to consider all that Seattle has to offer.
Amy Hunt is an experienced digital journalist specialising in homes, interiors and hobbies. She began her career working as the features assistant at woman&home magazine, before moving over to the digital side of the brand where she eventually became the Lifestyle Editor up until January 2022. Amy won the Digital Journalist of the Year award at the AOP Awards in 2019 for her work on womanandhome.com.