10 Reasons To Visit Vietnam In 2018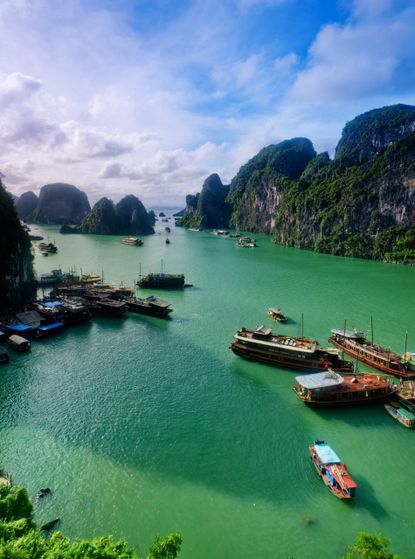 (Image credit: Alamy Stock Photo)
1. Vietnam holidays are astoundingly cheap
You can live like a queen in Vietnam, even if you're on a tight budget. A heaped bowl of steaming pho noodles costs just £1.50, while an ice-cold beer or smoothie will never set you back more than £2.
Accommodation is great-value too, with four- and five-star hotels costing far less than their European equivalent.
2. The food is incredible (but you already knew that)
Vietnamese food isn't just delicious - it's everywhere you look. From street food stalls selling pho noodles and crispy banh xeo pancakes, to bakeries selling stuffed baguettes (a throwback to French colonial rule), you'll never go hungry on a Vietnam holiday.
Pho noodles: delicious AND cheap! (Alamy)
Wherever you are, be sure to try the local specialities: cha ca (spicy fried fish) in Hanoi, bun bo Hue (thick meaty noodles) in Hue, and banh mi (baguettes filled with pulled pork) in Ho Chi Minh City.
Don't miss our street food tour of Hanoi on our Ultimate Tour of Vietnam (opens in new tab) - exclusively for Woman & Home readers!
3. The coffee is amazing too
How do you take your coffee? In Vietnam, the choices range far beyond your usual flat white/cappuccino/latte conundrum. Try rich and creamy yoghurt coffee (a surprisingly tasty combination), egg coffee (a sweet egg custard dolloped over black coffee), and coffee smoothies - where coffee shots are blended with fresh fruit and nuts for a morning pick-me-up.
Iced Vietnamese coffee (Alamy)
White coffee is made with sweetened condensed milk, so order black if you're not a fan of sugary brews. More like this: The 8 trips every woman should take in her 60s (opens in new tab)
4. It's wonderful for shoppers
When clothes shopping in Vietnam, expect to pay roughly a quarter of the price you would in Europe. Imported clothes are more expensive, but you can find beautifully-made dresses, blouses and suits in every city - and they can often be tailored specifically for you.
A tailoring shop in Hoi An's Old Town (Alamy)
Hoi An's tailors are legendary, able to whip up a dress or suit to measure in just 24 hours. Bring a couple of your favourite pieces for them to copy at bargain prices. Our exclusive Woman & Home Vietnam holiday (opens in new tab) includes three days in Hoi An, giving you plenty of time for you to seek out a tailor.
5. Halong Bay is just as heavenly as it looks
Vietnam holiday would be complete without a cruise around Halong Bay - the northern coast's famous inlet of emerald waters and towering limestone rocks. On board a traditional junk boat (a beautiful wooden vessel with fan-like sails), you'll explore these calm waters in comfort - a serene experience after the frenzy of nearby Hanoi.
Discover the limestone islands of Halong Bay (Alamy)
While day tours are popular, it's best to book an overnight trip to discover the bay's more far-flung, crowd-free corners.
6. Its temples are beautiful
Vietnam's temples are most commonly found in its cities - little oases of calm surrounded by the buzz of everyday life. Lose yourself in the beautifully-preserved architecture and incredible stone carvings while learning more about the multiple faiths of this fascinating culture.
Cao Dai temple dates back to the 1920s (Alamy)
Vietnam's most stunning temples include Hanoi's towering Tran Quoc Pagoda, the colourful Cao Dai Temple in Ho Chi Minh City, and Hue's Thien Mu Pagoda - which also has panoramic views of the Imperial City and Perfume River.
7. Hue is a historical treasure
For a glimpse of ancient Vietnam, head to Hue - where emperors built their lavish palaces and ornate temples, many of which still stand today. Hue (pronounced 'way') was the Vietnamese capital from 1802 until 1945, and inside its huge stone citadel you'll find the Imperial City: one of the country's best-preserved historic sites.
Inside Hue's Imperial City (Alamy)
Here you can explore the Forbidden Purple City (home of the emperor), glittering temples and holy shrines - as well as the Perfume River and Thien Mu Pagoda.
8. Hanoi is buzzing
The modern-day capital of Vietnam, Hanoi, is one of South-East Asia's most exciting cities - a great place to indulge your appetite for street food, culture and shopping for a few days. Cycle through the Old Quarter, visit the historic Ho Chi Minh Mausoleum, and find some peace at Tran Quoc Pagoda which dates back to 1049.
Traditional dancers in Hanoi (Alamy)
It's easy to get around Hanoi: take a motorcycle taxi for a cheap (and thrilling!) ride around the city.
Visit many of these Vietnam highlights (and more!) on our Ultimate Vietnam Holiday (opens in new tab) - exclusively for Woman & Home readers
9. Hoi An is a living art gallery
Everywhere you turn in Hoi An you'll spy intricate wood carvings, hand-spun silks, and ornate architecture that dates back to French colonial times - and beyond.
Painting in the Hoi An Assembly Hall (Alamy)
The best way to appreciate it is on foot: take a walking tour of the Unesco-listed Ancient Town to discover old merchant houses, the famous Japanese covered bridge, and a buzzing local market where you can find beautiful souvenirs on the cheap.
10. Vietnam's history can't be ignored
As soon as you arrive in Vietnam, you'll be struck by the locals' friendly, fun-loving nature - but the country's history hasn't always been so lighthearted. From French colonial rule to the Vietnam War, these people have lived through some harrowing times - and it's important to learn more on your Vietnam holiday.
Hoa Lo Prison Museum (Alamy)
You'll find particularly engaging, non-biased exhibits at Hanoi's Hoa Lo Prison, Cu Chi Tunnels (in Cu Chi) and Con Dao's prison complex.