A gastronomic getaway in Malta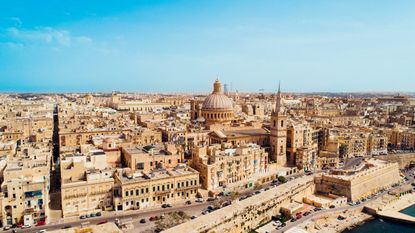 (Image credit: Malta Tourism Authority)
Over the years I've ticked off many a weekend break destination on the continent from my bucket list; from historic Prague to emerging tourist destinations such as Aarhus in Denmark – all of which have delivered on cafe culture, curious architecture and a unique charm that keeps visitors from across the globe coming back for more.
Malta has been on my travel radar for more than 20 years after I found a last-minute package holiday there for my parents and brother, and they instantly fell in love with this one-of-a-kind archipelago in the central Mediterranean (nestled between Sicily and the North African coast). But for some reason I hadn't got around to booking a spell away there, and was thankful this was remedied courtesy of an invite to a gastronomy focused four-day trip to Malta. After checking that my veganism wouldn't make me the scourge of a break that was almost entirely centered on gorging on food (opens in new tab) and drink offerings in all their guises, I packed my bags in readiness for a mini-holiday like no other.
After a three-hour flight the group was immediately whisked off to a wine tour and tasting at Ta' Betta Wine Estates (opens in new tab) situated in the lush green surroundings of Girgenti in Siggiewi, located in the South of Malta ( I know, it's a hard life) followed by a 'light' sit down lunch (the Maltese like to feed you, so invariably the group left completely stuffed). After learning about the ins and outs of the wine making process, including getting a glimpse at the owner's personal wine library (filled with vintages that aren't on sale to the public) and seeing how wine was stored in large ceramic vats shipped in all the way from famous-for-wine-growing California (opens in new tab) as well as traditional wooden barrels the group sat down for nibbles and tipples in a room overlooking the vineyard, complete with the kind of generous terrace that screams al fresco living. In all we sampled one white and three reds – all of which had a clean taste that set them apart from the usual supermarket fare – while tucking into a tasty spread including the traditional Maltese bean dip Bigilla (truly addictive), Maltese bread, olives, marinated artichokes and more.
The charm of Valletta
It was then straight on to Malta's historic capital of Valletta — a UNESCO World Heritage City dating back to the 16th Century. Here Baroque architecture sits comfortably beside newer structures including the one that houses the Maltese parliament — made with traditional Maltese limestone — and the more modern restored Royal Opera House (featuring an open roof and minimalist sidings). No visit to Valetta would be complete without some time spent in the imposing St. John's Co-Cathedral built by the order of St John between 1573 and 1577. Here visitors will get a greater insight into the Knights of St John (or Knights of Malta as they're more popularly known) a religious order who originated from Jerusalem (but actually all hailed from different countries), where they ran a military hospital, an after being exiled eventually landed in Malta in 1523 where they ruled until being deposed by Napoleon Bonaparte in 1798. The Cathedral is also home to two of Caravaggio's most impressive masterpieces including Beheading of St. John, where you can see the interplay of light and dark that the revered Italian painter was famed for.
End your spell in Valetta — which is also home to Republic Street, the area's bustling shopping district as well as several boutique hotels — with a visit to The Upper Barrakka Gardens (pictured above) as the sun goes down. It's origins date back to 1661 when it was a private garden of the Italian Knights, before being opened to the public in 1823, and it affords sweeping views across the Grand Harbour and over to the Three Cities.
After a quick rest and refresh at our hotel the five-star The Westin Dragonara Resort (opens in new tab) (more on that later) it was off for yet more gourmet goodies at the newly opened Golden Fork restaurant (opens in new tab). This small but perfectly formed eatery is situated in the heart of the cutesy village of Attard — known for its citrus orchards and gardens — and run by a female chef patron who was a former intern at the Fat Duck. We tucked into a menu including an amuse bouche of whipped bean dip, mains including grilled octopus an meal ending petit fours of dark chocolate filled with pear all the while saying oohs and aahs over inviting decor details such as traditional Maltese tiles and a candlelit table for two on the restaurant's small balcony that's surely destined to be the setting for future marriage proposals.
Olives groves and sumptuous dining
After a tasty buffet breakfast at the hotel, where the range of items included everything from a DIY juicing station to a dedicated gluten-free (opens in new tab) area, continental and hot breakfast items and even sparkling wine should you fancy a pre-10am mimosa, we took a journey to see Immanuel Grima at his olive grove of Bidni olives, Malta's endemic tree, in the picturesque village of Wardija. Over 600 olive trees (planted in the last seven years) pepper the land owned by Immanuel and his family, from which they produce cold-press, antioxidant-rich olive oil without the use of pesticides. We sat down on a chequered table cloth covered dining table amid the olive groves in gorgeous sunshine — apparently the gods had been kind to us as weather in Malta over the last few days had been erratic — and tried three olive oils. One supermarket variety, one from a harvest from that year and one from another year. I felt more than a little smug that my tastebuds picked up the blander supermarket olive oil, and was surprised to learn that the olive oil with the biggest hit to the back of the throat was actually from a younger yield, working in the opposite way to wine where flavour develops over time. We then shared an enjoyable lunch prepared by the Mediterranean Culinary Academy (opens in new tab) including spiced nuts, olive oil and bread to start followed by roast pork, beetroot with strained yoghurt with hazelnuts, roasted hasselback butternut squash (one I'll be trying at home) and yummy dessert of olive oil chocolate mousse with pistachios, honey and pomegranate seeds all washed down with local red and white wines. While the experience at the olive grove was uniquely crafted for us Immanuel revealed that they do host intimate Brunch to Bottle experiences (such a great name) on occasion, which includes the opportunity to go olive picking.
Stepping back in time in Mdina
After allowing our scrumptious meal to digest a little it was back in the mini-van for what would be memorable visit to Mdina, Malta's first capital city. Film buffs will recognise this walled city as the set of famous films and TV series including Gladiator and Game of Thrones. There's architectural charm aplenty in Mdina's winding streets with striking coloured doors and Instagram-worthy Bougainville. We did a somewhat whistle-stop door but I could have happily spent half a day in Mdina soaking up its rich history with plenty of cafe and restaurant pit stops along the way. But there was more eating on the schedule – yes you read that right – so it was on to another culinary caper, but not before stopping at the teeny Mary Magdalen church which offered amazing – if a little gusty – views out to the mostly barren island of Filfla. Barren that is, apart from the many great white sharks who choose it as their breeding ground each year – eek. Sharks aside we loosened our waist belts and made a beeline for the Corinthia Palace Hotel & Spa (opens in new tab) for an indulgent Maltese Afternoon Tea — a lovely treat after a day of sightseeing but my was it filling!
MORE:The top 20 alternative holiday locations that everyone's talking about this year (opens in new tab)
After a quick rest and refresh at the hotel it was time to gorge ourselves silly once again – this was a gastronomy tour after all — this time in the cavern-like and contemporary environs of Noni (opens in new tab) — famed for its exceptional service and fresh, local cuisine. Here I feasted on a ridiculously tasty green risotto — who says you need cheese and cream? — and generally soaked up the atmosphere.
Malta food: exploring the local scene
On day three chef Rafel Sammut —patron of Briju (opens in new tab) restaurant where we later enjoyed a lovely lunch — took us in hand for a half day off-the-beaten-track tour of Malta's truly local food producers. The day started with coffee in a traditional Maltese band club, followed by Maltese bread fresh out the oven at Stefan's bakery (pictured above), which has been churning out delicious loaves for more than 100 years, a quick stop at the farmers market near Ta Qali — close to Mdina — where Tuesdays and Saturdays are exclusively reserved for selling local produce. Here we sampled fresh pomegranate seeds and strips of raw pepper and couldn't help but spot a stall with the sign reading 'free wine tasting' (one for another visit). The last stop of the day was at the Tal-Karmnu farm shop (opens in new tab) where some brave members of our party helped to milk the farm's flock of sheep before we all got stuck into turning into fresh goat's cheese with the help of the addition of rennet which was left to set, before the owner produced a 'here's one I've made earlier' batch of the same cheese accompanied by bread, Maltese coffee and a variety of dips. The shop is open during the evenings on weekdays when you can snap up anything from the farm' sheep's ice cream and sheep's soaps to carob syrup — traditionally made into a tea to ease sore throats — rich tomato sauces and more. Each Sunday from 8 to 1 the shop has a drop in where visitors can pop into to feed the sheep and more. And an experience similar to ours can be booked in advance for a minimum of 10 people.
With a larger window between meals we took advantage of the hotel's sauna, jacuzzi and steam rooms before enjoying a pre-dinner drink in the hotel's lobby bar accompanied by lulling tunes of the one of the resident pianists. It was straight on to our next wine tasting experience at family owned San NikLaw Winery (opens in new tab) located on the outskirts of Zejtun. The estate first started planting its vines in 2004 and we were luckily enough to sample four of the estate's wines (one white and three reds) all of which were truly palate pleasing while eating a three course meal prepared by restaurant Rocksalt, including delicately stuffed mushrooms and a berry crumble dessert. The estate — which also produces its own olive oil — can cater for parties ranging from 2 to 42 people, with advanced booking.
Food and facts in the Three cities
Our final day was spent on a visit to the Three Cities — Malta's harbourside towns of Birgu (Vittoriosa), Senglea (Isla) and Bormla (Cospicua). We spent the majority of the time in the medieval city of Burgu, which is also known as Vittoriosa or victory, as it was never conquered by the Ottaman Turks. And just as with Mdina, Birgu's architecture was every snappers delight. After enjoying coffee in one of Birgu's central square's we sat down to lunch along the upmarket Hammett's Macina Restaurant (opens in new tab) close to the grandharbour marina. Built almost half a millennium ago by the Knights of Saint John, it still retains many a nod to its historic past including its cave like toilets. Again we were told that as dishes on the menu were 'small' we should get a few to constitute a main, queue ordering aplenty and eyes widening with surprise when we realised just how filling each was (note to future visitors, 'small' is obviously a relative term). On the very enjoyably and very satisfying culinary conveyer belt were items including a whole roasted cauliflower and thin slices of potato in a deceptively delectable tomato sauce. Our last day, like all the days that went before them, proved that when it comes to food, drink and every experience in between, Malta certainly doesn't do things by halves.
Flights to Malta
British Airways London Gatwick – Malta: flights start from £127.00 per person (departs once a day)
Air Malta Malta – London Gatwick: flights start from £59.53 per person (depart twice a day)
Malta Hotels
The Westin Dragonara Resort, Malta: prices start from £318 per night.
Miriam worked for woman&home for over five years and previously worked on the women's lifestyle magazines Woman and Woman's Own.