Joali Maldives: Why this dreamy beach destination is sure to top your travel bucket list
We can't pack our bags fast enough...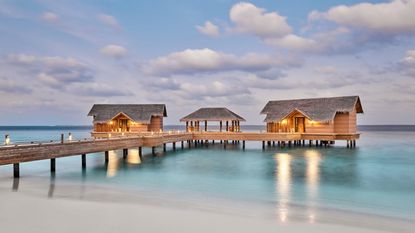 (Image credit: Joali Maldives)
The Maldives is a destination that sits on top of most people's bucket lists and despite the global pandemic, now is actually the perfect time for a visit.
Made up of 1,190 tiny islands scattered across the Indian Ocean, this dreamy beach destination is truly the ideal place to escape and unwind. Joali is a grand resort its own private island in the middle of the Indian Ocean, made up of pristine white-sand beaches and surrounded by crystal clear blue water.
In the Maldives, your experience is truly defined by the hotel you choose to stay at, and with over 200 islands, each comes with its own unique offerings. Joali's private villas and residences are the standout feature and are the epitome of sustainable glamour. Each of the 73 villas at Joali was inspired by individual stories and designed to take guests on a rich sensory journey.
The tropical surroundings and casual expansive views of the turquoise-hued ocean at every turn are nothing short of magical. But the thing that really has Joali standing superior in the Maldives is the many dining options that have been thoughtfully curated to satisfy everyone's taste buds.
Each hotel in the Maldives region feels like a bubble within itself since anything and everything you'll be doing on your trip is based from there. For this adventure, we're going to take you through an unconventional luxury experience at Joali, one of those most desirable hotels in the region.

Pack your best beach bag, bring your best beach read, and slip on your favorite bikini - we're going to the Maldives.
Water Villa Accommodations
These water villas are one-of-a-kind luxury, even for the Maldives. With 73 private beaches, water villas, and residences, ranging from one to four bedrooms, there is accommodation for a party of any size, perfect for both couples and families alike. Each villa features a private infinity pool, butler service, an outdoor shower, artisanal amenities, curated in-villa libraries, thoughtful design, and handpicked art.
Best Restaurants
Joali is home to some of the best restaurants in the Maldives, and that's a big statement. Picture this: each morning you'll wake up to gorgeous views of crystal clear waters before you start your day with breakfast at Vandhoo restaurant. There is an extensive menu offering of kitchen-prepared dishes that can be ordered at the table, as well as buffet-style rooms offering fresh fruit, nuts, breads, and more. Opt for sitting on Vandhoo's shaded deck or right on the beach.
Do you really need travel insurance?
If your holiday plans amount to sunbathing by the sea or lounging by a pool, you may think of travel insurance as a needless expense, but it can give you peace of mind should the worst happen on your travels. A travel insurance policy will cover things like lost luggage and trip cancellations, as well as emergency medical expenses and the cost of getting you home. You can even get specialist cover for a specific type of trip, such as cruise travel insurance.
Compare Travel Insurance Quotes at GoCompare (opens in new tab)
Lunch is served daily at Mura Bar right at the pool, or you can have room service sent directly to your villa at an additional cost. As the day goes on and the sun starts to go down, you won't want to miss catching the sunset at Mura bar, where there is often live music starting at 5pm. Order a bottle of wine or sip on one of the many globally inspired cocktails.
It's the perfect way to spend the early evening before heading to dinner at one of the four restaurants: Vandhoo, Bellinis, Saoke, and the newest Levant. Each restaurant is distinct and a true can't miss, so come hungry!
Bellinis offers an Italian fine dining experience brought to the beachfront with, as you guessed it, a huge list of different types of Bellinis to choose from to accompany your dinner. The newest restaurant, Levant, offers Turkish and Mediterranean staples. And for when you want something sweet, you will find La Joie - the artisanal chocolate & ice-cream store.
The culinary offerings at Joali are designed to make guests' stay exciting and adventurous while offering experiences that can only be found here. For example, the Manta Ray Treehouse draws inspiration from the island's manta ray population, offers an exclusive and private area for guests to dine in an elevated and peaceful setting.
Other unique dining options include a private beach dining barbeque or even a private dinner while watching a movie on the beach. After dinner, the island is mostly quiet, with your options being to enjoy a nightcap at Mura Bar, your private villa, or at the Whiskey & Cigar Lounge.
Activities
There are tons of activities to keep guests of all ages entertained. For the adventure seekers, you can take part in big game fishing, night snorkeling by Dhoni, or deep-sea diving. For those who have a mild sense of adventure - join activities such as the dolphin quest, semi-submarine, or turtle quest with a marine biologist.
If you're one of those people who loves to workout while you travel, you're in luck. There are different complimentary fitness classes offered daily like bodyweight circuit training, mat pilates, or meditation. There is also a gorgeous yoga deck overlooking the ocean, where a handful of these classes take place.

But if you're more of a food lover than a fitness lover, aka if you're more into the culinary and beverage scene, there are cocktail classes, sushi-making, whiskey tastings, and more available. Best of all, any activity can be totally customized to your liking.
The Spa is a must during your visit to Joali, with tons of offerings from the ESPA specialists that can be booked individually or with a partner. Whether you're looking for truly personalized, results-focused facial or natural formulas and holistic techniques to ease muscle tension through massage, there is something for everyone.
Immersive Art
As the first immersive art resort in the Maldives, Joali is filled with interactive and experiential artistic pieces that incorporate surrounding nature. The hotel worked with designers to create the concept of a truly immersive art hotel, providing art curation and design development for the entire property.

In every villa, guests are provided with an art map so that they can seek out the different pieces at the hotel. Every selected art piece was specially made or tailored for Joali and the island conditions.
How To Get There
There are three ways in which you can reach Joali, and each offers its own unique adventure. The first option is to take a 40-minute shared seaplane from Male directly to Joali. On the shared plane, you will either be joined with others staying at the resort or potentially people staying at nearby resorts (thus causing multiple stops during the journey).

Currently, Joali is experiencing 96% occupancy, so the likelihood is strong that you will be sharing this plane with other hotel guests. The second option is to take a shared domestic flight, which involves a 35-minute flight from Male to Ifuru airport. From Ifuru, you will then take a 15-minute speedboat to the hotel.

The final (and most luxurious of the options) is to take a private charter by seaplane from Male straight to Joali.
Sustainability
Who doesn't love a sustainable brand mission? This environmentally-conscious resort's design was built around the trees, quite literally. The design aimed to save as many as possible, preserving over 1,000 trees during the process. Single-use plastic is also banned from the island.
Additionally, after the devastating coral bleaching that occurred back in 2016, 85% of the Maldives' corals died. Joali took it upon themselves to help the coral reefs rehabilitate and recover by creating the Joali Reef Restoration Programme. Using the two-step gardening concept, they are growing corals of opportunity in a mid-water nursery for 9-12 months before planting them back on the reef.
Safety Precautions
And now for the biggest question on every traveler lover's mind is: how safe is it to travel?

Luckily, both the Maldives and Joali have a firm grasp on how to safely handle incoming tourists. Before you arrive, you must complete a pre-arrival health declaration and test negative on a PCR test within 96 hours upon arrival.
And it gets even better. Once you have arrived at Joali, the hotel doctor will meet you in your villa to provide you with a rapid test. Once you test negative, you are free to explore the entire island without a mask. Before departing the island to return home, the hotel doctor will once again come to your villa and perform a PCR test in the appropriate window your home country requires.

As you can tell, guest health and safety are the number 1 priority.
Each day presents itself with new opportunities to explore the island and relax or adventure as much as you'd like. Surrounded by tranquil lagoons, pristine white-sand beaches, and a lush landscape of palm trees, you'll be sure to feel the resort's "Joie de Vivre" philosophy, which welcomes guests to celebrate the joy in every passing moment. Sign us up!
Lottie is an NCTJ-trained journalist, an experienced travel writer and an expert in creating compelling digital content.
Lottie has been in the travel writing business for nearly a decade and has writing and photography bylines at The Telegraph, The Times, The Independent, the i and National Geographic Traveller. She's done broadcast work for BBC Radio 4 and have contributed to a number of guidebooks and coffee table titles during her career.