Italy's tastiest region for food lovers (and what to eat while you're there)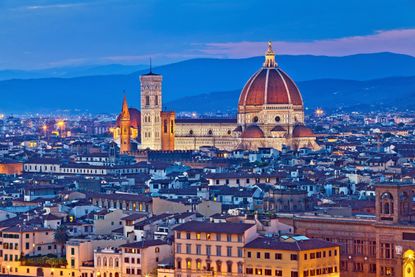 Katie and Giancarlo Caldesi are one of the UK's most successful culinary couples – with ten cookery books, two restaurants, and a busy cooking school to their names. While Katie is British, Giancarlo hails from Tuscany – and the pair are true experts on Tuscan flavours and food. So, who better to host our new Woman & Home cooking holiday in Tuscany?
We caught up with Katie to find out more about Tuscan cooking, why it's surprisingly easy to master, and the incredible local dishes that everybody should try.
Why is Tuscany so fantastic for foodies?
The food is so fresh – and surprisingly healthy. If you cross over the border into Emilia Romagna or Umbria, there's a lot of cream and butter – but Tuscany is much more about herbs and pasta and game and fish. It's fabulously tasty, with lots of cured meats and hams.
Rosemary, thyme and sage are the most popular herbs in Tuscan cooking – they all grow wild in the countryside. This is far from Michelin star cooking: it's simple and hearty and honest.
Your recent cookery book,Tuscany, is full of recipes from the region. What kinds of dishes can we expect?
There's a lot of fresh pasta – we have a recipe for pasta stuffed with potato and cheese, which I serve with a duck ragu. There's also a great recipe for chicken cooked in a bottle of wine with olives and rosemary: I often teach it on courses and people are astonished that just five ingredients in a pot cooked for two hours tastes so fantastic. All you need are great ingredients and time. It's stupidly simple!
There are wonderful almond biscuits from Siena, calledricciarelli- they are made with almond flour, and you wouldn't guess but they're totally gluten free. I don't usually like biscuits, but these are divine.
What's your favourite Tuscan dish to cook?
I adoregnudimade with spinach and ricotta, served in a butter and sage sauce. They're likegnocchi, but instead of being made with heavy potato they're little balls of spinach and ricotta – so much lighter and tastier. We will be doing a cooking demonstration as part of ourTuscany cooking holiday, so I think we will teach the guests how to make it.
Which ingredients can Tuscan chefs never be without?
They can't live without rosemary! Giancarlo and I were in India over Christmas, and God knows why but I agreed to cook a Tuscan dinner for 30 people in the hotel with an almighty hangover. Could I find any rosemary? It was impossible. The only fresh herb I could find was coriander, and that issonot Italian!
Tell us about the wine...
It is so lovely. The sangiovese grape is widely grown in Tuscany, so there are lots of very strong, robust reds. You have Chianti, Brunello di Montalcino… the super Tuscan reds which really go with the hearty style of Tuscan food.
What's the one Tuscan dish everybody should try?
In Florence, you have the incrediblebistecca alla fiorentina– a massive thick steak that's usually shared between two people although some people do have one all to themselves! It's so thick that has to be seared on the edges as well as both sides. It's cooked on the fire sometimes – the flavour is fantastic. It's usually served very simply, with herby roast potatoes and a salad.
Sounds delicious! Our Tuscany cooking holiday includes a day trip to Florence – what else should we look out for there?
I love going to San Lorenzo market – upstairs they've developed a kind of food hall area, and you can go round to all the different stalls, it's really buzzing I love it up there.
There are hundreds of fantastic restaurants in Florence, but hundreds of tourist traps too – so it definitely pays off to explore with a guide or do your research. And ask for recommendations! Most people in the shops speak English, so ask them where you should go for lunch – they will probably take you themselves to their favourite restaurant. Usually tucked away in an alleyway, full of local people with no tourists – and always fantastic food.
More like this:The 8 trips that every woman should take in her sixties
Why do you love Tuscany so much?
It is the most beautiful part of Italy – it's stunning. The countryside is very well cared for, and there is no rubbish in the cities. They have a local phrase,ben curato, which basically translates as 'well cared-for' – and that pretty much sums up the Tuscan attitude to life.
The rural areas are amazingly organised – all the vines in a row, all the olive trees in a row, those beautiful tall cyprus trees. People have a lot of pride in the landscape and their homes, and I see that every day in my husband: he wants the house to be clean and tidy, and he tells the kids off if they're messy. He is also a very neat cook – which is fantastic!
You've been running Italian cooking courses for years – what do you love about teaching them?
Making pasta is so much fun, and it's a deceptively easy thing to master – it looks professional with very little effort. But I also enjoy showing people that there's so much more to Italian cooking than just pasta. They have such wonderful ways to cook meat: one of my favourite is to slather a paste of crushed garlic, sage, salt and rosemary all over it and cook it for hours. Delicious!