The best places to see autumn colours in Europe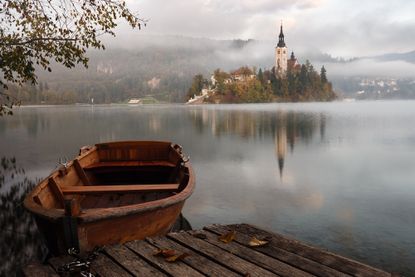 Leaf-peeping is big business in America, but in Europe it's not quite as popular. But it's well worth venturing out in autumn to see the leaves change...
The foliage can be spectacular across the continent from later September through to November, so here are the best places in Europe for seeing autumn colours.
1. Perthshire, Scotland
One of the finest fall foliage destinations is right on our doorstep: Perthshire in Scotland has spectacular countryside ripe with wooded valleys and beautiful rivers. Head to the River Tay, which weaves its way through the county and out into the ocean at St Andrews in Fife. Or, base yourself along the River Earn in Comrie – a delightful little village that makes a great base for walks in the nearby countryside.
More like this: The best places for sun in autumn (opens in new tab)
2. The Douro, Portugal
There's something special about a wine region in autumn. The grapes are being harvested, new wines are coming into fruition, and the vines are being prepared for another year of growth and nurture. The Douro, a river which flows right across Portugal from Spain and empties into the ocean at Porto, is a glorious autumn destination, and river cruises here are the finest way to explore it. Spend days on the water, meandering past vineyards, beautiful farms and – of course – forested slopes with glorious autumnal colours.
Featured trip: The Douro, Porto and Salamanca River Cruise with Riviera Travel (opens in new tab) We love this Riviera Travel adventure along the Douro, which takes in the finest destinations along the Portuguese river before dipping into Spain to visit the exciting city of Salamanca. Get the brochure here > (opens in new tab)
3. The Black Forest, Germany
Do you really need travel insurance?
A country escape might seem like a peaceful and tranquil holiday, but there are still risks that travel insurance could cover. Travel insurance can provide cover should your trip be cancelled or if your property gets damaged or stolen. If travelling abroad, a travel insurance policy could also cover you for flight delays or medical expenses should you become ill or injured. If backpacking is more your speed, you can even buy specialist backpacking insurance.
Compare Travel Insurance Quotes at GoCompare (opens in new tab)
The ultimate fairy-tale destination, live out your Hansel and Gretel or Little Red Riding Hood dreams in Germany's bucolic Black Forest. Much of the forest is evergreen, so the result is a beautiful tapestry of greens, yellows and reds. The Schwarzwaldhochstrasse is one of the finest driving routes, so get yourself a hire car and hit the road – stopping en route at the various car parks and belvederes that offer glorious views.
4. Switzerland
Mountainous Switzerland is stunning anytime of year. Summer brings wildflower meadows, winter brings buckets of snow. But autumn is equally special, with many of its Alpine forests flourishing with fiery leaf displays. As the weather begins to cool, it's a great time for hiking, and the perfect opportunity to enjoy some cheesy fondue goodness. Don't forget, the higher the mountain, the more autumn colours you'll find, so head for places like St Moritz, which is almost 6,000 feet above sea level.
Featured trip: Lake Como, St Moritz & the Bernina Express with Riviera Travel (opens in new tab) Explore the Italian Lakes region, head to the Swiss side to explore Lugano, then take the amazing Bernina Express train through the Swiss mountains for spectacular views of peaks, valleys and – of course – autumn colours in the forests. Get the brochure here > (opens in new tab)
5. Madrid, Spain
A city break might not be the first thing that comes to mind when you think of autumn colours in Europe, but the Spanish capital is one of the greenest – in summer. Come autumn, its leafy parks turn all shades of orange, yellow, red and brown. Retiro is the city's finest, with trails that go through woodland and a pretty pond at its centre where you can hire pedalos to get out on the water. Sipping a San Miguel at midday in the autumn sunshine here is as good as it gets, we think! Stay at the stunning Only YOU Boutique (opens in new tab) – a gorgeous 5-star hotel in an old mansion.
6. Slovenia
Slovenia is one of Europe's most underrated destinations – think lakes, mountains, farmsteads and vineyards, plus a capital city with serious soul and great food, and a tiny but beautiful coastline to boot. The Julian Alps are the place to be in autumn, when the trees that cover the valley sides have turned all manner of colours and the summer crowds have gone home. Stay in a simple, rustic cabin and enjoy the fruits of the Slovenian countryside – there's amazing white wine, fantastic fruit and ultra-fresh trout from the river. Head to Lake Bled or Lake Bohinj to see the autumn trees reflected in their glassy waters.
Featured trip: Slovenia & Lake Bled escorted tour with Riviera Travel (opens in new tab) See the stunning sights of Slovenia on this brilliant, affordable escorted tour with Riviera Travel. You'll visit historical Maribor, which is home to the oldest vine in the world, head to the coast to explore tiny Piran, then enjoy views of Lake Bled in all its glory with a stunning array of autumn colours. Get the brochure here > (opens in new tab)
7. Transylvania, Romania
If you're a fan of Halloween, it doesn't get spookier than Transylvania in Romania, where Gothic castles are reminiscent of those described in Bram Stoker's Dracula, and heavily wooded hillsides are thick with orange and red leaves. Drive a hire car from Brasov into the forests of the Carpathian Mountains and stop off at fairy-tale villages for warming hot chocolates, or at lakesides to soak up the scenery.
Lottie is an NCTJ-trained journalist, an experienced travel writer and an expert in creating compelling digital content.
Lottie has been in the travel writing business for nearly a decade and has writing and photography bylines at The Telegraph, The Times, The Independent, the i and National Geographic Traveller. She's done broadcast work for BBC Radio 4 and have contributed to a number of guidebooks and coffee table titles during her career.