The award-winning destinations in the UK according to TripAdvisor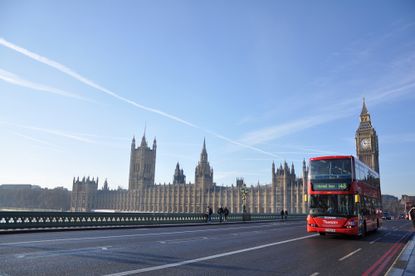 Our capital has been named best in the world in the TripAdvisor Travellers' Choice Awards for Destinations – and it could all be down to Harry and Meghan.
The annual TripAdvisor Travellers' Choice Awards for Destinations (opens in new tab) sees accolades given to various towns and cities across the globe, and this year London won out.
The capital was named best in the world, based on its ratings for hotels, restaurants and experiences in over a 12-month period. Bookings for royal-themed activities have increased on the site in the last 12 months, so TripAdvisor is speculating that the award is a result of the spotlight Harry and Meghan's wedding shone on Britain last year.
A tour with the changing of the guard (opens in new tab) is more than three times as popular as it was in the previous year, and a Buckingham Palace and Windsor Castle tour (opens in new tab) has almost doubled in bookings, too.
More like this: The best places to visit in Europe this summer
"The global fascination with Harry and Meghan clearly has a powerful effect as this is the first time since 2016 that London has topped the world rankings. With the couple's new Royal baby due imminently, London may continue to reap the rewards of the Harry and Meghan effect into 2020," said TripAdvisor spokesperson, Hayley Coleman.
More like this: This beach was voted best in Britain (opens in new tab)
Europe dominates global top 10
London was followed by Paris, Rome and then Crete – an idyllic Greek island with stunning beaches. Bali (Indonesia), Phuket (Thailand) and Dubai were the only non-European destinations to make the top 10.
In the UK-only ranking, London came top again, followed by Edinburgh and Liverpool.
The UK's top 10 best destinations
1. London
2. Edinburgh
3. Liverpool
4. Glasgow
5. Belfast
6. Bath
7. Isle of Wight
8. York
9. Manchester
10. Jersey
The best destinations in Europe
It wasn't just big cities that pleased the travelling crowds in Europe, with the Balearic island of Mallorca coming in ninth place, and Tenerife – just off the coast of Africa – in tenth. Both have spectacular beaches and year-round balmy temperatures.
More like this: The ultimate European bucket list (opens in new tab)
These are the best destinations in Europe according to TripAdvisor:
1. London
2. Paris
3. Rome
4. Crete
5. Barcelona
6. Istanbul
7. Prague
8. Lisbon
9. Majorca
10. Tenerife
Lottie is an NCTJ-trained journalist, an experienced travel writer and an expert in creating compelling digital content.
Lottie has been in the travel writing business for nearly a decade and has writing and photography bylines at The Telegraph, The Times, The Independent, the i and National Geographic Traveller. She's done broadcast work for BBC Radio 4 and have contributed to a number of guidebooks and coffee table titles during her career.