woman&home Explore: our first ever shoppable edition of woman&home magazine is on sale now
Our August issue allows you to shop directly from the pages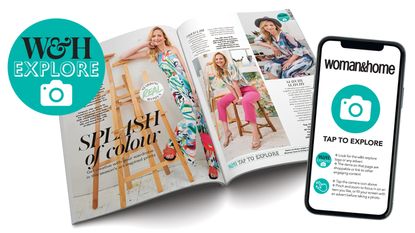 (Image credit: Future)
woman&home have launched a brilliant new service, woman&home Explore. It's a clever way to get more out of your copy of woman&home than ever, and it's so easy.
In July we launched our first-ever shoppable edition of woman&home magazine for readers who want to get more out of their printed copy. You can now engage directly with our pages when you see the camera icon and you can:
Go straight to the link and Buy it!
Go to an article and Find out more!
Go to social media and Join the conversation!
(opens in new tab)
How to use woman&home Explore
All you have to do is scan the QR code on our Explore page in this month's woman&home, or visit explore.womanandhome.com (opens in new tab) on your phone browser.
Save the tech by "bookmarking" it. Android users will receive a prompt to do this, IOS users will find a Bookmark button at the bottom centre of the screen.
A woman&home Explore app will now be stored on your home screen, but don't worry, it doesn't cost anything and it won't use up any data.
Every time you see the logo in the magazine that means the page is interactive or shoppable.
Open up the app, press the camera symbol on the screen then either hover over the image you're interested in or the entire page. Your phone will then automatically redirect to the relevant page where you can shop, explore and find out more.
There's fashion, beauty, homes and books, plus holidays to plan. Not only can you buy directly from the page, but you can also see behind the scenes on fantastic videos.
(opens in new tab)
Buy your copy of woman&home and get started. (opens in new tab)
The August, September and October issues of woman&home will feature the woman&home Explore technology.
This month's issue is available at all good retailers or from Magazines Direct (opens in new tab).
To see how it works visit https://explore.womanandhome.com/ (opens in new tab)
Miranda McMinn is the editor of woman&home magazine, the brand that prides itself on celebrating, supporting, and inspiring midlife women. Previously she has worked on magazines and newspapers including Marie Claire, Red, The Times, the Observer, and the Daily Mail.
A midlife warrior herself, Miranda has three children and has a passion for country walks, log fires, and winter swimming—she swims all year round in the Hampstead Ladies Pond and heartily recommends it—nothing like a dip in a 4 degree pond to get you ready to face the day!