Why do people wear a white poppy in November and what side should you wear it on?
Thousands of people wear a white poppy in November for a very significant reason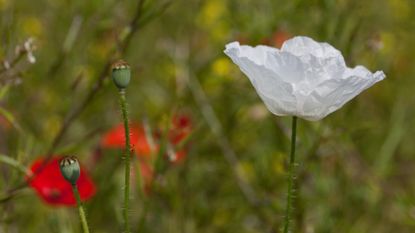 (Image credit: Lee Karen Stow / Alamy Stock Photo)
Why do people wear a white poppy in November is a question on our minds as Remembrance Sunday draws closer—and there is a hugely meaningful story behind the poignant symbol.
Remembrance Sunday is marked annually by people across the world as they reflect and remember those who have lost their lives in war. Though the Queen has been forced to cancel her appearance at the Festival of Remembrance on Saturday 13th November, the official Buckingham Palace statement declared that it remains her "firm intention" to attend the ceremony the next day. The Queen and Kate Middleton have worn multiple poppies for this important occasion in the past.
Red poppies like those seen on the royals are often the first symbol that springs to mind as Remembrance Sunday approaches. However, the white poppy also has a long history and similarly significant meaning behind it, meaning many people choose to wear a white poppy instead or as well.
But why do people wear a white poppy and which is the right side to wear your poppy on?
What is a white poppy for?
Just like the red poppy, the white poppy is a powerful mark of respect and remembrance to those who have been lost in war. Whilst the red poppy is worn in tribute to all those who have lost their lives in war, the white poppy has three distinct meanings behind it. According to the Peace Pledge Union (opens in new tab), the white poppy represents remembrance for all victims of war, rather than commemorating just those who have tragically lost their lives fighting in conflicts.
The white poppy also reflects a commitment to peace and a departure from war, as well as presenting a challenge to any attempts to glamorize war or celebrate it in any way. In contrast, the Royal British Legion's red poppies are typically worn as a mark of respect for the British and Commonwealth Armed Forces community more specifically and are also viewed as a symbol of hope.
Why do people wear a white poppy in November?
Each year thousands of people across the UK and overseas choose to wear the white poppy in November as they mark Remembrance Sunday and it has been worn as a powerful symbol of remembrance for over eighty years. Not only that, but the Peace Pledge Union has stated that in wearing white poppies, people are remembering all those killed in war, affected in body or mind.
They also honor the millions of people who've had their communities torn apart or have been made homeless or sick as a result of conflict. People also wear a white poppy in November to remember those who have been killed or imprisoned for resisting war and as a symbol, it stands for both civilians and members of the Armed Forces, of all nationalities.
When is Remembrance Sunday 2021?
Remembrance Sunday 2021 will be Sunday 14th November and according to the recent government guidelines for Remembrance Sunday (opens in new tab), the National Service of Remembrance will go ahead as usual at the Cenotaph on Whitehall in London.
The service will begin at 11am and will commemorate the important contribution of both British and Commonwealth service members involved in World War I, World War II and later conflicts. For those wishing to attend the Remembrance Sunday 2021 service, Whitehall will open to the public at 8am on the day.
Though the government has advised that space will be limited and there will also be security checks taking place. People should also think about health factors and about checking for symptoms Covid-19 before attending large events such as this.
No tickets or passes are required and people are welcome to observe the ceremony and pay their respects from the pavements along Whitehall and Parliament Street. There will also be video screens in place near the green of the Ministry of Defence building and south of the Cenotaph on the corner of King Charles Street.
When should you start wearing a poppy?
Traditionally many people start wearing a poppy from October 31 each year, eleven days before Remembrance Day. This is marked every year on November 11 with a two-minute silence at 11am as we reflect on the armistice agreement that ended World War I on this date and time in 1918, with the Remembrance Sunday ceremony taking place on the closest Sunday to this.
Other people choose to wait until after Halloween and Bonfire Night on November 5 to begin wearing their poppy, whilst others believe that wearing a poppy of any color is something that should be kept for the day of remembrance itself. Ultimately, it's up to personal preference, though they are typically worn throughout early-mid November each year.
What side should you wear a poppy on?
The matter of which side you should wear your poppy on could differ depending on where you live and which advice you follow. According to the Royal British Legion, there is no "correct" way to wear your red poppy and they explain that how someone chooses to wear it is completely up to them, though they should wear it with "pride". However, others such as the Royal Canadian Legion suggest that the poppy should be worn on the left side over the heart, as a mark of respect.
This is the way members of the Royal Family have often been photographed wearing them each year, though whichever poppy and however you choose to wear it, the meaning behind it will always be the most important thing.
Emma is a Senior Lifestyle Writer with six years of experience working in digital publishing. Her specialist areas including literature, the British Royal Family and knowing all there is to know about the latest TV shows on the BBC, ITV, Channel 4 and every streaming service out there. When she's not writing about the next unmissable show to add to your to-watch list or delving into royal protocol, you can find Emma cooking and watching yet more crime dramas.